A U.S. Navy nuclear engineer and his wife pleaded not guilty on Wednesday to national security charges after they were accused of attempting to sell Navy secrets to a foreign government.
Jonathan, 42, and Diana Toebbe, 45, from Annapolis, Maryland, appeared in separate hearings at Martinsburg federal court in West Virginia on Wednesday, a day after the Department of Justice announced indictments for conspiracy to communicate restricted data and two counts of communication of restricted data.
Both of them pleaded not guilty. They face up to life in prison if convicted.
Jonathan Toebbe waived his right to a detention hearing and was ordered to remain in custody pending trial.
The couple was arrested by the FBI and the Naval Criminal Investigative Service (NCIS) on Oct. 9, following a sting operation.
Tuesday's indictment alleges that for almost an entire year, both Jonathan and his wife sold information known as "restricted data" concerning the design of nuclear-powered warships to a person they believed was a representative of a foreign power.
However, the so-called representative was actually an undercover FBI agent. Prior to this, the Toebbes had been charged in a criminal complaint alleging violations of the Atomic Energy Act.
Jonathan was employed in the Navy where he served as a nuclear engineer and was assigned to the Naval Nuclear Propulsion Program, also known as Naval Reactors.
He held an active national security clearance through the U.S. Department of Defense, which granted him to access restricted data, including information concerning nuclear programs such as sensitive design elements, operating parameters, and performance characteristics of the reactors for nuclear-powered warships.
The indictment alleges that on April 1, 2020, Jonathan Toebbe sent a package to a foreign government, listing a return address in Pittsburgh, Pennsylvania, which contained a sample of restricted date along with instructions on how to establish a way to purchase further restricted date.
However, the package intended for a foreign entity was instead picked up by an FBI agent, NPR reports, citing court documents, which reference the country as "COUNTRY1."
"The package contained U.S. Navy documents, a letter containing instructions, and an SD card containing specific instructions on how COUNTRY1 should respond using an encrypted communication platform, and additional documents," investigators said in a court filing.
"I apologize for this poor translation into your language. Please forward this letter to your military intelligence agency," the letter, handed over to the FBI, stated. "I believe this information will be of great value to your nation. This is not a hoax."
Tuesday's indictment goes on to allege that after sending the package, Jonathan began corresponding with the person he believed was a representative of a foreign power using an encrypted email. The email correspondence continued for several months until it was eventually agreed that he would sell the restricted data for thousands of dollars in cryptocurrency.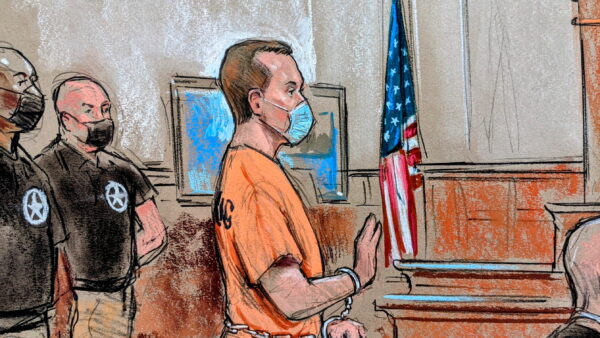 In June, the undercover agent sent $10,000 in cryptocurrency to Jonathan Toebbe as "good faith" payment and in that same month, Jonathan and his wife traveled to West Virginia where they proceeded to place an SD card concealed within a peanut butter sandwich at an arranged drop-off location. Diana allegedly served as a "lookout" during the drop-off.
The undercover agent retrieved the SD card and sent the couple a further $20,000 cryptocurrency payment. The couple then emailed the undercover agent a decryption key for the SD Card.
Officials reviewed the SD card and discovered it contained restricted data relating to submarine nuclear reactors.
Months later in August, the couple dropped another SD card into a drop-off location, this time concealing it inside of a chewing gum package. They received another $70,000 in cryptocurrency from the FBI agent, who was again sent a decryption key for the card.
That SD card also contained restricted data relating to submarine nuclear reactors.
The FBI and the Naval Criminal Investigative Service (NCIS) arrested Jonathan and Diana Toebbe on Oct. 9, after he placed yet another SD card at a second pre-arranged location point in West Virginia.
Lawyers for Diana on Wednesday argued that she was unaware or had little knowledge that her husband had been stealing classified information from the navy and attempting to sell it to a foreign country.
Special Agent Peter Olinits said that the FBI has not been able to find the $100,000 in cryptocurrency that it gave the defendants as part of the sting operation, NPR reports.
The government has also not yet located the 50 packets containing classified information about the nuclear submarines that Jonathan said he had taken from the Navy.
One of her lawyers, Edward MacMahon argued she should be released on bail with conditions such as location monitoring, which would allow her to care for her two young children—which she shares with Jonathan—while legal proceedings are active.
Prosecutors argue that she is a flight risk and may be able to access the missing $100,000 and 5,000 pages of classified nuclear sub information which she could then sell to another country.
The couple remains in federal custody pending trial.