New South Wales (NSW) Deputy Premier John Barilaro says unvaccinated individuals will only be locked out of businesses for a few weeks after the state reaches the 70 percent vaccination target.
Last week, NSW Premier Gladys Berejiklian unveiled the roadmap to freedom that says once the state reaches the 70 percent benchmark, businesses would be allowed to open, and "freedoms" granted to individuals who have received two doses of the vaccine.
Barilaro said that at the 70 percent mark, it would give the state the opportunity to open the economy.
"We can do that in a safe way for vaccinated people and vaccinated businesses or organisations, and if they don't want to do it, that's fine. But you might have to wait another three to four weeks after that when we get to 80 percent and above," he told 2GB radio on Sep. 13.
"I apologise for that, but it will only be three to four weeks of short inconvenience," he added. "According to the national road map and to the Doherty Institute report, we'll go and then lift further restrictions including for the unvaccinated."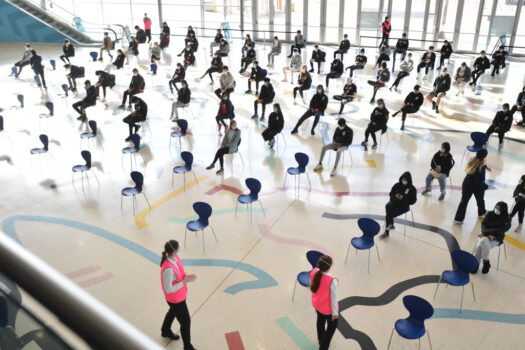 Hours later, Premier Berejiklian was quick to caution against guaranteeing freedoms once the 80 percent mark was reached.
"Don't assume that at 80 percent double-dose vaccination that unvaccinated people are going to have all those freedoms," she told reporters. "I want to make that point very clear. The government is yet to finalise its plans in relation to what happens at 80 percent double dose."
Once NSW records a 70 percent vaccination rate—earmarked to be about mid-October—businesses such retail outlets, hair salons, and gyms will be allowed to open but will only be accessible to fully vaccinated individuals.
The premier said once 80 percent of the population was vaccinated—likely in November—more freedoms were earmarked around major events, international travel, and community sport; however, details around unvaccinated individuals were scarce.
The plan follows the four-stage vaccination roadmap agreed to by the National Cabinet, which is based on modelling from medical research body, the Doherty Institute.
The country is currently in Phase A of the plan, to speed up vaccination rates.
Once 70 percent of the country's population is vaccinated, Phase B is triggered, which is meant to see stay-at-home orders and restrictions largely removed around the country.
At 80 percent, or Phase C, international travel will return.
Barilaro's comments come a day after the UK government scrapped plans for vaccine passports in England, just a week after Secretary of State for Vaccine Deployment Nadhim Zahawi said it would roll out the digital certificates.
Public unrest and discontent at tight COVID-19 health restrictions have begun boiling over across Europe. For example, in Thessaloniki, Greece, 15,000 individuals took part in demonstrations against mandatory vaccinations.
Meanwhile, in Australia, recent months have also seen an uptick in protest activity and petitions against government-mandated restrictions, vaccine mandates, and passports.
The NSW roadmap includes the following:
GATHERINGS IN THE HOME AND PUBLIC SPACES
Up to five visitors in a home where all adults are vaccinated (not including children 12 and under).
Up to 20 people can gather outdoors.
HOSPITALITY VENUES, SHOPS AND GYMS
Hospitality venues can open with one person per four sq/m inside and one person per two sq/m outside, and standing while drinking will be permitted outside.
Shops can open under one person per four sq/m rule.
Unvaccinated people will only be allowed to access critical retail shops, such as supermarkets.
Personal services—such as hairdressers and nail salons—can open with one person per four sq/m, capped at five clients per premises.
Gyms and indoor recreation facilities can open under one person per four sq/m rule, with classes capped at 20.
Sporting facilities including swimming pools can open.
STADIUMS, THEATRES AND MAJOR OUTDOOR RECREATION FACILITIES
Major outdoor recreation facilities – including stadiums, racecourses, theme parks and zoos – can open with one person per four sq/m, capped at 5000 people.
Up to 500 people can attend ticketed and seated outdoor events.
Indoor entertainment facilities—including cinemas, theatres, music halls, museums, and galleries – can open with one person per four sq/m, or 75 per cent fixed seated capacity.
WEDDINGS, FUNERALS AND PLACES OF WORSHIP
Up to 50 guests can attend weddings and dance but eating and drinking are only permitted while seated.
Up to 50 guests can attend funerals, with eating and drinking permitted while seated.
Churches and places of worship can open subject to the one person per four sq/m rule, with no singing.
TRAVEL
Domestic travel, including trips to regional NSW, is permitted.
Caravan parks and camping grounds can open.
Carpooling will be permitted.
Non-vaccinated people aged under 16 will have access to all outdoor settings, but will only be able to visit indoor venues with people from their household.
Employers must continue to allow employees to work from home if the employee is able to do so.
There will be revised guidance on isolation for close and casual contacts who are fully vaccinated.
MASKS
Masks remain mandatory for all indoor public venues—including public transport, front-of-house hospitality, retail and business premises and on planes—and at airports.
Only hospitality staff will be required to wear a mask outdoors.
Children aged under 12 won't need a mask indoors.
SCHOOLS
Kindergarten and Year One students will return to the classroom on Oct. 25.
Year 12 students undertaking their final HSC exams can study on campus from Oct. 25.