PARIS—A man armed with a hammer shouted "this is for Syria" before attacking police officers on Tuesday outside France's Notre Dame cathedral in Paris, the interior minister said.
The assailant wounded one officer before he was shot and wounded by other officers. The Paris prosecutor's office swiftly began a counter-terrorism investigation.
Interior Minister Gerard Collomb said the attacker was carrying the identification card of an Algerian student. He said preliminary information indicated the attacker had acted alone.
Dozens of armed police sealed off the area and the cathedral in central Paris that is visited by millions of tourists every year was locked down while the security forces secured the area.
It is the first attack since President Emmanuel Macron won last month's election and comes days before a parliamentary poll in which opinion surveys show Macron on course to win a landslide majority. His rivals portrayed him as weak on security during the presidential campaign.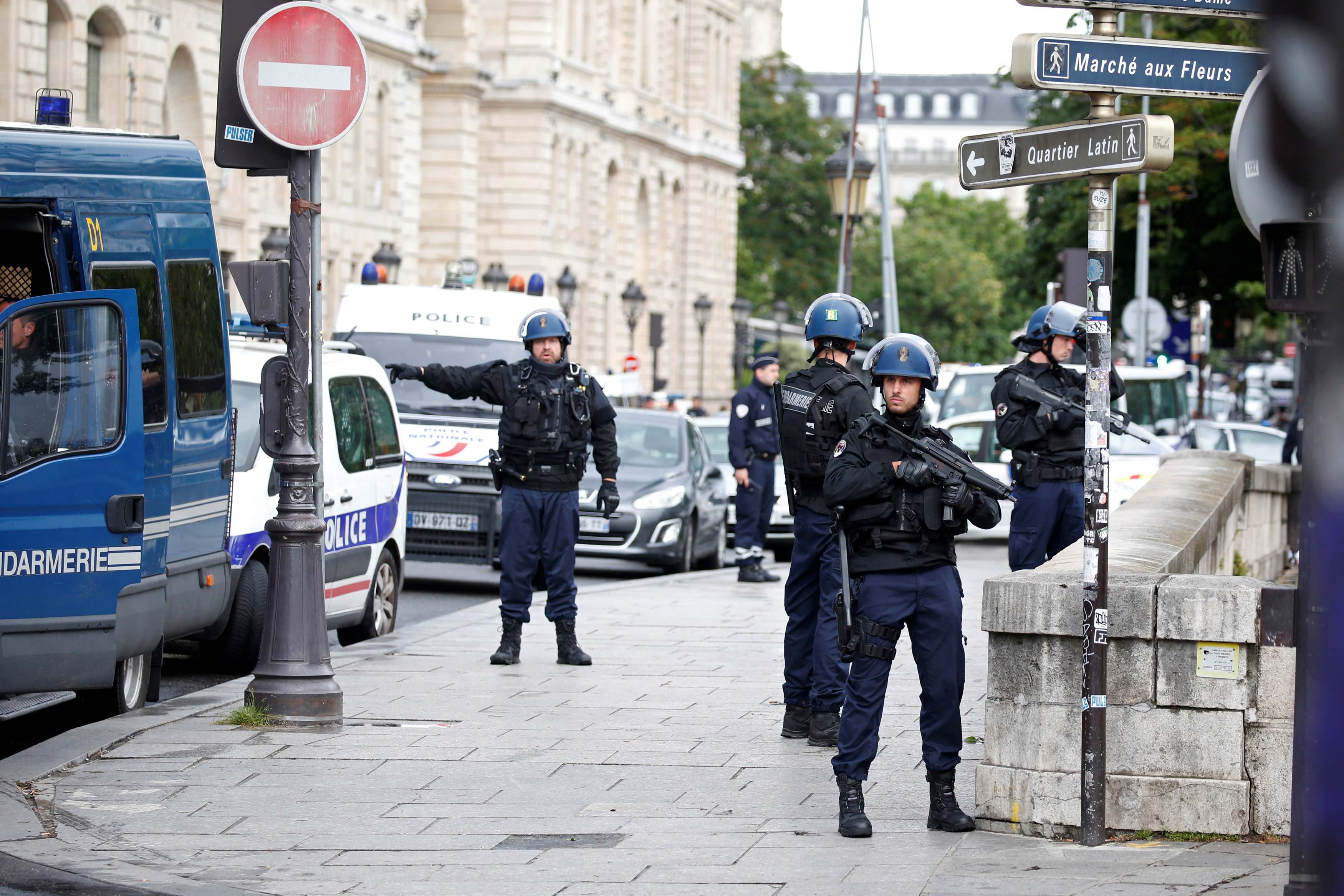 "Situation under control, one policeman injured, the assailant was neutralized and taken to hospital," Paris police said on Twitter.
Parvis de #NotreDame Situation maîtrisée, un policier blessé, l'auteur des faits a été neutralisé et orienté vers un hôpital

— Préfecture de police (@prefpolice) June 6, 2017
France is under a state of emergency after a wave of militant attacks since early 2015 that have killed more than 230 people across the country. Soldiers patrol its streets alongside police to guard tourist sites, government buildings and events.
Hundreds of tourists were inside the cathedral when the attacker struck.
One holidaymaker inside Notre Dame posted on Twitter: "Not the holiday experience wanted. Trapped in Notre Dame Cathedral after police shoot a man. We are with our 2 terrified children."
Not the holiday experience wanted. Trapped in Notre Dame Cathedral after police shoot a man. We are with our 2 terrified children. pic.twitter.com/wZ0yx4h57o

— Dean Blair (@deansblair) June 6, 2017
Karine Dalle, a spokeswoman for the Paris diocese, told BFM TV 900 people were inside the cathedral as police secured the area.
Both France and Britain have suffered a spate of terrorist attacks in recent months.
In London, terrorists on Saturday drove a van at high speed into pedestrians on London Bridge before stabbing night revelers on the street and in nearby bars, killing at seven people and wounding dozens. That followed a suicide bombing in Manchester that killed 22 people.
In France, days before the first round of the presidential election in April, a policeman was shot dead and two others wounded. The ISIS terrorist group claimed the attack as well as those in London and Manchester.
In September, three women were arrested after police found a car laden with gas cylinders abandoned near Notre Dame. The interior ministry at the time said it was likely an attack had been imminent.