Amid an escalating outbreak in the northern Chinese city of Harbin, provincial authorities announced on Friday that they would punish 18 officials working in the municipal government and three local hospitals.
That same day, another northern region, Liaoning Province, reported one new domestic infection in the province, whom authorities said was infected while being treated at a Harbin hospital. This was the first reported case in the province since March 2. Local authorities did not report any new cases for over a month.
The Epoch Times' previous reporting, including interviews with locals and internal government documents, has shown that regional authorities in China routinely underreport their virus data.
But the new official figures and government actions suggest that the outbreak in northern China has gotten out of control.
Punishment
The Heilongjiang Commission for Discipline Inspection and Supervisory Commission co-announced on April 17 that 18 officials in Harbin, the capital city of Heilongjiang province, would be punished.
Both are the Communist Party's internal agencies for investigating corruption and malfeasance.
The punished officials include those in health-related agencies of the Harbin city government; Daowai district government in Harbin; Harbin Medical University (HMU); HMU First Affiliated Hospital; Harbin No. 2 Hospital; and Harbin Chest Hospital.
The announcement said they failed to "fulfill responsibilities" related to controlling the outbreak, but did not specify details about these officials' wrongdoing.
The two commissions added that since April 9, Harbin has seen new domestic cases of the CCP (Chinese Communist Party) virus, commonly known as novel coronavirus. Those individuals contracted the virus during family parties or while being treated at hospitals, according to the announcement.
Ding Fengshu, who was newly appointed to replace the director of the Harbin health commission on April 15, was punished as well, with a Party warning and a wrongdoing record on her political resume.

Outbreak In Harbin
On April 15, state-run media Beijing Daily quoted the Heilongjiang provincial health commission, reporting that six medical staff from the HMU First Affiliated Hospital and Harbin No. 2 Hospital had been diagnosed with the CCP virus in the previous days.
On April 18, the daily, again citing the commission, said that three medical staff in Harbin were diagnosed on April 17, though it did not say which hospitals they work for.
The Epoch Times interviewed several Harbin residents about the outbreak.
"Unit 2 in Building 3 of the residential compound Jinse Chengbang in Daoli district was sealed on April 15… A family living in the unit was diagnosed. The husband is a doctor, and the wife is a nurse. Both of them work at an HMU affiliated hospital. Their child is infected as well," Li Hui told the Chinese language Epoch Times on April 16.
HMU has four affiliated hospitals. Li did not know which hospital the diagnosed couple worked for.
An insider at Harbin No. 2 Hospital told the Chinese language Epoch Times that one of the hospital leaders said during an internal meeting on April 14 that local facilities have received patients since April 6.
"Several clusters broke out, all related to having dinner together," the source said. "The cluster outbreaks happened in Wuzang, Xiangfang, and Daoli districts [in Harbin], and so on."
The hospital leader added that more than 16,000 people are contacts of the diagnosed patients, with over 500 of them now under quarantine.
Harbin, like most of China, enacted strict lockdown measures in late January, then began easing measures around mid-March. The city went under partial lockdown again in early April.
Harbin has eight districts. The government began locking down residential compounds and shopping centers in the above-mentioned districts and Daowai district on April 13 and 15. Local residents also said authorities also sealed off Nangang district.
On April 16, a video appeared on social media showing a man who suddenly fell to the ground while walking in front of the Fenglan Guoji residential compound in Nangang district. A staff member in medical protective gear went to check on him, but it is unclear whether he was infected with the virus.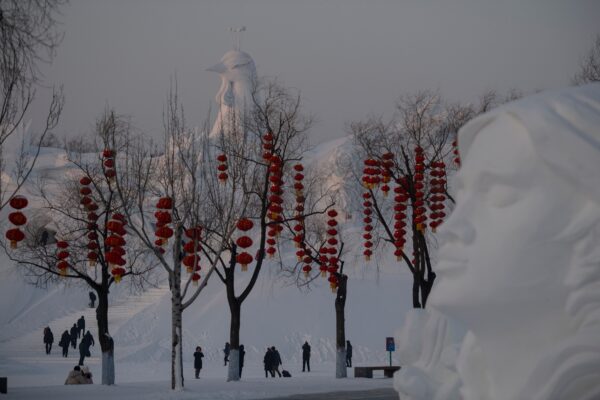 Spread Out
Fushun city is in Liaoning Province, also located in northeastern China.
On April 17, the Fushun municipal health commission announced one new domestic infection during a press conference.
State-run Liaoning Daily reported that the newly infected patient surnamed Zhang is a 46-year-old lady. She drove to Harbin to visit her father on April 1 with her young brother.
During her time in Harbin, she accompanied her father to the HMU First Affiliated Hospital for non-virus-related treatment and had meals at restaurants near the hospital. She also had large dinner gatherings at her family's home. She left Harbin on April 12.
On her way back to Fushun, she also stopped at three rest zones along the highway.
On April 15, Zhang visited a local hospital after receiving a phone call from Harbin about the outbreak, worried that she may be infected. On April 16, she was tested positive for the virus.
On the evening of April 17, Zhang was sent to Shenyang, the capital city of Jilin Province, for better treatment, according to Dongbei News.
So far, it's unclear whether any of Zhang's family members are also infected.
On April 19, the Heilongjiang health commission announced that the outbreak has expanded from Harbin and Mudanjiang—a region that includes Suifenhe, another city with a severe outbreak—to a third city, Suihua. It is northwest of Harbin and has a population of roughly 5.25 million, according to official statistics.