The northeastern Chinese city of Jilin has announced a lockdown after a second-wave outbreak of COVID-19 was detected.
The city shares the name of the province where it's located and is its second-largest city, with 4.5 million residents. It's the first major Chinese city to enact a lockdown since most regions eased quarantine measures throughout March and April.
When the CCP (Chinese Communist Party) virus, which causes the disease COVID-19, spread quickly across the country early this year, most of China was placed under lockdown. However, as regional officials began reporting no or few new cases in March—even as experts were skeptical of Chinese authorities' figures—restrictions were lifted.
The Jilin provincial health commission on May 8 announced the initial case among its second wave of illnesses: a 45-year-old cleaning lady at the city of Shulan's police bureau. Since then, a cluster of more than a dozen people were confirmed to be ill in Shulan and nearby Jilin city.
On May 10, the Party boss of Jilin Province announced that Shulan had entered "wartime."
Lockdown
Jilin city officials on May 13 announced 11 special regulations to contain the outbreak.
Each local district must locate all close contacts of diagnosed patients, as well as people who returned to the city from traveling overseas or from visiting "high-risk regions," according to the directive. A high-risk region refers to an area where a virus outbreak has recently occurred.
Additionally, all villages and residential compounds must be locked down, and anyone who wishes to leave or enter their household must register their personal information, scan their mobile-app-generated health code, and have their body temperatures taken. In communities that are difficult to fully lock down or are located close to highways, local officials must arrange patrolling teams to check on pedestrians, the statement says.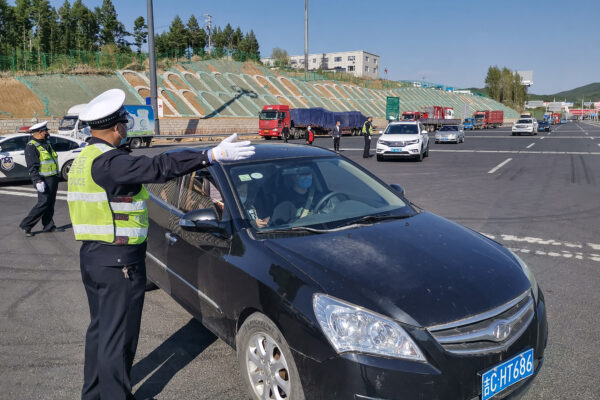 All long-distance passenger transportation, such as trains and intercity buses, have been suspended. Anyone who wants to leave the city must take a nucleic acid test less than 48 hours before departure, and the result must be negative. The traveler must pay for the test themselves.
All pharmacies and clinics in the city have been banned from selling antipyretic, antiviral, and antibiotic drugs—which prohibits people with a fever to take such medication. Fever is a common symptom of COVID-19, the disease caused by the CCP virus. Any suspected patients must be diagnosed and treated at some 23 designated hospitals in the city.
All museums, cinemas, theaters, entertainment facilities, stadiums, public bathhouses, and other public facilities have been closed.
Restaurants are allowed to open but must maintain social distancing rules, while cafeterias can't offer any dine-in services. Social get-togethers are also banned, and all residents must wear a mask when going outside.
Residents' Accounts
Jilin and Shulan city residents told The Epoch Times that the outbreak is more severe than the government has indicated.
"The first patient's husband works at the police bureau. Now, the whole police bureau is closed. All officers are under quarantine," a woman who identified herself as Ms. Yang and operates a courier company near the Shulan police bureau, told the Chinese-language Epoch Times.
Another woman, Ms. Liu, who operates a restaurant in Shulan, said the local education bureau, which manages all of the city's schools, is closed and all staff are currently under quarantine.
"Some teachers have tested positive as asymptomatic carriers," according to a woman who works at a supermarket near the education bureau. "Staff at the education bureau are close contacts [of them]."
All of Shulan's schools have closed and students are now studying online, women said.
Quick Spread
A resident of Jilin city told the Chinese-language Epoch Times that travel has been severely restricted.
"We can only leave the city by driving. … We need to fill out forms and present a nucleic acid test report before leaving the city."
Meanwhile, anyone who has a connection with Shulan is required to be taken to a quarantine center to self-isolate, a woman who operates a hotel in the Fengman district of Jilin said.
There's also evidence the virus may have spread further.
On May 12, officials in Jiaohe—a county-level city in Jilin city—ordered all attendees of a wedding ceremony at Dardun Hotel on May 3 to be quarantined for 21 days.
A wedding photographer in Fengman has been confirmed to be infected, the notice said. He had traveled to Jiaohe with two other people on May 3, had a meal at a local restaurant, and recorded videos at the wedding, meaning that all wedding attendees may have been exposed.
On May 13, residents in Shenyang city, Liaoning Province—a southern neighbor to Jilin—shared a video on social media showing the premises of a local military hospital, the PLA 465 Hospital, has been cordoned off. The person who shot the video said the facility was locked down due to a virus outbreak.
Three days earlier, Shenyang city announced a diagnosed patient who had traveled from Jilin city on May 5.