New York, Boston, Philadelphia, Washington, and Providence, Rhode Island, are among the largest cities in the Northeast, with a plethora of towering office buildings populating their skylines. However, none of these locations are listed among the National Association of Realtors (NAR) Top 10 commercial office markets for the third quarter.
Instead, the South and West dominate the list, with places such as Austin, Texas; Boise, Idaho; Chattanooga, Tennessee; and Omaha, Nebraska, plus three locations in Florida–Daytona Beach, Palm Beach, and Miami. Also absent from the register are metropolitan locations such as Chicago, Los Angeles, San Francisco, Denver, and Seattle.
NAR analyzed 390 commercial real estate markets across the United States and concluded that the office sector continues to struggle, as absorption rates and rents have declined in larger, more populated areas. Meanwhile, small and medium-sized metropolitan areas have seen an increase in office occupancy rates that outperform most large cities and the national average.
The survey reviewed several indicators, such as vacancy rate, asking rents, leasing activity, and square feet under construction.
"In general, we found that the Northeast cities like New York, Boston, D.C., and Philadelphia had high vacancy rates, perhaps due to higher rents and people continuing to work from home in the post-COVID climate," Gay Cororaton, senior NAR economist, told The Epoch Times. "In contrast, areas like Myrtle Beach [South Carolina], Provo [Utah], and San Antonio ranked among the top 10 office markets."
Cororaton, who also serves as NAR's director of housing and commercial research, noted that Austin had the highest leasing activity, at 1.9 million square feet as well as the highest average sales transaction price at $584 per square foot.
"Overall, there has been a big migration into Texas from California and other areas where the cost of living is higher," she said. In contrast, Omaha had the lowest average sales price in the third quarter, at $122 per square foot.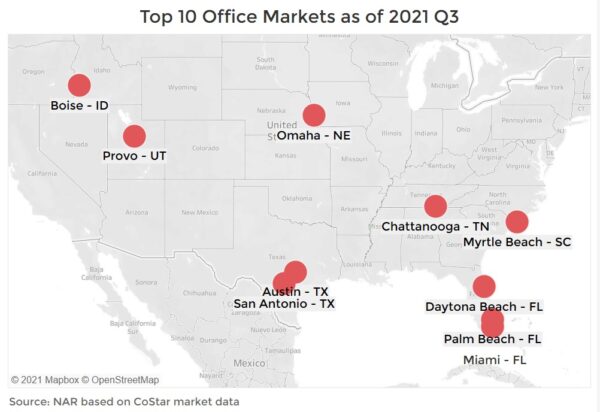 Miami is second to Austin in terms of leasing activity, at 1.2 million square feet. While its vacancy rate is higher compared to the other top 10 markets—10.7 percent—it still remains lower than the national vacancy rate of 12.4 percent. Office properties are more expensive, with the average sales price at $383 per square foot.
Myrtle Beach showed the lowest office vacancy rate among markets in this list at just 2.2. percent. With a tight vacancy rate, it also has the second-highest average asking rent growth of 2.9 percent.
Boise was also found to have one of the lowest vacancy rates at just 4.7 percent, compared to 12.4 percent nationally. The city also absorbed 895,328 square feet of office space, the third-highest among the top 10. The asking office rent there was up 1.6 percent, compared to a decline of 0.4 percent across the country.
"Salt Lake City was not on our top 10 list, but it is considered as a budding hot office market," Cororaton said. "Typically, the cost of living is lower in the South and the West, compared to the Northeast, and both businesses and people are continuing to migrate to these regions."
Unexpectedly, Provo, Utah, absorbed 793,154 square feet of office space in the past 12 months, with 852,792 of office space leased. There, commercial office space is one of the least expensive at $177 per square foot.
More than 65 percent of respondents to the NAR survey reported more businesses leasing or moving into offices with smaller square footage, and 70 percent indicated that companies were adopting work from home or staggered office schedules.
Paul Cauchi, chief of commercial for the Miami Association of Realtors, isn't surprised that Miami, Daytona Beach, and Palm Beach were among NAR's top 10 office markets.
"The Northeast has always been more congested and more expensive," Cauchi told The Epoch Times. "People and business owners alike are looking for more affordable places to live and work."
Cauchi also credited Florida Gov. Ron DeSantis with keeping the state open.
"I think this has had a positive impact on real estate in general, and we're seeing a lot of transplants from New York, New Jersey, and even California," he said. "There's a lot of new tech companies, hedge funds, and investment firms locating in Florida due to lower rents and taxes."
Also noting that South Florida is becoming the global Latin American hub, Cauchi predicts the area will continue to be an inviting destination for both residential and commercial real estate opportunities.