One of the men that helped negotiate the nuclear deal that North Korea secretly violated for years thinks the United States should go into negotiations again, and without any conditions.
The only problem, in his view, is that North Korea isn't likely to want to negotiate until it has proven a nuclear strike capability that threatens the United States.
"Maybe it's true that the North has no interest at this moment in having the negotiations that involve its nuclear weapons and ballistic missiles," former U.S. nuclear negotiator Robert Gallucci said during a lecture at Seoul's Yonsei University, according to South Korea's Yonhap News Agency.
"Some suspect in the U.S that they don't want to enter through negotiations with the U.S … until they have demonstrated an ICMB capability that makes the U.S. vulnerable to them … so that they have leveled the playing field," he added. "That's possible."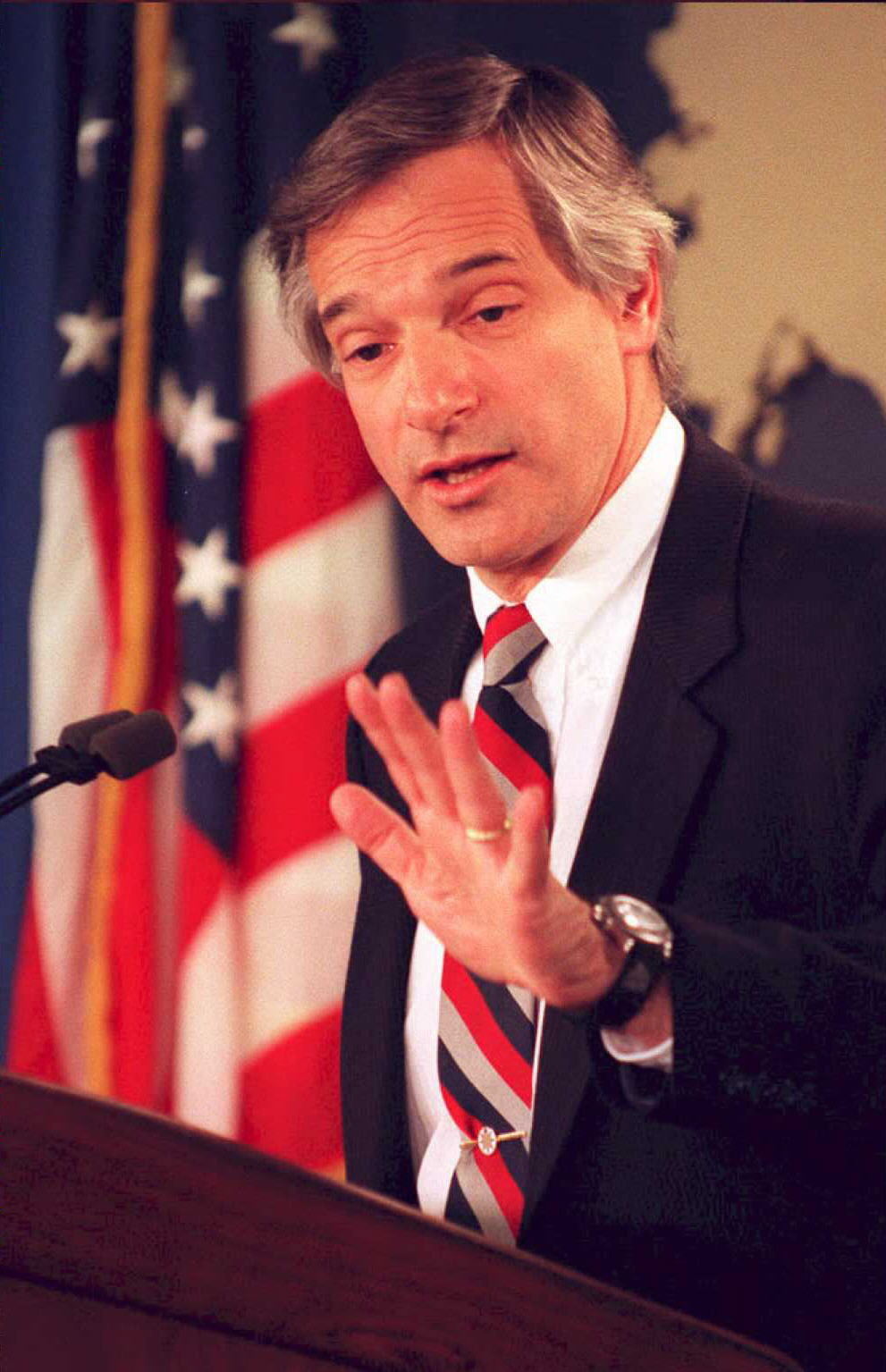 The United States has said North Korea must cease any further missile or nuclear bomb tests for a period of time before it will enter negotiations.
But Gallucci said negotiations should begin without any preconditions so that senior negotiators can begin talking to each other.
Yonhap's coverage of the lecture doesn't report Gallucci offering any clear explanation of why North Korea would want to sacrifice its nuclear deterrent once it had one, but does quote him saying that making the Korean Peninsula nuclear free should be the end goal of negotiations.
Gallucci was chief nuclear negotiator with North Korea during the first nuclear crisis in the early 1990s and was central to the 1994 nuclear deal that gave the regime energy aid and made other concessions in exchange for North Korea dismantling its nuclear program.
While Gallucci is sometimes praised for helping ward off a nuclear war with North Korea, the deal fell apart in late 2002 after it was revealed that Pyongyang was secretly running a uranium enrichment program in violation of the deal.
Gallucci has been critical of President Donald Trump's position on North Korea and the strong statements Trump has made about the consequences North Korea faces should it continue to threaten the United States with a nuclear attack.
In other published comments, Gallucci has argued against taking such threats seriously. While North Korea may threaten the United States, it has no actual intention of attacking, he said.
"They want the sanctions gone, they want [nuclear weapons … to be] paid off, they want to be left alone to run their regime the way they want, they don't want to have to worry about the U.S. launching an ­effort at regime change à la Libya or à la Iraq," Gallucci told British news website i.
"They'd like to be recognized as a nuclear weapons state the way we recognize Pakistan, India, Israel, who are not mentioned in the original five nuclear powers."
But others challenge the view that negotiations and pacifying rhetoric are helpful in dealing with the Kim Jong Un regime.
Yong Suk Lee, deputy assistant director of the CIA's Korea Mission Center, told students and reporters at George Washington University on Oct. 10 that one of the biggest obstacles to peace on the Korean Peninsula was Kim's need to vilify the United States.
"North Korea is a political organism that thrives on confrontation," said Lee.
"One of the big stumbling blocks for dialogue is that if we do come to a good place, North Korea is going to have to explain to its people that 'suddenly we are friends with the United States.' North Korea exists to oppose the United States, so how are you going to explain to your population what your last 60, 70 years of sacrifice were all about."
The Kim regime uses the threat of an American invasion and ongoing sanctions to justify its "Songun" or military-first policy.
Songun prioritizes the needs of the military over all other affairs of state, including feeding the civilian population.
"At the end of the day, all politics are local," said Lee.