SEOUL—South Korea's Ministry of Defence said Tuesday it sees signs that North Korea has started dismantling its loudspeakers that blared propaganda across the border.
The apparent move comes after South Korea said a day earlier it would remove its loudspeakers, starting on Tuesday. They are some of the first practical, if small, steps towards reconciliation following Friday's summit between the leaders of the two nations.
As a goodwill gesture ahead of the summit, South Korea had turned off its loudspeakers that broadcast a mixture of news, Korean pop songs and criticism of the North Korean regime, which Pyongyang had previously said was an act of war.
"We see this as the easiest first step to build military trust," South Korean defense ministry spokeswoman Choi Hyun-soo said. "We are expecting the North's implementation."
South Korea resumed its blaring of 'propaganda' into North Korea after its fourth nuclear test in early 2016. The North was quick to respond, organising its own propaganda to drown out the louder broadcast from the south.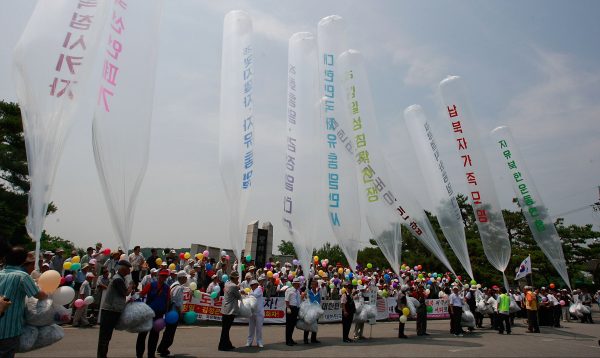 The northern time zone was created in 2015 to mark the 70th anniversary of Korea's liberation from Japanese rule after World War Two.
South Korea and Japan are in the same time zone, nine hours ahead of Greenwich Mean Time.
The actions come after Friday's historic summit at which South Korean President Moon Jae-in and the North's leader Kim Jong Un agreed to end hostilities and work towards "complete denuclearisation" of the Korean peninsula.
Much now hinges on Kim's upcoming summit with U.S. President Donald Trump, who said the meeting could happen over the next three to four weeks.
Any deal with the United States will require that North Korea demonstrate "irreversible" steps to shutting down its nuclear weapons programme, U.S. Secretary of State Mike Pompeo said on Sunday.
A flurry of diplomacy is unfolding in the lead-up to that meeting, with China saying it will send the government's top diplomat, Wang Yi, to visit North Korea on Wednesday and Thursday this week. China is the North's main ally.
And over the weekend, South Korea's spy chief visited Tokyo to brief Prime Minister Shinzo Abe.
Kim To Invite Experts for Nuclear Test Site Shutdown
Kim also told Moon during the summit he would soon invite experts and journalists from the United States and South Korea when the country dismantles its Punggye-ri nuclear testing site, the Blue House said on Sunday.
North Korea has conducted all six of its nuclear tests at the site, a series of tunnels dug into the mountains in the northeastern part of the country. Some experts and researchers have speculated that the most recent – and by far largest – blast in September had rendered the entire site unusable.
But Kim said there were two additional, larger tunnels that remain "in very good condition" beyond the existing one, which experts believe may have collapsed.
By Hyonhee Shin
Recommended Video:
Lanterns Light up Taiwan Sky For First Full Moon in Lunar New Year