PARADISE, California—A fast-moving wildfire roared through a Northern California town on Nov. 8, with reports of fatalities as it engulfed dozens of buildings and tens of thousands of people fled the flames, police and state authorities said.
Driven by high winds and dry conditions, the blaze dubbed the Camp Fire swept through the town of Paradise.
One hospital and 3,300 students from 11 schools in Paradise were evacuated. Hospital patients were transferred to Oroville Hospital and Enloe Medical Center. One of the school officials said that the fire was only half a mile away from the school by the time they got out, Fox 13 reported.
The fire began around 6:33 a.m. on Nov. 8 and swept through the area at a speed of about one football field every three seconds, according to California Department of Forestry and Fire Protection (Cal Fire).
Just a little visual reminder of what our neighbors are facing with the #CampFire… #CampFireJamesWoods pic.twitter.com/aasjJDD6Ia

— James Woods (@RealJamesWoods) November 9, 2018
Incredible #GOES16 satellite imagery of extremely dangerous, fast-moving wildfire in wildland-urban interface currently burning through #Paradise, California at an estimated 80 acres *per minute.* Strong, dry east winds. Really bad feeling about this one. #CampFire #CAwx #CAfire pic.twitter.com/l1667JOmDc

— Daniel Swain (@Weather_West) November 8, 2018
"We have received reports of some fatalities. Those reports have not yet been verified," Butte County Sheriff Kory Honea told a news conference.
Butte County Cal Fire Chief Darren Read said that the wildfire injured two firefighters and many civilians, according to the Minneapolis Star Tribune,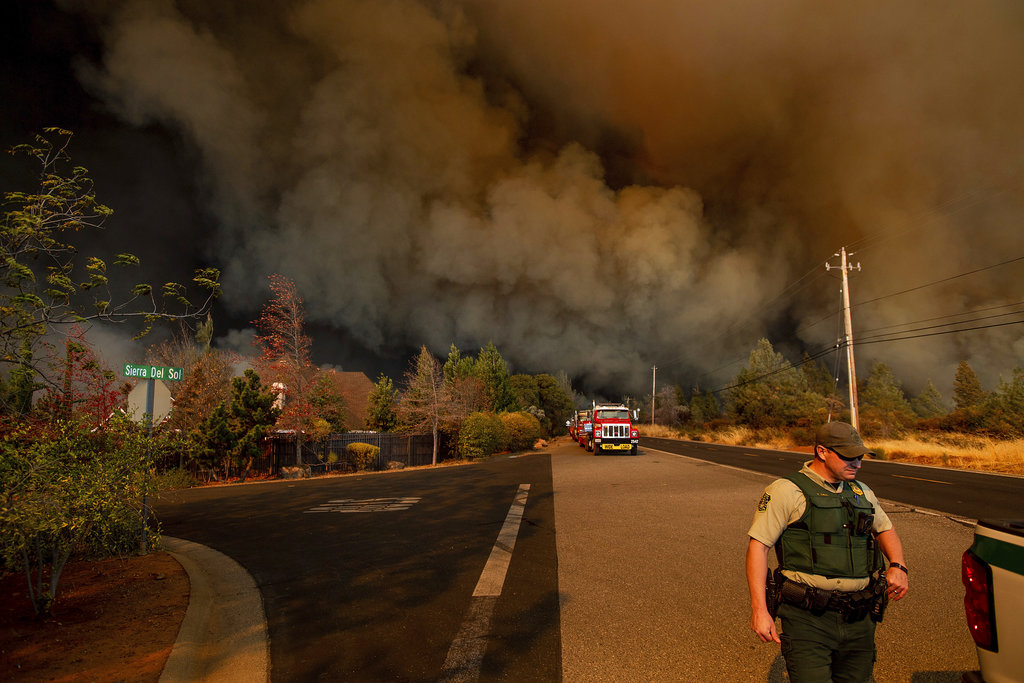 "The whole town is burning," Bob Van Camp, a resident who escaped on his motorbike, told local TV channel Action News Now. "We had to ride through flames to get here," he said from the side of a road west of Paradise.
With limited escape routes from the town, which is built on a ridge, traffic accidents turned roads into gridlock, with residents forced to abandon vehicles and run from the flames carrying children and pets, officials said. One woman stuck in traffic went into labor, the Enterprise-Record newspaper reported.
"It's very chaotic. It's a very bad fire," Officer Ryan Lambert of the California Highway Patrol said of the evacuation. "The mass population is trying to be evacuated at once, a fast-moving fire, trying to get everybody evacuated on the roads, a lot of congestion, traffic accidents."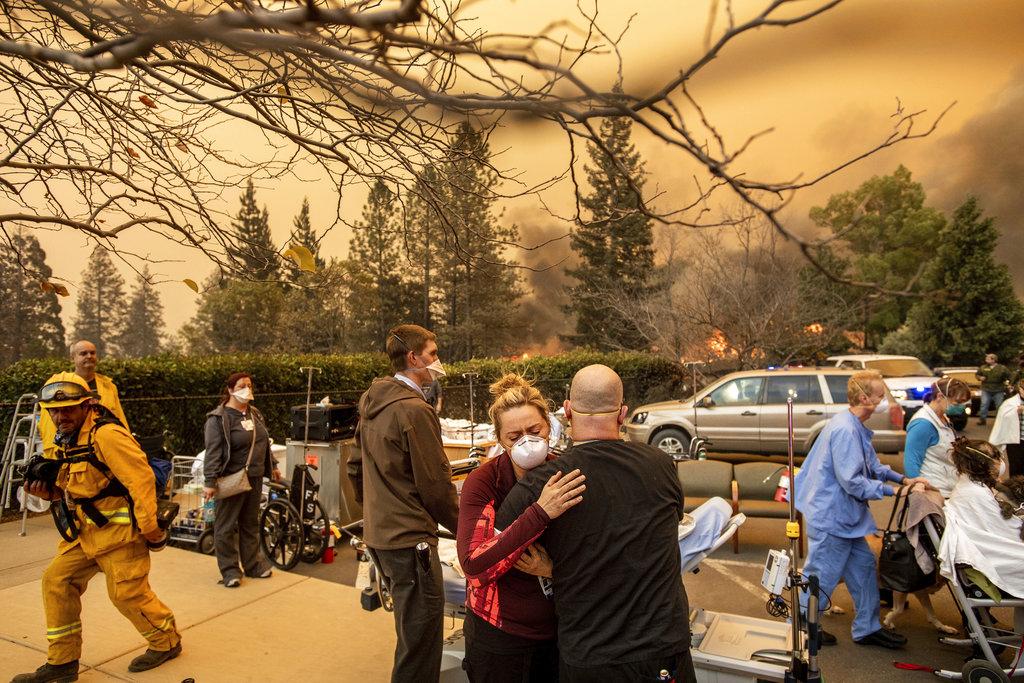 James (Jim) Pallette will be with my grandma Janet Pallette driving this truck. They are currently missing while evacuating from the #CampFire-they don't have a cell phone so we have no way to know if they are safe. If anyone sees them please let me know! #CampFireJamesWoods pic.twitter.com/MiSu6ewQ4C

— Auriona (@auri_noelle) November 9, 2018
The blaze by Thursday morning had already charred 18,000 acres, forcing the evacuation of the 27,000 residents of Paradise, about 150 miles northeast of San Francisco, and other communities, Cal Fire said in a statement.
"It's got all the right conditions to have grown very large, very quickly," said Cal Fire spokesman Rick Carhart. "There is significant loss of structures, and civilian and firefighter injuries." He said he did not know the number of injuries or how many structures were destroyed.
Fire authorities did not indicate how the blaze started.
California is experiencing one of its worst fire years ever, with 621,743 acres burned through Sunday in areas covered by Cal Fire, nearly twice the amount during the same period of 2017 and nearly triple the five-year average.
The Camp Fire has cut off power to roughly 34,000 customers in Butte and Plumas counties, according to a spokesman for Pacific Gas & Electric.
By Stephen Lam
The Epoch Times staff member Alan Cheung contributed to this article