Scrutinized by lawmakers during a Senate committee hearing about railroad safety on March 9, Norfolk Southern CEO Alan Shaw apologized multiple times for his company's Feb. 3 toxic train derailment in East Palestine, Ohio, while repeatedly defending the railroad's safety record.
The Senate Environment and Public Works Committee hearing to explore the crash that occurred in eastern Ohio one mile from the Pennsylvania border was led by chairman Sen. Tom Carper (D-Del.) and ranking member Sen. Shelley Moore Capito (R-W.Va.).
Carper asked Shaw if Norfolk Southern "will be there for as long as it takes to make East Palestine, Ohio; Darlington Township in Pennsylvania; and the surrounding communities whole from this disaster?"
Shaw responded, "I am deeply sorry for the impact this derailment has had on the people of East Palestine and surrounding communities, and I am determined to make it right.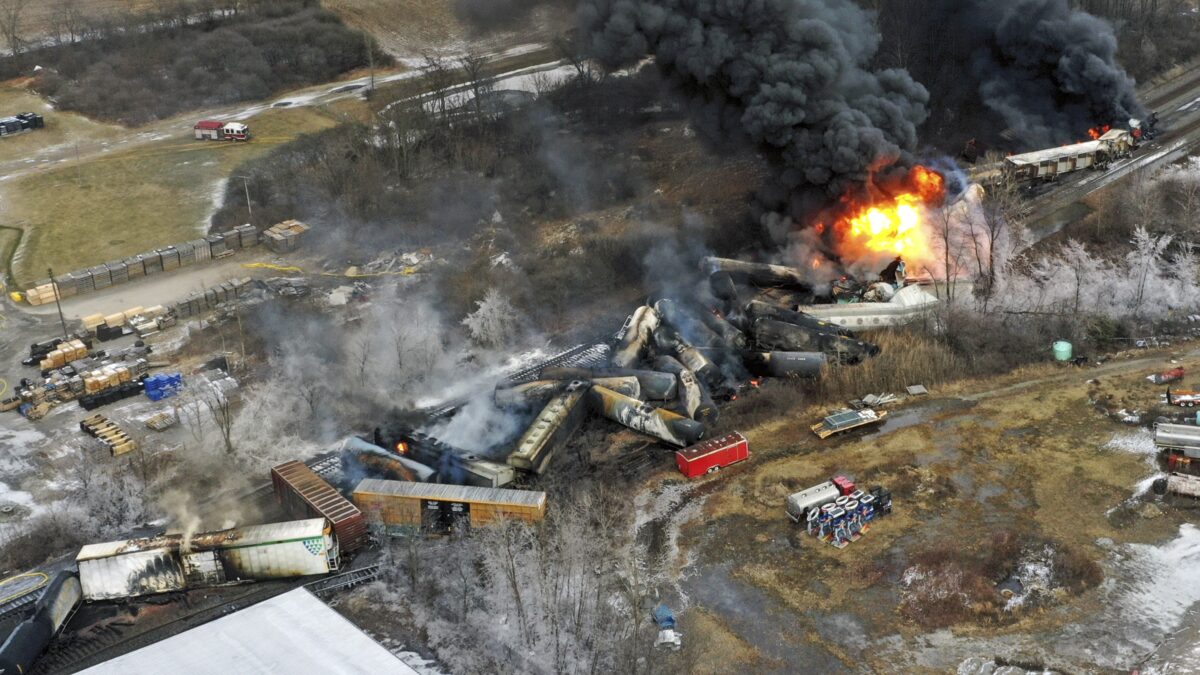 "And yes, it's my personal commitment that we're going to be there for as long as it takes to help East Palestine thrive and recover," he added.
Shaw explained that Norfolk Southern has committed more than $21 million in financial assistance so far, including aid to more than 4,400 families through a Family Assistance Center based in East Palestine.
The company has also given more than $3 million to help the village's fire department.
"I have visited the East Palestine area frequently since the accident. I've met with residents of the community. I've heard their concerns, and I understand why they are worried," Shaw added. "Their feedback has informed our approach."
Derailment Background
On Feb. 3, a 151-car freight train carrying toxic chemicals derailed in East Palestine.
When the train crashed, 38 rail cars derailed. A fire ensued, damaging an additional 12 cars.
Of the 20 cars carrying hazardous materials, 11 derailed, according to the National Transportation Safety Board.
After the Feb. 3 crash and subsequent fire, residents were ordered to evacuate because 11 of the burning cars were carrying hazardous materials including vinyl chloride.
Authorities—fearing a major explosion—decided to release and burn vinyl chloride from five cars on Feb. 6, sending a massive cloud of black smoke into the sky that could be seen for miles and was likened to the mushroom cloud caused by a nuclear weapon.

Vinyl chloride is a chemical used to make PVC pipes and other products. The National Cancer Institute notes that vinyl chloride has been linked to cancers of the brain, lungs, blood, lymphatic system, and liver.
Ohio Gov. Mike DeWine held a press conference on Feb. 8 and announced that the evacuation order had been lifted and that it was safe for East Palestine residents to return to their homes.
Since returning, people in the village and in surrounding communities have reported headaches, nausea, skin rashes, blurred vision, and other ailments.
Shaw told the committee that, according to the U.S. Environmental Protection Agency, testing shows that the air and water are safe. He also said that the financial assistance provided to date "is just a down payment."
"I've met with community leaders, business owners, school officials, clergy, and others to begin to identify ways we can invest in the future prosperity of East Palestine and support the long-term needs of its people," Shaw said.
"There are no strings attached to our assistance."
Probing Railroad's Safety Record
The NTSB and the Federal Railroad Administration have launched investigations into Norfolk Southern's safety record.
Earlier this week, Norfolk Southern released a six-point safety plan. Shaw admitted at the hearing, "it is clear the safety mechanisms in place were not enough."
"We currently spend $1 billion a year on technologies, equipment, and infrastructure to enhance safety," Shaw said.
"But the safety mechanisms in place did not prevent this accident, so we are focused on learning from this incident and working with industry to make changes."
Sen. J.D. Vance (R-Ohio) and Sen. Sherrod Brown (D-Ohio) provided testimony early in the hearing.
With co-sponsors from both parties, they introduced the Railway Safety Act of 2023 last week.
If passed and signed into law, the proposed legislation would increase fines for safety violations, establish nationwide requirements for devices "designed to automatically detect wheel bearing and other mechanical issues," and mandate railroads to develop disaster plans and inform emergency response commissions of any hazardous materials traveling through their states among other guidelines.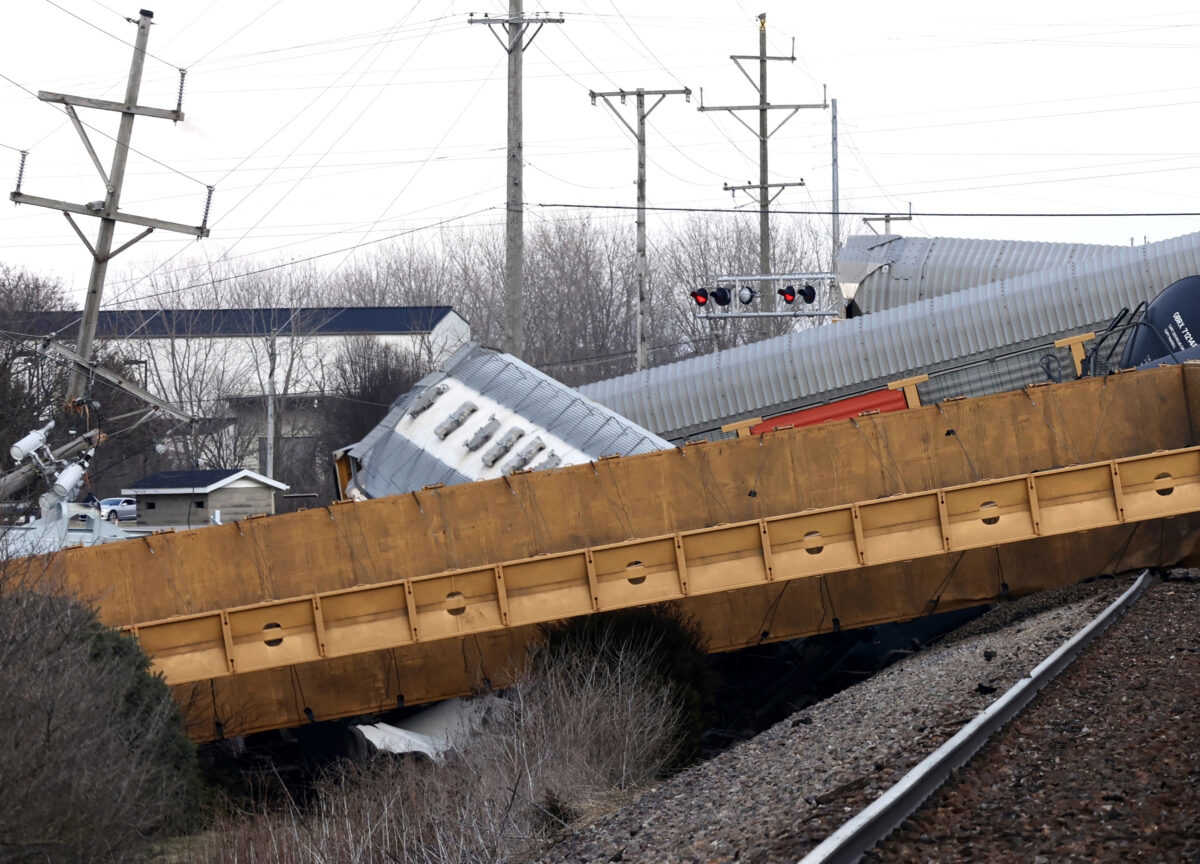 "It shouldn't take a train derailment for elected officials to put partisanship aside and work together for the people we serve—not corporations like Norfolk Southern," Brown said.
"Lobbyists for the rail companies spent years fighting every effort to strengthen rules to make our trains and rail lines safer. Now Ohioans are paying the price."
Vance said that he is a conservative Republican and that his party is confronted with supporting a multi-billion-dollar industry or working-class people that he believes the GOP has become known for representing.
"We are faced with a choice with this legislation and how we respond to this crisis," Vance said. "Do we do the bidding of a massive industry that is embedded with big government? Or do we do the bidding of the people who elected us to the Senate into the Congress in the first place?"
Sen. John Fetterman (D-Pa.) is one of the bill's co-sponsors. He did not attend the hearing as he continues to get treatment for clinical depression. Carper relayed a question from Fetterman inquiring if Shaw would support the Railway Safety Act,
Shaw did not specifically say he would advocate for the bill.
"We are committed to the legislative intent to make rail safer. Norfolk Southern runs a safe railroad and it's my commitment to improve that safety and make our safety culture the best in the industry," Shaw said.
"Just last year, derailments on Norfolk Southern were the lowest they had been in the last 10 years. And our personal injury rate is amongst the lowest in the industry."
Since December 2021, the NTSB has assigned investigative teams to five Norfolk Southern incidents, the agency reported.
Federal data indicates that Norfolk Southern trains are involved in around 260 accidents per year, which is one of the highest numbers among railroads.
Another Derailment
Last weekend, around a month after the East Palestine derailment, 20 cars from a Norfolk Southern train veered off the tracks in Springfield, in southwest Ohio.
Earlier this week, a Norfolk Southern conductor was killed with a train collided with a dump truck at a steel manufacturing plant in Cleveland.
On the morning on March 9, hours before Shaw testified, 30 cars from a Norfolk Southern train detailed in Calhoun County, Alabama—a point brought up by Sen. Sheldon Whitehouse (D-R.I.) at the hearing.
"The news is reporting that there's just been a significant derailment in Alabama of one of your trains. I certainly hope that all of your team and anybody in the vicinity is safe and well," Whitehouse said during his questioning of Shaw.
"I also note that since 2002, the rail industry has spent more than $650 million on federal lobbying with another $60 million spent on state lobbying," Whitehouse added, noting that Norfolk Southern was among the biggest spenders at $69 million.
He then asked Shaw if the New York Times report that Norfolk Southern "has paid shareholders nearly $18 billion dollars to stock buybacks and dividends in 2022" is true.
"Sir, I have a different perspective on that," Shaw responded without further elaboration.
Whitehouse asked Shaw, "Can we count on you and your team of lobbyists to push for safety improvements rather than lobbying against those improvements?"
"Yes, sir, I share your concern and your focus," Shaw remarked.
Whitehouse pressed Shaw further.
"I just want to know will your team lobby for safety improvements rather than against them?" he asked.
"Senator, we will continue to follow science and we will continue to follow data," Shaw responded.
Not a 'Good Month'
Sen. Ed Markey (D-Mass.) asked Shaw if Norfolk Southern completed $3.4 billion in stock buybacks and made $3.3 billion in profits last year.
Shaw confirmed that those numbers are accurate.
"Sir, last year, we invested over a billion dollars in safety. And last year our number of accidents was the lowest it had been in the last 10 years," Shaw told Markey.
"Our safety stats, senator, continue to improve, and I am committed to making Norfolk Southern's safety culture the best in the industry."
"You're not having a good month," Markey replied. "It seems like every week there's another accident that Norfolk Southern is a part of in our country.
"And what I'm hearing from you is just this great confidence that you have in your system. But I'll tell you this was to show overconfidence breeds complacency and complacency breeds disaster," Markey added.