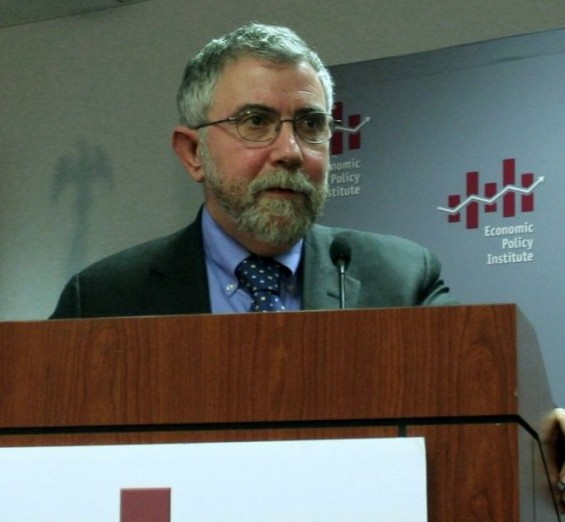 WASHINGTON—American economist and New York Times columnist Paul R. Krugman is impatient at the snail's pace of America's economic recovery. He thinks we have become far too complacent in accepting a low GDP and high unemployment as the new norm.
Krugman, 59, says that if politics can be set aside, we can dramatically accelerate a full recovery. The Nobel Prize-winning economist spoke May 2 at the Economic Policy Institute (EPI) to discuss his latest book, End This Depression Now!
Although the "Great Recession" officially ended four years ago, GDP and employment are still below normal. There has been some improvement in unemployment since it peaked at 10 percent in October 2009, but gains have been slight—the latest reports show an 8.1 percent unemployment rate, or 12.5 million people.
When the underemployed—those who want full-time work, but have to settle for part-time jobs—are folded in, there are about 24 million or 15 percent of the workforce, which is roughly double the number before the crisis, Krugman writes.
The number of very long-term unemployed—out of work for more than one year—is now 3.9 million, Krugman said at the EPI. Compare this to only 700 thousand before the crisis began in 2007. And this still does not include those who have been "driven out of the labor force" because they bear a stigma that renders them unemployable.
Even recent college graduates are not insulated from the crisis: Approximately one in four is unemployed or working only part-time.
Krugman contrasts current experiences with those of America's unemployed just before the crisis. He says that back then, less than 20 percent of unemployed remained so for six months; less than 10 percent had been out of work for a year or more.
The long-term unemployment that many in the country now face hasn't been seen since the Great Depression. It is ruining lives; it "breeds anxiety and psychological depression," writes Krugman, but there is still hope.
"We have both the knowledge and tools to end this suffering," writes Krugman.
There have been signs of improvement, but the current pace of recovery suggests it will still be a long time before we're back to full employment. "I haven't seen any plausible estimate that puts the time of recovery at less than five years, and something more like seven years is probably a better number," says Krugman in his book.
While others have labeled it a recession, Krugman calls our current economic slump a "depression." To be sure, it's not the Great Depression, at least not in the United States. In Greece, Ireland, and Spain, however, with unemployment around 23 percent, they might regard it as such.
While we may be doing better than many in Europe, there are still very real problems and concerns. When "stuff is down" for more than five years, the economy stabilized but real GDP impeded, and no full recovery on the horizon, Krugman says we should acknowledge that we are in a depression.
But according to Krugman, it doesn't have to be this way. He says that we should have bounced back to normal growth by now. Krugman cited the Congressional Budget Office (CBO) estimate of "potential" GDP and concludes that the U.S. economy is producing a trillion dollars less of value each year than it could be producing.
Krugman said that if we went back to normal levels of production for state and local goods and services, rehired the people previously let go, and began renewing road repair projects and similar programs, 1.3 million workers would be back on the job—nearly enough to bring unemployment below 7 percent.
Krugman says it's technically not difficult to do, but in today's polarized environment, politically, it is a real challenge.
'Not Enough Demand'
According to Krugman, "there is a lot of genuine confusion" on the current economic crisis.
He says our economy has high unemployment and low economic output because consumers, businesses, and government are not spending enough. When the housing bubble burst, business investment declined and government spending shrank. Businesses weren't about to invest in new capacity to produce goods that wouldn't be bought.
In other words, we are suffering from "an inadequate level of demand," he said.
Krugman has drawn a chapter from economist John Maynard Keynes, whose views on government stimulus were immensely popular following World War II, but whose policy recommendations were actually institutionalized earlier, during the Depression, according to economist Raghuram Rajan.
Keynes provided much of the analytical framework to understand depressions, said Krugman. Our predicament bears a strong resemblance to conditions in the 1930s, and we should have learned from the research and analysis what to do in our current situation, he said.
"Now is the time for the government to spend more, not less, until the private sector is ready to carry the economy forward again," Krugman writes.
The time for austerity measures is during the boom, not the slump, according to Keynes. Austerity policies, which are what we have been following since early 2010, shrink the economy and destroy jobs, said Krugman at EPI.
The proponents of austerity measures, says Krugman, say austerity breeds "confidence," believing that this will somehow lead to more spending and economic recovery. But Krugman said this austerity theory is not supported by facts. He cited data that plotted the size of austerity measures in European nations against the growth in GDP. The result is a "tight" inverse relationship, he said.
The austerity hypothesis is now being tested in Europe, in nations like Greece, Ireland, Spain, Italy, and the U.K. British Chancellor George Osborne in the Conservative government warned against abandoning austerity recently. He said that gains for more public spending and lower taxes would be offset by higher interest rates, and investors would insist upon purchasing government bonds, according to the Guardian last month.
But this scenario is rejected by Krugman, who said that our national debt relative to our GDP is still below past levels. He agrees the high debt is not good but "it is not a crisis issue." Despite our growing debt, markets are willing to lend our government long-term loans at low interest rates, Krugman said.
Rajan questions the efficacy of government stimulus in practice. Politicians typically bring out all their pet projects under the guise of stimulus to support a recovery, he says in "Fault Lines" (2010). As payback to special interests, there is little incentive to sign off on projects that will actually aid the recovery.
Krugman says there is little to be gained by focusing on the excesses of the boom, the bad lending, and what foolish people did during the boom years. Many people want to blame the financial sector with its financial inventions, such as credit default swaps, for our troubles. Krugman agreed that from September 2008 to March 2009, financial markets were disrupted, "but that's long gone."
"That should tell you that the financial sector is not the reason we are not having a strong recovery," he said.
The Epoch Times publishes in 35 countries and in 19 languages. Subscribe to our e-newsletter.