No Longer Reticent, Chinese More Aware of Their Rights
February 4, 2007 12:00 am Last Updated: February 4, 2007 12:00 am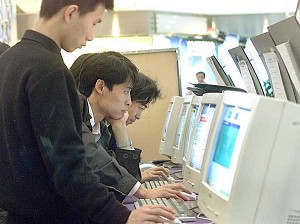 On March 27, 2006, Teng Ziying, a 59-year-old peasant woman from Shiman County, Hunan Province, collected 28 empty mineral water bottles while riding the train from Changsha City to her home town. She was going to cash in the bottles and use the money for the treatment of her granddaughter, a leukemia patient.
For this "crime," Ms. Teng was arrested and taken to a detention facility at the Shimen County Police Station. She was sentenced to five days in custody. Ms. Tang was released three days later when her son-in-law paid the detention facility 400 yuan (approximately US$50) for bail and 175 yuan (approximately US$22) in "detention fees."
Cao Yongmao, Ms. Teng's son, a middle school teacher in Linfeng County, Hunan Province, could not accept that his mother suffered humiliation just for wanting to help his daughter, so he told her story to several media agencies and also tried to complain to the local court. But after two months went by he hadn't received any reponses.
On May 27, 2006, Mr. Cao posted an article on a Hunan Province website, Hong.net, titled "In Tears of Blood I ask: Should My Helpless Mother Be Detained for Five Days for Picking up 28 Empty Bottles?" The article drew wide attention and received some 5,000 hits and more than 200 comments the day it was posted.
Xiaoxiang Morning, a Hunan Province newspaper, wrote a story about the case, and explained that over a period of two months, Mr. Cao had complained to many media organizations in vain and had even written a letter to a chief editor of a central media agency, with no reply, before he finally posted his article on the internet.
When both the local and central media outlets reported the story, the local railroad company and police sent supervisors to Cao's home. Both representatives apologized to Mr. Cao and reimbursed him for the detention fees he had paid to free his mother. They also offered to help pay for his daughter's medical treatments.
People in China are becoming more aware of their rights and the means to ensure their rights are not trampled on. There are more people like Cao Yongmao who know that they should seek to protect their rights and many of them are starting to settle their complaints through the law. Small-claims cases, in particular, are quite common now in China.
Qiu Jiandong, an attorney dubbed "The No. 1 fighter for public interests in China," said that China was slow in developing democratic policies and had just started to move toward a society for citizens. In 1996, he brought to the public's attention a compensation case involving a 1.2 yuan long-distance telephone fee and the Longyan City Post Office. At the time it was lauded as "The No. 1 public interest case in China." It was not until after the year 2000 that rights cases, in which citizens fight for their rights, started to occur more often.
Qiu Jiandong said that the small claims cases that he handled, while unlike the group cases handled by more daring rights attorneys involving large numbers of laid-off workers and farmers, had more educational value. People's notions would change and they would learn that it was up to them to press for their rights, Qiu said.
"Today if you pick up a newspaper you will find a number you can call if you have a consumer complaint," said a senior Beijing reporter. It was quite common for a consumer to call a reporter, and if a consumer bought a fake or shoddy product and did not have a satisfactory explanation from the manufacturer, he would call the hotline without having to be told to do it, the reporter said.
He said that the media in China can investigate all complaints except those against the government.
Another reporter added that, while it was true that no media agency dared to report stories of city government officials accused of corruption and bribery, the complaints about bad service from certain government sectors did get publicized.
Despite China's moderate improvements in rights advocacy, substantive progress has not yet been realized. Efforts to protect rights through the courts are often stalled by cumbersome legal procedures, high costs, and the large number of failed cases.
Under the present circumstances in China, where the communist regime refuses to change its political system, people can only have limited freedoms that are a consequence of the nation's economic reforms and opening. People can hope to protect some of their rights, mainly in inconsequential cases, but cannot expect to have all of their rights respected all of the time.
Will these rapidly growing rights cases develop into a trend and lay the groundwork for democracy; or will they only serve as a "pacifier" and become a way for authorities to deprive people of their more important rights? Only time will tell.