Recently crowned No. 1 Purdue Boilermakers (8–1) visited the Rutgers Scarlet Knights (5–4) on Thursday night at Piscataway, New Jersey, and came away with a heart-wrenching 70–68 loss on Ron Harper Jr.'s 40-foot shot with less than a second remaining. 
Coming into the game, Rutgers was a huge underdog as they had just lost by 35 points at Illinois six days before, while the Boilermakers were ranked No. 1 for the first time in school history. It was Rutgers's first defeat of a No. 1 ranked team in school history.
"It's unreal, it's something you dream about. When I put the shot up, it felt good off my hands and when it went in, I was definitely like a little kid on Christmas," said Harper. "It was just a great feeling, not so much for me; this team deserved that win, and we deserve to have one go our way today. This program is beating the number one team in the country, and we made history." 
Harper gave Rutgers a 67–66 lead with a 12-foot turnaround jumper in the lane with 13.1 seconds remaining in the game. 
Boilermakers Trevion Williams left 3.4 seconds after successfully driving the right edge of the lane to make a bank shot to re-take a one-point lead. 
Harper took the inbounds pass, dribbled past mid-court, and released a shot—just before half a second showed on the clock—from the bottom left corner of the R (Rutgers) emblem that found the center of the basket.
"I took a quick glance at the shot clock and I thought it was like 3.4 seconds left and I told Mawot [Mag] to give me the ball," added Harper. "I tried to get as far up court as I could and I ended up over half court and I was real comfortable taking that shot. When it left my hands, it felt like it was good."
Harper scored a season-high 30 points on 10–15 shooting, 5–7 threes, and 10 rebounds.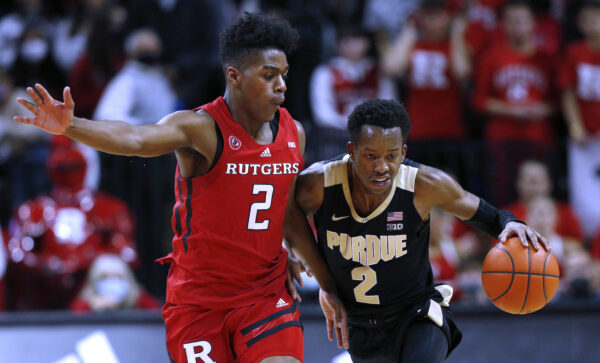 Rutgers Coach Steve Pikiell mentioned that the team had several players recovering from flu symptoms; even more importantly, they were missing star guard Geo Baker who missed his fourth game due to a hamstring injury.
"At shoot-around today we all found out that Geo had the flu and he wouldn't be with us today," said Harper.
"Coach Pikiell preaches the next man up mentality," added Harper. "We put together a full game. [Baker and I] came back [for our senior year to] have a great season, and obviously, it's gonna help us a lot."
"It proves that we can play with anybody in the country; we're just looking to keep that momentum going."
With 1:05 in the game, Harper made a pass to a slashing Mag for a dunk to come within one (66–65); Mag scored 12 points and had three rebounds.
Rutgers center Cliff Omoruyi scored 11 and drew an offensive foul on Trevion Williams, who led the Boilermakers with 21 points and 11 boards.
But Harper then made a bad pass, giving the Boilermakers the ball with 23 seconds remaining.
Boilermaker Jaden Ivey scored 15 points, but traveled trying to split a double-team, giving the ball back to Rutgers with 20 seconds left. Harper would then make Rutgers' last two buckets for a 70–68 victory.
"We just kept hanging around, fighting," Rutgers coach Pikiell said. "It didn't look like it was going our way a few times and they just stayed the course and made big plays and made big stops."
Harper's father, Ron Harper Sr., played alongside Michael Jordan and the Chicago Bulls, winning three straight NBA titles from 1996 to 1998. He added two more championships in his last two seasons with the Lakers alongside Shaquille O'Neal and Kobe Bryant.
Harper Jr. added: "We're gonna enjoy tonight, me and my teammates. We're gonna have some fun, and then we're gonna get right back to business tomorrow."
Rutgers will next meet at rival No. 23 Seton Hall on Sunday afternoon at 4:30 EST; Purdue shall host North Carolina State also on Sunday.