A ninth Australian abattoir has had its license to export to China suspended.
One of the country's largest beef companies, Australian Country Choice (ACC), based in Brisbane, was notified by federal authorities that from Oct. 18, its trade to China had been blocked.
Chinese authorities supposedly detected a chemical substance used to treat bacterial infections in dogs in ACC's products.
"The reasons provided to Department of Agriculture Water and Environment (DAWE) from Chinese authorities was that a frozen product received in China had failed a random sampling test for chloramphenicol on beef products inspected at the entry port of Ningbo," ACC CEO Anthony Lee said in a statement to The Epoch Times.

The Export Meat Program at DAWE will request a second test be carried out by the General Administrations of Customs China—a standard practice.
"Random product testing that could identify this drug is also conducted at other ports of entry to the EU, Korea, and Japan, among others," he said.
"While the beef product that failed the test was not ACC's, nor from ACC livestock or feedlots, it was processed on behalf of a branded non-packer export customer and exported under ACC's establishment 1620 licence.
"Given the supply chain processes were beyond ACC's control, it is clearly a huge disappointment and major disruption to its business and its customers' branded programs into China.
"In the absence of a China licence, the company will now focus on alternative markets."
Other companies to have had their meat exports suspended include Queensland's Kilcoy Pastoral Company, Beef City (owned by JBS Group), John Dee, and Meramist; New South Wales' Northern Cooperative Meat Company; and Victoria's Australian Lamb Company and JBS Brooklyn.
Jeffrey Wilson of the Perth USAsia Centre said the nature of food safety inspections in China meant "we will never know for sure whether this abattoir ban is a political act by the People's Republic of China (PRC) or not."
"Fundamentally, the international trade rules for food safety are based on trust (we all agree to leave it to the scientists). So, when trust collapses, e.g., when the PRC starts directing their safety inspectors to make non-scientific calls—there's not a lot you can do," he wrote on Twitter.
David Littleproud, federal agriculture minister, said the latest suspension was a reminder of the need to "create, maintain, and expand market access for all agricultural exporters."
"Despite information being provided to Chinese authorities and our efforts at a government, departmental, diplomatic and counsellor level, suspensions remain in place," the minister said in a statement to the ABC on Oct. 21.
The latest episode comes as Australia continues to expose Beijing's use of economic coercion against other countries.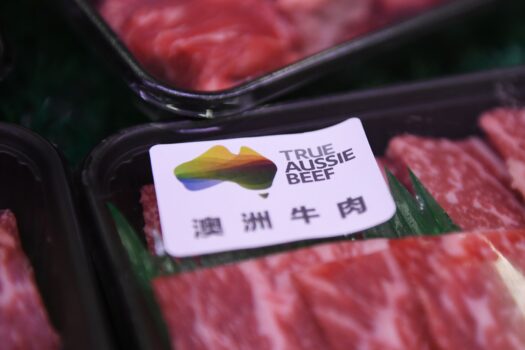 On Oct. 20, Australia's ambassador to the World Trade Organisation (WTO), George Mina, released a statement as part of the global body's regular Trade Policy Review process.
It said that while increased engagement from Beijing was welcome, it had made little progress in adopting WTO principles and that it needed to "adhere more closely to market-oriented principles."
"Since its last review, China has increasingly tested global trade rules and norms by engaging in practices that are inconsistent with its WTO commitments. Australia is one of numerous WTO members that has experienced this first-hand," the statement read.
"China says these actions reflect legitimate concerns, but there is a growing body of information that demonstrates China's actions are motivated by political considerations," it continued.
Beijing's trade strikes against Australia, which have swept up a range of industries—including barley, coal, cotton, hay, logs, meat, rock lobsters, and wine—began soon after Foreign Minister Marise Payne called for an independent investigation into the origins of COVID-19 in April 2020.