MINNEAPOLIS – The value of the Nine Commentaries on the Communist Party was displayed when it was honored with a top award by the Asian American Journalists Association (AAJA) on Thursday.
Every year during the AAJA annual convention, National Journalism Awards are awarded for several categories. At the 2005 convention in Minneapolis, the Nine Commentaries won top honors in the category "Asian American Issues – Online."
The Nine Commentaries is a series of essays revealing—for the first time—the full, shocking history of the Chinese Communist Party. The Nine Commentaries was first published in Chinese in Epoch Times newspaper in November 2004. Now it is available in more than 20 languages.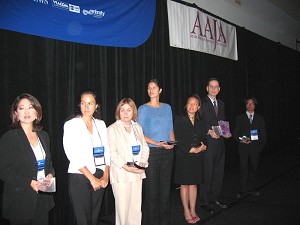 The author or authors of the Nine Commentaries must remain anonymous—their lives and their families' lives would be in danger if their identities were known by the CCP. In their place, Epoch Times editor John Nania had been nominated for the award. In Minneapolis, he accepted the award on behalf of Epoch Times , and took the stage along with approximately eight other winners.
The featured speaker at the awards luncheon was Walter Mondale, former U.S. vice president and former ambassador to Japan. He commented about how rapidly changes have swept across East Asia in recent years, including the increasing visibility of China on the world stage.
Mr. Nania had an opportunity to chat briefly with Mr. Mondale, who accepted a copy of the Nine Commentaries with interest. "I'll read this!" Mr. Mondale replied.
The Nine Commentaries has triggered a huge wave of resignations from the Chinese Communist Party and its affiliated organizations. The number of Chinese people who have publicly withdrawn is approaching four million, beginning since the website counting the resignations— Tuidang or "Quit the CCP" as it is called—was launched in early December 2004.
The AAJA National Journalism Award is the first such award for the Nine Commentaries , which has been the subject of much discussion inside and outside China. Hundreds of public forums on the future of China have been held in a number of countries, with the Nine Commentaries being the focus of each of the forums.
The National Journalism Awards fielded entries from over 100 media organizations. Ten awards were given in four categories.
In addition to Epoch Times, award winners came from the Boston Globe, the New York Times, and the Washington Post, among other organizations.
Founded in 1981, AAJA is a national, non-profit educational association based in San Francisco that has more than 2,300 members. Today, AAJA encourages young Asian Americans and Pacific Islanders to enter the ranks of journalism, to work for fair and accurate coverage of Asian Americans and Pacific Islanders, and to increase the number of Asian Americans and Pacific Islanders and news managers in the industry.
The AAJA includes among its members some of the top journalists in the country, from network news anchors and reporters to Pulitzer Prize-winning writers, editors and photographers, to national radio show producers and major magazine editors.