Consumer opinion of Nike has dropped significantly following the announcement of a new campaign featuring controversial former NFL player Colin Kaepernick.
A report from Morning Consult found that Nike's favorability has fallen by double digits following the campaign announcement, which prompted some customers to burn their Nike gear.
"Before the announcement, Nike had a net +69 favorable impression among consumers, it has now declined 34 points to +35 favorable," Morning Consult stated. Additionally, before the announcement, 49 percent of Americans said they were either "absolutely certain" or "very likely" to buy Nike products. That number declined to 39 percent post-campaign.
Digging In
Nike's favorability dropped in every single consumer group, including in 18- to 21-year-olds (81 percent to 51 percent); Gen X (75 percent to 39 percent); and Boomers (68 percent to 20 percent).
Favorability dropped the least among three groups: Democrats (74 percent to 65 percent); blacks (82 percent to 74 percent); and Millennials (64 percent to 52 percent).
NEW: Nike's Favorability Drops Double Digits Following New 'Just Do It' Campaign with Colin Kaepernick https://t.co/rqVinfISBT pic.twitter.com/CgHDlj5yOf

— Morning Consult (@MorningConsult) September 6, 2018
In a different ranking, Morning Consult asked respondents if they were "absolutely certain" or "very likely" to buy Nike products.
Across all groups, fewer people said they were certain or likely to buy the products. The biggest drop was among Republicans (51 percent to 28 percent) while the smallest drop was among blacks (64 percent to 61 percent).
Morning Consult interviewed 1,694 adults before the campaign in the United States from Aug. 26 to Sept. 3 and 5,481 adults after the campaign announcement from Sept. 4 to 5. Results from the pre-campaign survey have a margin of error of plus or minus two percentage points while the post-campaign survey results have a margin of error of plus or minus one percentage point.
The poll results come after Nike's stock dropped following the campaign announcement.
Believe in something, even if it means sacrificing everything. #JustDoIt pic.twitter.com/SRWkMIDdaO

— Colin Kaepernick (@Kaepernick7) September 3, 2018
Boycott Calls
Some people called for boycotting Nike following the campaign.
Research firm M Science analyzed the calls for a boycott, looking through the frequency of the words "boycott" and "Nike" over Twitter in the two days following the announcement.
Using that measure, the firm found that the boycott campaign ranked sixth among the campaigns measured by the firm over the past six years, reported Bloomberg.
M Science found that the calls for a boycott ranked well below calls for an NFL boycott last year when the league announced that players would be allowed to kneel during the National Anthem.
The Nike boycott analysis found it also ranked lower than two calls for boycotts of Starbucks, one in April after two black men were arrested at a store and another last year when the company announced it was hiring refugees and displaced immigrants.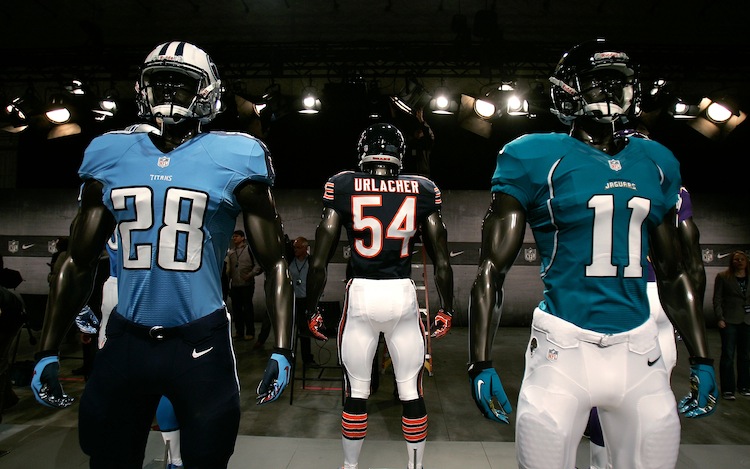 Trump Responds
Kaepernick started the kneeling protests during the National Anthem, which is played before every NFL game, in 2016. He's currently out of the league.
The protests have proven divisive, with a decline in viewership linked in part to them. About quarter of the Morning Consult respondents said they were less likely to watch NFL games following the Nike campaign.
President Donald Trump, who has been a vocal critic of the kneeling protests, commented on the new Nike campaign.
"I think it's a terrible message. Nike is a tenant of mine. They pay a lot of rent," Trump told the Daily Caller, referring to Niketown New York.
"I think it's a terrible message that they're sending and the purpose of them doing it, maybe there's a reason for them doing it, but I think as far as sending a message, I think it's a terrible message and a message that shouldn't be sent. There's no reason for it."
However, the president noted that Nike is free to make the decision. "In another way, it is what this country is all about, that you have certain freedoms to do things that other people think you shouldn't do," he said.
From NTD.tv