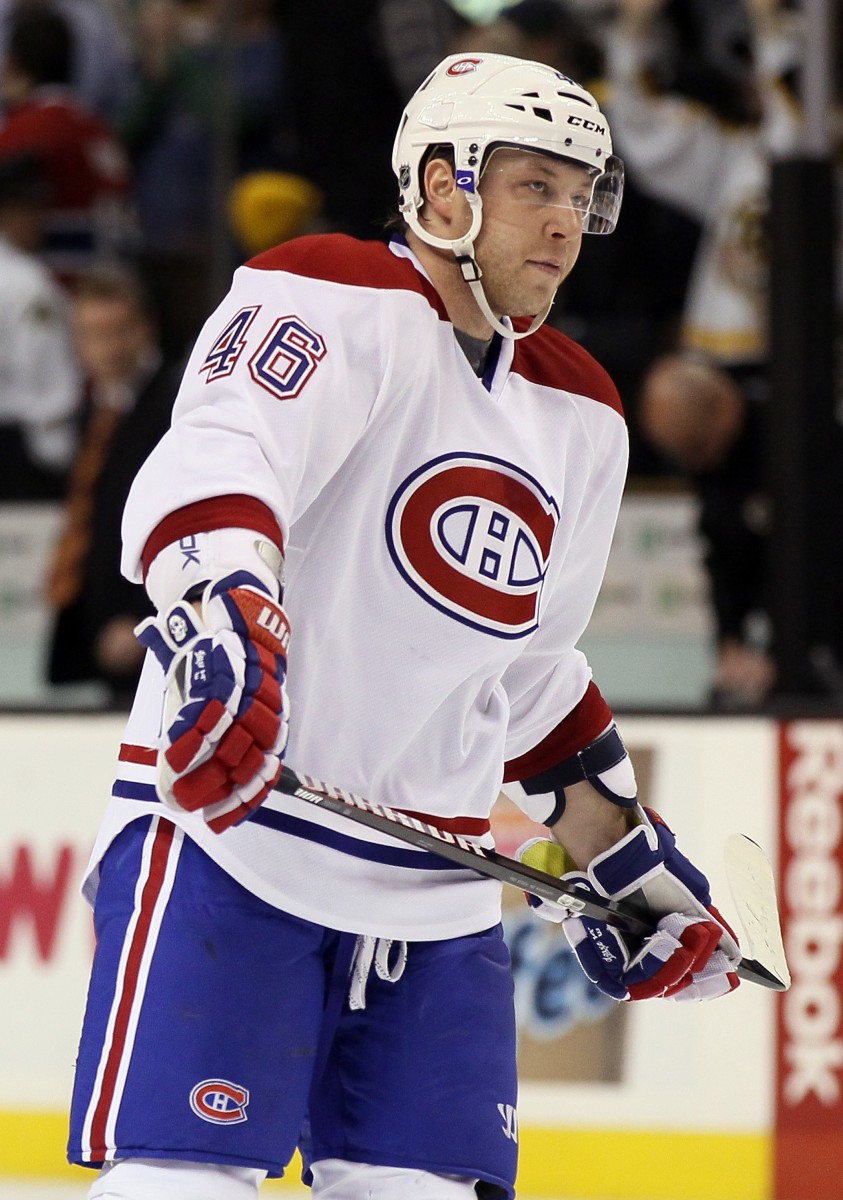 The Nashville Predators were "buyers" and made the boldest moves in an attempt to strengthen their squad for the playoff run on a mostly quiet NHL trade deadline day on Monday. For Nashville, it's all about the present, not the future.
While Predators general manager David Poile didn't pull off the blockbuster Rick Nash trade, he made two important deals on deadline day in addition to obtaining veteran defensive defenseman Hal Gill on Feb. 17.
Andrei Kostitsyn, a former 10th overall choice by the Canadiens in 2003, joined his younger brother Sergei in Nashville in the first trade on Monday. Three times a 20-goal scorer, Kostitsyn was having a below-average season in Montreal.
Poile said in an interview with NHL Network, "A change of scenery will be a benefit to Andrei and our hockey club." Poile went on to say about his club, "We need more goals," and labeled Kostitsyn a "top six forward."
Kostitsyn was an inconsistent performer in Montreal but can show flashes of brilliance. He has decent size and possesses a very good shot. His current salary is $3.25 million and is an unrestricted free agent at the end of the season.
Sergei Kostitsyn is a prime example of a player whose career took off after leaving Montreal. The younger Kostitsyn scored 24 goals in 155 games in Montreal before scoring 23 goals in 77 games in his first full season in Nashville.
Poile is clearly hoping for comparable returns out of Andrei. He gave up a second-round pick and a conditional fifth-round pick in next year's draft.
Strength at Center
In acquiring Paul Gaustad from the Buffalo Sabres, Nashville got a big, physical face-off man who is an ideal player for the playoffs.
"He [Gaustad] adds a lot of the intangibles," said Poile. "He can play in some matchup situations which is what the playoffs are all about." Gaustad came along with a fourth-round pick in 2013; however, Nashville had to give up their first-round pick in this summer's draft.
Gaustad was a seventh-round pick of the Sabres in 2000 and has been a consistent performer in Buffalo for the past 6-plus seasons. Gaustad is currently earning $2.5 million and is also an unrestricted free agent at the end of the season.
Stuck in the Western Conference's Central Division, the NHL's toughest division this year, Nashville is doing what it takes to get to the next level.
The franchise lost to the Vancouver Canucks in last year's conference semifinals and has strengthened their defense with the addition of Gill, their scoring with Andrei Kostitsyn, and their size and toughness with Gaustad.
However, Washington Capitals GM George McPhee sounded a warning about trade deadline day.
"There are more mistakes made at the trade deadline than any other time in our business," he said in an interview with NHL Network.
Time will tell how Poile and the Predators have done.
Follow Rahul on Twitter @RV_ETSports