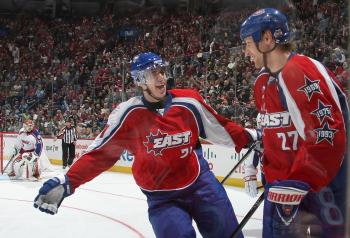 Montreal is hockey town. A better place to host the All-Star game could not be found. Only in Montreal can a Saturday morning practice be sold out with 20,000 fans in attendance as players get a light warm-up and sign autographs.
The NHL All-Star weekend was awarded to Montreal to coincide with the 100th anniversary of hockey's version of the New York Yankees, the Montreal Canadiens.
The Canadiens have won 24 Stanley Cups and during the game, fans were treated to a sample of their 100 years of history as famous legends like Henri "Pocket Rocket" Richard, Dickie Moore, Jean Beliveau, and Bob Gainey all made appearances.
Tampa Bay's Martin St. Louis called it "top class."
The Game
In a game where finesse, skills, and trick plays abound and slap shots, hits, and penalties are non-existent, the East and West ended regulation time tied at 11. With 22 goals scored and 96 shots on goal taken, you might wonder if a goalie would actually want to be nominated for an All-Star game!
"Give the fans a little more intensity," said RDS analyst and former Stanley Cup winning coach Jacques Demers after a second period in which 10 goals were scored. Yes, back-checking was not high on the list of priorities for forwards during the game.
"Give the car [MVP prize] to Keith Tkachuk! He's the only one who actually hit someone," said former New York Rangers coach Michel Bergeron.
With the game ending 11–11, then came sudden death overtime. And it seemed that some amount of pride and competitive nature returned to the game.
Canadiens defenseman Mike Komisarek took the game's only penalty and the Western Conference went on a four-on-three power play. But Boston goalie Tim Thomas came up huge.
Appropriately, after a skills competition elimination shootout, the All-Star game itself would be decided in a shootout.
Hometown favorite Alex Kovalev would score the winning goal and earn himself the MVP award. The Montreal fans who voted him on the starting lineup wouldn't have it any other way.
"It's unbelievable, been dreaming about this moment a long time. Staring lineup, [being named] captain, winning this [MVP award and Honda truck], I'm definitely going to remember this," said Kovalev in an interview with RDS.



And Kovalev did play with purpose in front of his hometown fans. "I said I'm going for it [MVP award]. I wanted to win it."
For the players, it was a chance to see former teammates and their countrymen. Kovalev, who is accustomed to guiding the younger Russians on the Canadiens, formed a good partnership with NHL scoring leader Evgeni Malkin.
"It's great seeing guys from the [Russian] national team," said Kovalev.
And while top vote getter Sidney Crosby couldn't play due to injury, he mentioned how meeting Gordie Howe and Mark Messier was a highlight for him.
Even some serious topics were discussed during All-Star weekend, as league commissioner Gary Bettman conceded that fighting does have a place in hockey.
Skills Competition
On Saturday night, the All-Stars were joined by the young stars (rookie and sophomore players) for the skills competition.
Young Edmonton Oilers forward Andrew Cogliano won the fastest skater award by racing around the Bell Centre ice in 14.31 seconds.
In the breakaway challenge, six players were judged by the fans and players on their creativity in a shootout. Ever the showman, Alex Ovechkin took the award after his countryman Evgeni Malkin attempted to disguise him with a Canadian Mounty hat and sunglasses.
The rookies then beat the sophomores in a three-on-three game 9–5. Boston's Blake Wheeler won the MVP award with a three-goal and one-assist performance.
Evgeni Malkin won the most accurate shot contest over Dany Heatley of the Ottawa Senators. In their first attempt, both Malkin and Heatley hit four targets in four shots bringing back memories of former Bruins defenseman Ray Bourque's exploits in this competition.
In the hardest shot competition, six-foot-nine inch defenseman Zdeno Chara of the Boston Bruins set a new NHL record with a 105.4 mph blast. He will donate the $24,000 he raised to the Right to Play charity. Al Iafrate's 105.2 mph record had stood since 1993.
Chara's slap shot drew cheers from the Canadiens fans despite the bitter Boston–Montreal rivalry. When asked what he thought about the Boston players being constantly booed, Chara responded, "It's nothing less than we expected."
In the final competition of the night, Phoenix's Shane Doan won the elimination shoot-out in a seven-round battle. Interestingly, he was the first shooter out of all the All-Stars to get the competition underway.
After a hugely successful All-Star weekend in Montreal, it's now back to business for the NHL as games will resume on Tuesday night.