Los Angeles Rams (7–4) 28 | Green Bay Packers (9–3) 36
Green Bay Packers QB Aaron Rodgers did not practice all week due to a toe fracture, but it didn't slow him down as he threw two touchdown passes and ran for a touchdown in their home victory over the Los Angeles Rams 36–28.
"When I step on the field, I expect greatness," said Rodgers. "Anyone who's a great competitor feels the same way. I don't lean on excuses; not practicing, a little toe injury."
Rodgers completed 28–45 for 307 yards, while three rushers combined for 92 yards.
The Packers' defense frustrated the Rams, especially in the first quarter. The Rams finally scored in the second quarter.
QB Matt Stafford finished with 302 yards on 21–38 completions, three touchdowns, and a pick-six. He's thrown three pick-six each in the past three games, and the Rams have lost all three.
The Rams shut out the Packers 11–0 in the fourth quarter, but ultimately failed in their comeback attempt with an unsuccessful onside kick recovery with 17 seconds remaining in the game.
In his second game as a Ram, Odell Beckham Jr. scored his first TD on a 54-yard play; he had the third most receiving yards for the Rams with 81 yards. Cooper Kupp had 96 yards on seven catches, and Van Jefferson had 96 yards on three receptions.
The Rams will next host Jacksonville next Sunday, while the Packers have a week off before hosting Chicago on Dec. 12.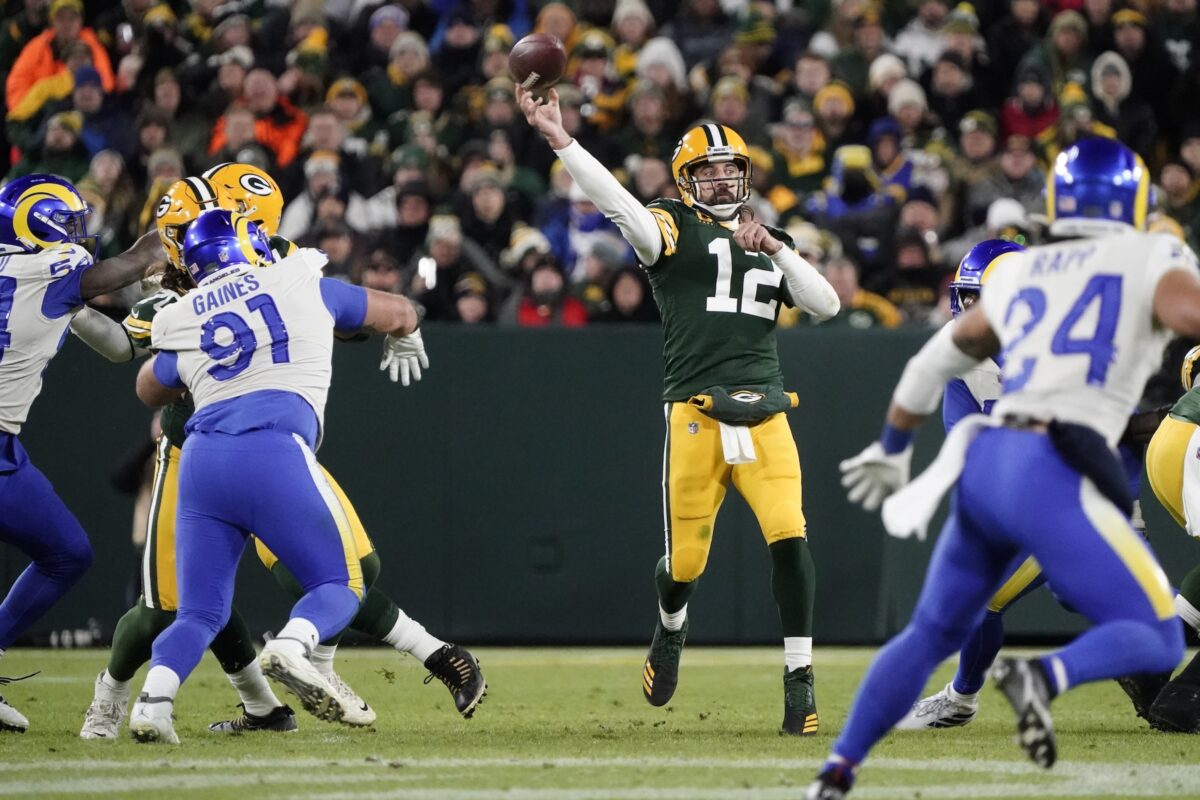 Tennessee Titans (8–4) 13 | New England Patriots (8–4) 36
New England Patriots Rookie QB Mac Jones threw two touchdowns on 312 passing yards, and the Patriots defense forced four turnovers to win their sixth straight over the Titans 36–13. Tennessee had several starters missing, to include star RB Derrick Henry.
Titans QB Ryan Tannehill threw for just 93 yards on 11–21 attempts, one touchdown, and one interception. The running backs also combined for three fumbles.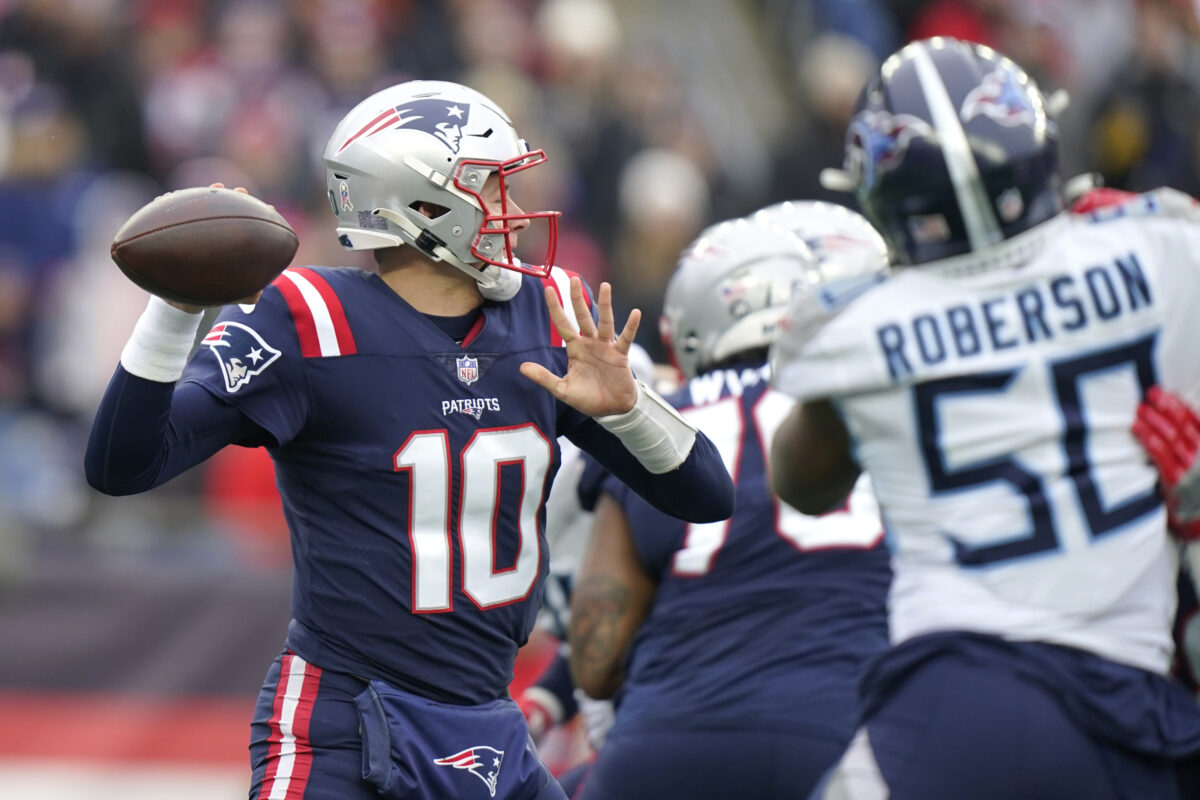 Tampa Bay Buccaneers (8–3) 38 | Indianapolis Colts (6–6) 31
Tom Brady took the Buccaneers 75 yards on eight plays, to score a touchdown on their final drive with 3:29 remaining in the game, giving Tampa Bay a 38–31 come-from-behind victory at Indianapolis.
Leonard Fournette scored the final of four touchdowns with a 28-yard scoring run with 20 seconds left. He rushed 17 times for 100 yards and three scores and also caught Brady's only touchdown pass.
The Buccaneers' next game is at Atlanta next Sunday.
The Colts are away at Houston next Sunday for their second meeting against the Texans.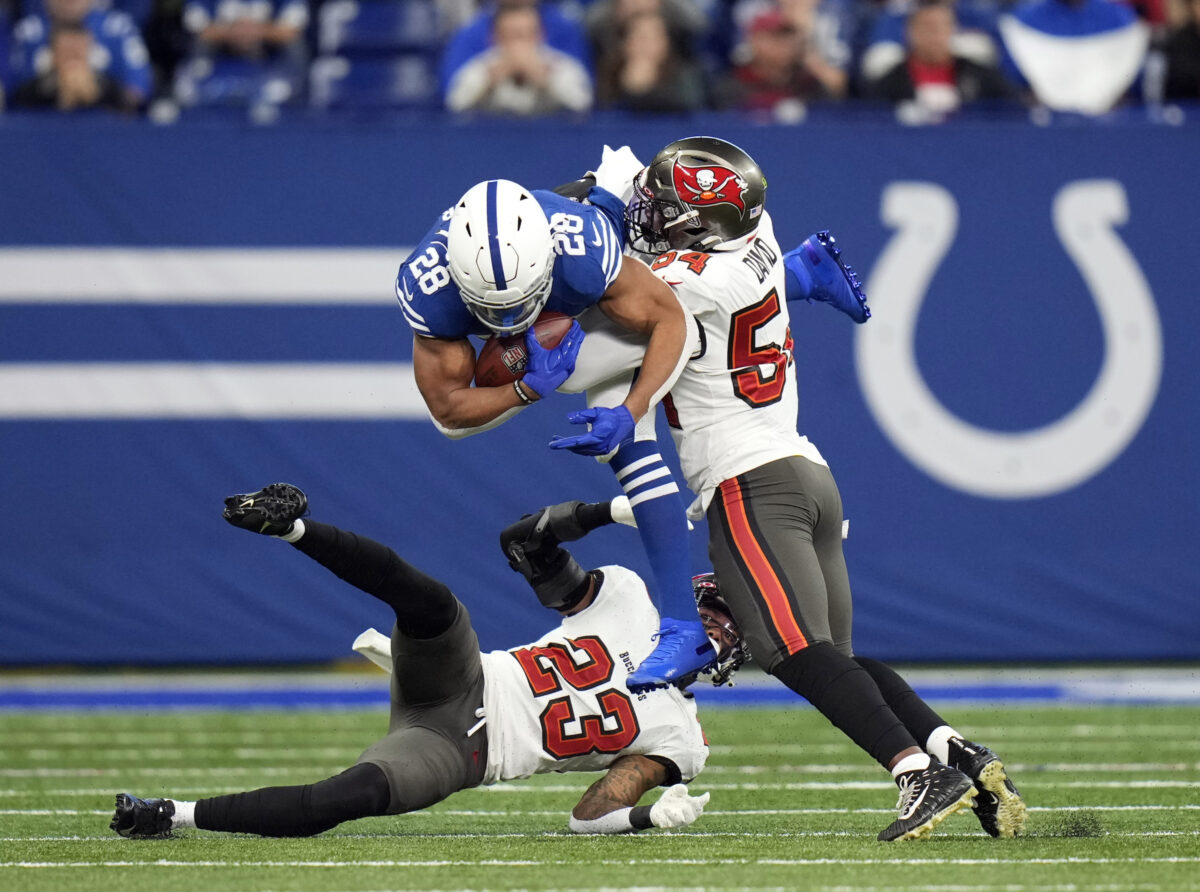 A classic Thanksgiving match-up resulted with the Las Vegas Raiders defeating the Dallas Cowboys in overtime by a 29-yard field goal from Daniel Carlson, his fifth field goal of the game.
Since 1968, the Raiders have lost twice to the Cowboys on Thanksgiving, with this being their fourth holiday appearance.
"It kind of gave me goosebumps, I'm not going to lie," Raider QB Derek Carr said. "When that kick went through, I had a lot of memories as a kid."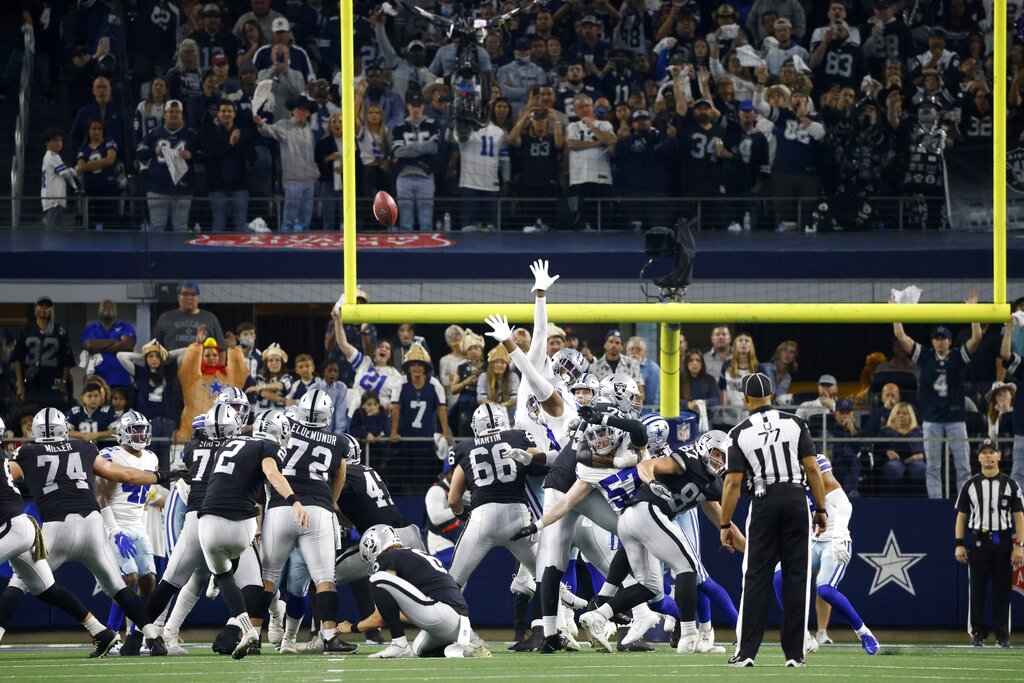 Carr completed 24 of 39 passes for 373 yards, one touchdown, in the much-needed win for playoff contention.
Recent Raider acquisition from the Rams DeSean Jackson had 102 receiving yards, including a 56-yard touchdown catch, while Hunter Renfrow had a career-high of eight receptions on 134 yards.
The Raiders were aided by four pass interference penalties by the Cowboys' Anthony Brown. All four came on third down extending Raiders drives, including the final drive on a third and 18.
"The penalties obviously helped," said Carr. "If they weren't holding, we probably would have hit those plays."
Both teams had season highs in penalties. Dallas, the league leader in penalty yards, had 14 for a team record of 166 yards, and Las Vegas had 14 penalties for 110 yards.
Both teams also recorded highs in yards gained for the season. The Raiders had 509, while Dallas's top-ranked offense finished with 437.
The Dallas offense struggled early without their top receivers; Amari Cooper was out due to COVID-19 protocols, and CeeDee Lamb suffered a concussion in last week's game.
Cowboys QB Dak Prescott passed for 373 yards, completing 32–47 attempts.
The Raiders' next game will be at home against Washington on Dec. 5.
The Cowboys will travel to New Orleans next Thursday, Dec. 2.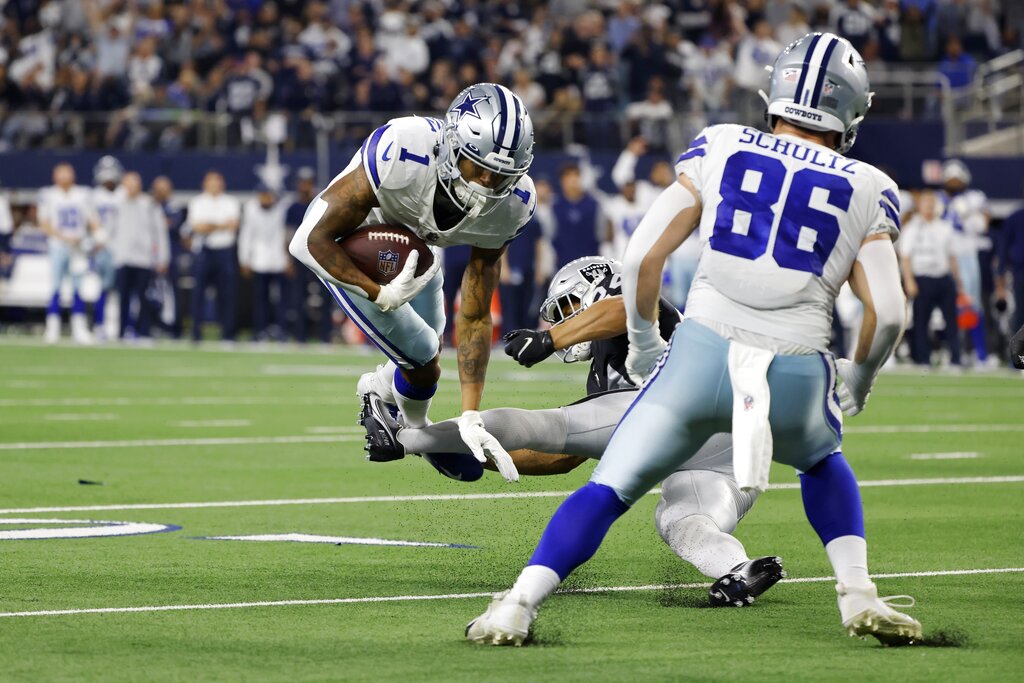 The Bills dominated the Saints in all facets of the game in New Orleans.
Bills QB Josh Allen threw four touchdowns on 23–28 attempts for 260 yards.
Allen threw two touchdown passes to Dawson Knox and one each to Stefon Diggs and Matt Breida. Bills rushed for 113 yards for a total of 361 yards for the game.
Saints QB Trevor Siemian finished with 163 yards, and a TD, on 17–29 attempts, totaling a meager 190 yards.
The Saints have now lost four consecutive games and will host the Dallas Cowboys next Thursday, Dec. 2.
The Bills will host the New England Patriots on Dec. 6.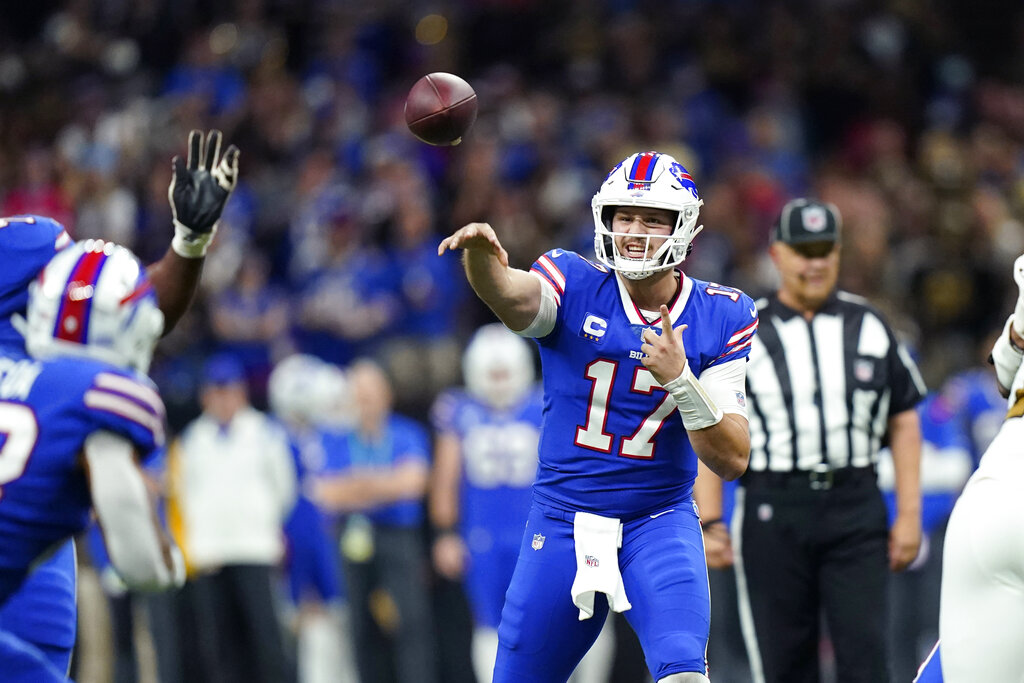 Chicago Bears kicker Cairo Santos was successful on a 28-yard field goal on the last play of the game to beat the winless Detroit Lions.
The Bears' final drive consisted of 18 plays lasting 8:30, which ended their five-game losing streak.
Bears QB Andy Dalton threw for 317 yards and a touchdown, completing 24–39 passes with one interception, with the total offense standing at 378 yards.
Bears receiver Darnell Mooney caught five passes for 123 yards, while David Montgomery led the Bears in rushing with 46 yards on 17 carries.
Lions QB Jared Goff completed 21 of 25 passes for 171 yards and two touchdowns. Goff missed Detroit's previous game with an oblique injury.
Lions' Josh Reynolds had three receptions for 70 yards, including a TD catch of 39-yards, while Jamaal Williams led in rushing with 15 carries for 65 yards.
On Dec. 5, the Lions will host the Minnesota Vikings, and the Bears will host the Arizona Cardinals.