Trevor Siemian threw for 165 yards and two touchdowns, one covering 78 yards, and Kyle Sloter and Kirk Cousins, Minnesota's big offseason acquisition, threw for a touchdown apiece as the Vikings defeated the host Denver Broncos 42-28 on Saturday night.
Cousins, who signed a three-year, $84 million contract with the Vikings in March, completed all four of his passes for 42 yards, including a 1-yard score to Stefon Diggs in the first quarter.
Siemian, who began his career with the Broncos, came on to hit on 11 of 17 passes with one interception. Both of his scores came on connections with running back Roc Thomas, a 13-yard strike in the first quarter and the 78-yard play just before halftime.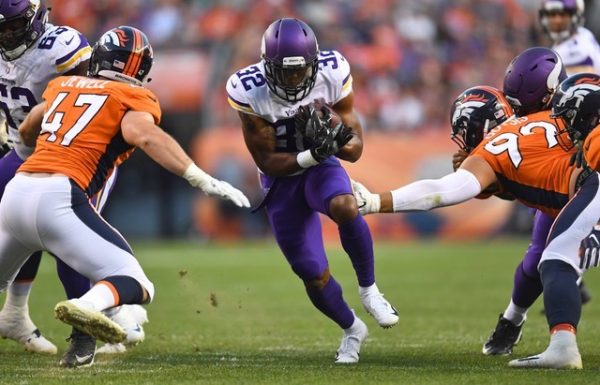 Sloter completed 9 of 11 passes, including a 9-yard strike to wide receiver Chad Beebe in the fourth quarter. Sloter also ran 14 yards for a score with about three minutes left in the game.
Case Keenum completed only 1 of 4 passes for the Broncos. Denver's third quarterback of the evening, rookie Chad Kelly, had the bigger night, hitting on 14 of 21 passes for 177 yards and two scores.
Broncos rookie running back Royce Freeman had a 23-yard touchdown run in the second quarter.
Cardinals 24, Chargers 17
Veteran quarterback Geno Smith, who is trying to win the job of backing up Phillip Rivers, threw for 218 yards and one touchdown as Los Angeles lost to Arizona in Phoenix.
Smith, who spent five seasons in New York, four with the Jets and last season with the Giants, hit 14 of 23 passes on the night, including a 47-yard scoring play to wide receiver Geremy Davis. He was also intercepted once.
Smith's competitor for the backup role, Cardale Jones, hit on 6 of 12 passes for 50 yards.

The Cardinals used four quarterbacks, with rookie Josh Rosen completing 6 of 13 passes for 41 yards. Chad Kanoff finished up by completing 3 of 5 passes for 66 yards, including a 14-yard touchdown toss to Bryce Williams.
Rookie Chase Edmonds had a 2-yard rushing touchdown in the first quarter for the Cardinals, after starter David Johnson posted two runs for 28 yards in his first game since suffering a season-ending wrist injury in last season's opener.
Cardinals linebacker Jeremy Cash, who later left the game with a knee injury, took a fumble recovery 12 yards for a score in the third quarter.