Pittsburgh Steelers team doctors are evaluating quarterback Ben Roethlisberger for a concussion after he left Tuesday's practice early following a hit, and he was placed in the concussion protocol, according to head coach Mike Tomlin.
Roethlisberger was knocked down in a collision with right tackle Marcus Gilbert and linebacker Keion Adams while rolling right during a drill on the final day of Steelers training camp in Latrobe, Pa., before the team returns to Pittsburgh.
Roethlisberger remained on the ground for a few minutes while teammates gathered around him, and then got up holding his head. He walked off the field, talked with trainers and general manager Kevin Colbert, and then left practice.
"It happened so fast. I saw his head whip back," Gilbert told reporters afterward. "I've got to see the film to see what happened. That's my guy. No one wants to see anything happen to him, especially in a practice like this."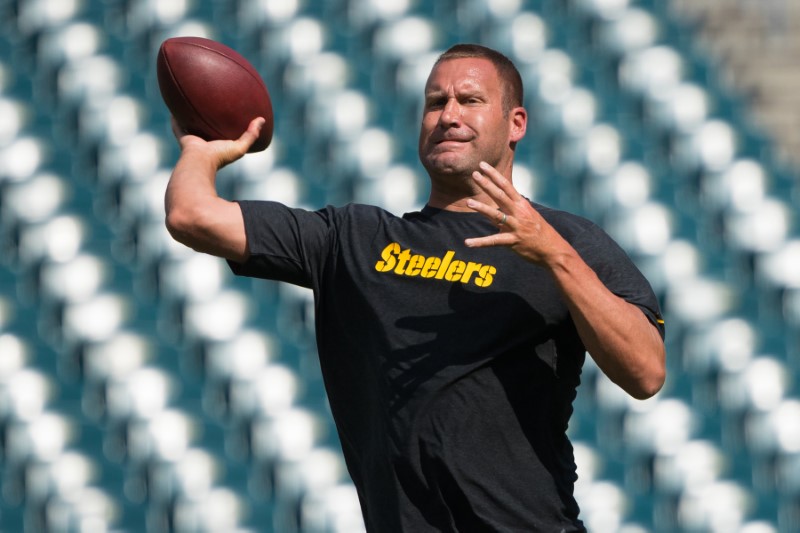 Philadelphia Eagles quarterback Carson Wentz is uncertain of his status for the regular-season opener on Sept. 6 against the Atlanta Falcons.
Wentz is working only in "controlled environment" drills during preseason practice after participating in team drills to start training camp. He is recovering from a season-ending knee injury and surgery in December.
"I would love to be out there," Wentz told WIP Radio in Philadelphia on Tuesday. "That's been my goal all offseason ever since the injury. It's going to be close. It's going to be close. I'm still eyeing that date. At the end of the day, it's not just my decision. There's coaches and doctors that really have the final say. I really like where I'm at, and time will tell here."

New England Patriots quarterback Tom Brady said he "absolutely" plans on playing against the Philadelphia Eagles on Thursday.
Brady was held out of the Patriots' preseason opener against the Washington Redskins last week with what was reported to be a minor back injury. He has seen more reps in practice this week in advance of the Super Bowl rematch.
Brady, 41, has seen his preseason workload cut back in recent years given his age. He became the oldest player to ever with the league's MVP award last season, and he reiterated to WEEI on Tuesday that he plans to play beyond this season.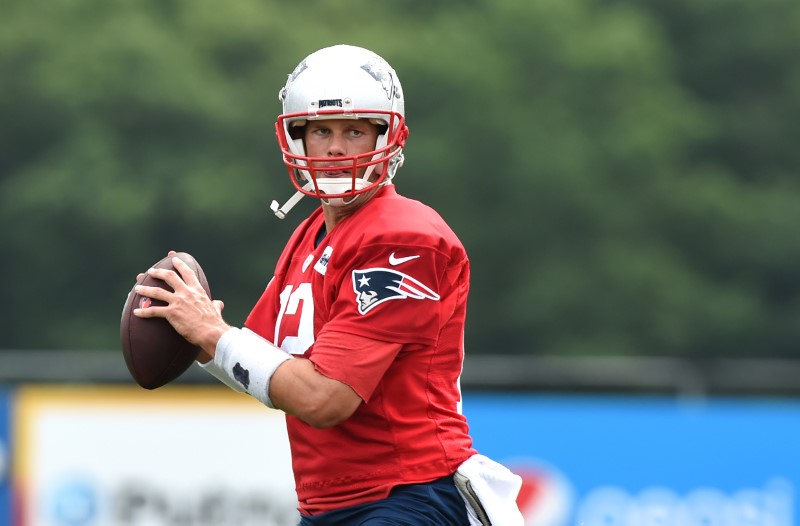 One day after rookie Chad Kelly was named the Denver Broncos' No. 2 QB, general manager John Elway admitted it may not be the last move he makes to his quarterback room before the season kicks off next month.
Speaking in a radio interview on 103.5 The Fox in Denver, Elway did not shy away when being quizzed if he would consider adding a veteran quarterback to back up starter Case Keenum.
The Broncos promoted Kelly to the backup QB spot and demoted former first-rounder Paxton Lynch to No. 3 on the depth chart on Monday. Kelly has worked with the second team this week after going 14 of 21 for 177 yards, two touchdowns and an interception in the preseason opener last weekend against Minnesota.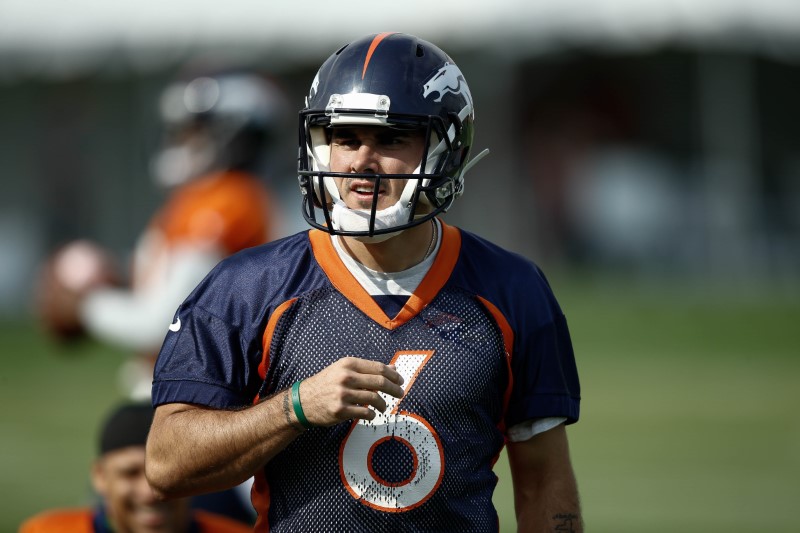 Miami Dolphins wide receiver DeVante Parker is out indefinitely as the result of a broken right middle finger, according to multiple reports.
The ailment could sideline Parker for four to six weeks, according to the Miami Herald, which added that Parker believes he will be ready to play in the Sept. 9 regular-season opener against the Tennessee Titans. Dolphins coach Adam Gase told reporters Tuesday that Parker is "week to week.
Parker sustained the injury when his hand got stuck in the shoulder pads of Xavien Howard, who was breaking up a practice pass intended for the fourth-year wideout. Parker practiced Sunday with the injury, according to the Herald.
Rookie linebacker Roquan Smith signed his rookie contract with the Chicago Bears, a deal that includes $18.4 million guaranteed.
Smith got a signing bonus of $11 million. Like the contracts of all first-round picks, Smith's includes a fifth-year team option.
Smith, drafted No. 8 overall out of Georgia in April, reported to sign his contract in the morning. Chicago rookies reported on July 16, with veterans arriving three days later. Smith's holdout lasted 29 days, including 15 missed practices, and he reported with 26 days left before Week 1 of the regular season.
Through three days of joint practice sessions, Washington Redskins cornerback Josh Norman has been very impressed by New York Jets rookie quarterback Sam Darnold, despite initial reluctance to give the No. 3 overall pick credit.
"Someone asked me about him the other day, and I was like, 'Yeah, whatever, he's just a guy,'" Norman told reporters. "Then you go out here and see him making these throws and you're like, 'All right. That's not so much a college-level throw.' He's putting them on the money."
Darnold has worked regularly against Washington's starting defense during this week's practices, and Norman said he's tried veteran tricks against the 21-year-old, to no avail. Darnold was the third QB to play in the Jets' Friday preseason opener against Atlanta behind incumbent starter Josh McCown and free agent signee Teddy Bridgewater.
New York Giants rookie running back Saquon Barkley sat out practice after participating in position drills.
Barkley left practice Monday with a strained hamstring. He appeared to be hurt on a reception down the sideline, outrunning linebacker Alec Ogletree and cornerback Janoris Jenkins to catch a ball on a wheel route, and he did not return to the field.
Barkley was walking gingerly and had ice and a wrap on his left leg, but head coach Pat Shurmur said later in the day the injury was minor. The Giants vowed to be careful with Barkley, who was the No. 2 pick in the 2018 draft. He took his first carry 39 yards in the preseason opener.
In joint practices, Jets wideout Terrelle Pryor drew the ire of both New York head coach Todd Bowles and several Redskins players, his former teammates, for a variety of reasons.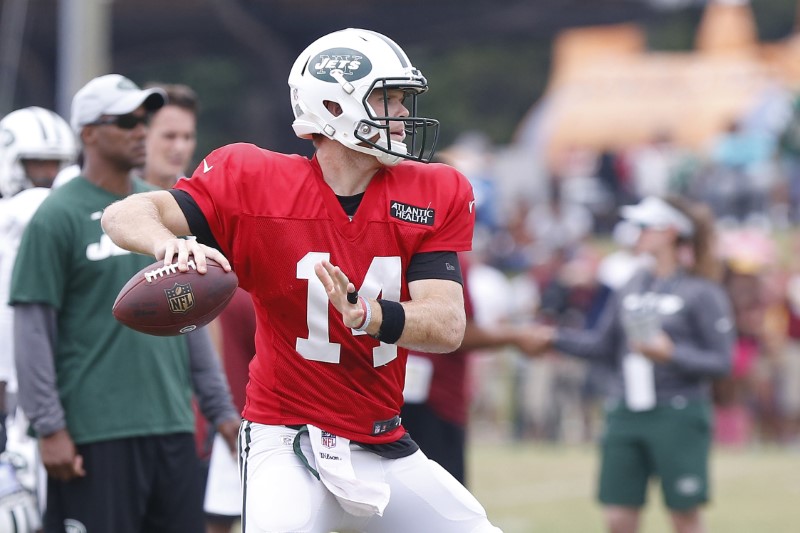 After Pryor volunteered details about his health to reporters Monday — saying he had a fractured ankle that required surgery in May, and adding he'll sit out Thursday's game against Washington due to a minor hip injury — Bowles had harsh words for Pryor a day later.
"Terrelle doesn't need to be descriptive," Bowles told reporters. "I feel that he should keep his mouth shut and leave the injuries to me. … We had a conversation. We'll only discuss our in-house things in house."
A day after he agreed to a restructured contract, Oakland Raiders offensive tackle Donald Penn was activated off the physically unable to perform list and returned to practice, but not at his familiar spot.
Penn, who has played left tackle for the last 11 seasons, lined up with the starters on the right side while first-round rookie Kolton Miller remained on the left, where he has worked in Penn's absence all offseason.
Penn, 35, told reporters after practice he felt "awkward" and "rusty," adding, "I don't know if (the move to right tackle is) going to be permanent." But he said he plans to play wherever the coaches ask him to.
The ex-girlfriend of Buffalo Bills running back LeSean McCoy is no longer living in his Atlanta-area home after the two sides finalized an eviction agreement, according to multiple reports.
Delicia Cordon will be accompanied to the home by a sheriff's deputy to retrieve personal items as part of the agreement. Cordon filed a personal injury lawsuit on Friday against McCoy and his former University of Pittsburgh teammate, Tamarcus Porter.
Eviction paperwork was filed on McCoy's behalf by Porter prior to a July 10 home invasion in which Cordon alleges she was beaten and robbed of jewelry. Police are investigating the incident, but no suspects have been named.
Cornerback Orlando Scandrick was released by the Washington Redskins.
Scandrick, who received a $1 million signing bonus as part of a two-year contract, had been lining up as a starter opposite Norman. However, head coach Jay Gruden said the potential of the team's younger cornerbacks forced the move.
"It had nothing to do with his play. It was more of the rookies' emergence," Gruden said. "It also gives Orlando time to get on another team." By the end of the day, the 31-year-old Scandrick was expected to be in Kansas City to meet with the Chiefs.
Dez Bryant is slated to visit with the Cleveland Browns on Thursday, head coach Hue Jackson confirmed.
The free agent receiver, 29, has displayed interest in the team in recent weeks, and the training camp visit could be the crucial step that leads to the three-time Pro Bowler joining the squad. His signing isn't imminent, however, Jackson said.
Browns general manager John Dorsey said last Thursday he has been performing his due diligence on Bryant, who was cut by the Dallas Cowboys in April after catching 69 passes for 838 yards and six touchdowns last season.
The Miami Dolphins signed free agent defensive lineman Kendall Langford, who played for the team from 2008-11, the team announced.
Langford, 32, last played for the Houston Texans but appeared in just one game in November before being waived. He had previously been released by the New Orleans Saints after a three-day stint in September.
Langford missed over half of 2016 with the Colts and played in just seven games due to a knee injury, a year after he had seven sacks in 16 starts for Indianapolis.
Former Raiders cornerback Sean Smith was released from prison in Los Angeles, five months into a one-year sentence for felony assault.
Smith, 31, was sentenced to a year in jail and five years of probation after he pleaded guilty on March 13 to a felony assault charge stemming from a July 2017 incident in Pasadena, Calif. An aggravated battery charge was dismissed.
Prosecutors said Smith beat and repeatedly stomped on the head of his sister's then-boyfriend during an altercation, causing five facial fractures and requiring reconstructive surgery and the insertion of a metal plate and screws.
After a year in which he regularly criticized the Patriots organization, Philadelphia Eagles right tackle Lane Johnson is welcoming the negative attention he expects to receive during Thursday night's preseason game in Foxborough, Mass.
"Oh yeah. I hope so. I hope they raise hell," Johnson told reporters when asked if he expects backlash from Patriots fans. "They can cuss me, they can say whatever they want. At the end of the day, I'm not blocking them, I'm blocking guys on the edge, so it really doesn't matter what they say."