With Sam Darnold eyeing the New York Jets' starting quarterback job halfway through the preseason, general manager Mike Maccagnan offered tremendous praise for the No. 3 overall pick on Aug. 20.
"Of all the young quarterbacks I've been around, I've been exceptionally impressed by Sam," Maccagnan said on WFAN radio. "Sam probably is at the top of that list."
"Every day he goes out there, he gets a little better. He literally just turned 21 [on June 5]. He's a very young person. But it's all the stuff we knew about him coming out of college. All the stuff people thought about him there. His personality, his work ethic, the way he handles pressure. … That's the thing that's probably impressed me the most about the kid. He's been really sort of unflappable."
Maccagnan also indicated the team could be open to trading a quarterback, amid reports that Teddy Bridgewater is available. "We can very easily keep three quarterbacks, and if something were to arise, we can go with two if that's the case," Maccagnan said.
Carson Wentz continues to ramp up football activity in practice, but the Philadelphia Eagles are not ready for expose their franchise quarterback in exhibition games.
Wentz, recovering from December surgery to repair a torn ACL and LCL, participated in 11-on-11 drills on Aug.19 and was again part of workouts on Aug. 20. But Wentz said he won't be on the field this week against the Cleveland Browns for the third, and typically most important, preseason game of the summer for the Eagles.
Wentz said "I feel really good where I'm at," but stuck with his assessment last week that it will be "close" whether he is cleared for the regular-season opener against the Atlanta Falcons on Sept. 6.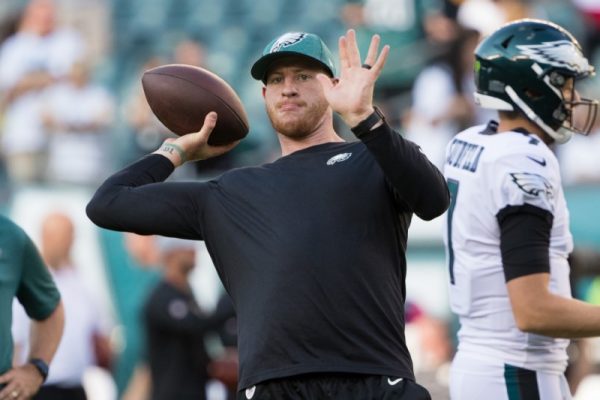 Josh Allen took a turn with the first-team offense in what the Bills envision as a rotation at quarterback with Nathan Peterman, and Allen will start Aug. 27 in Buffalo's preseason game against the visiting Cincinnati Bengals.
Head coach Sean McDermott said he would give both Allen and Peterman time with the starters as AJ McCarron seeks a second opinion on his injured collarbone. According to ESPN's Adam Schefter, tests showed that McCarron's collarbone is not fractured.
McDermott said the Bills are seeking a third quarterback with the expectation McCarron will miss significant time, but won't rule out the former Alabama star until medical confirmation is received.
The Dallas Cowboys got good news about All-Pro guard Zack Martin, but the status of center Travis Frederick remains up in the air after he suffered another stinger in practice.
Martin was diagnosed with a bone bruise and hyper extended knee, but the Cowboys expect him to be ready for Week 1 of the regular season on Sept. 9. However, head coach Jason Garrett told reporters that Frederick will see more experts in the Dallas area about his neck after suffering a stinger on Aug. 20, following a week in which he suffered multiple stingers.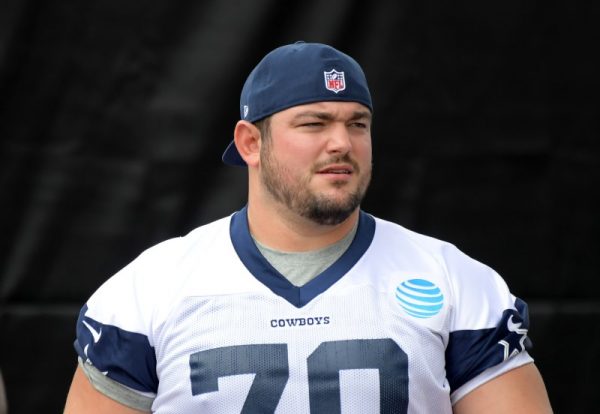 Frederick, who saw a specialist in Los Angeles last week, will now see another on Aug. 20 and possibly another Aug. 21, Garrett said. Previously optimistic about Frederick's availability for the opener against the Carolina Panthers, Garrett was tepid when asked about it Aug.20, saying, "Hopefully he will be back real soon."
The Washington Redskins signed veteran running back Adrian Peterson, the team announced, adding depth to a backfield that lost rookie Derrius Guice for the season and has several other injured players.
Financial terms were not disclosed, but multiple outlets reported it is a one-year contract.
"I'm excited," Peterson told the team's website. "It's been a long offseason but I've been keeping my body in shape and [I'm] ready for this opportunity. So when this opportunity presented itself, I was just excited."
Aaron Hernandez wrote suicide notes to his fiancee and attorney, who revealed the contents of the personal letters in a book "Unnecessary Roughness: Inside the Trial and Final Days of Aaron Hernandez."
Jose Baez published the letters in his book, which outlines the circumstances and attempts to provide context to the final years of the life of Hernandez, who died at age 27 of apparent suicide in April 2017 while serving a life sentence for first-degree murder.
Hernandez addressed his fiancee, Shayanna Jenkins, in a note that the New York Post reported including a drawing of a noose on the end of a rope, saying "I told you what was coming indirectly" and adding, "Don't shed one tear for I am with all of you and never wasn't!"
Baltimore Ravens cornerback Jimmy Smith is facing a multi-week suspension from the NFL because of an apparent violation of the league's personal-conduct policy, The Athletic reported.
Per the report, the team is bracing for a suspension to be handed down soon and Smith is expected to appeal. He left the team over the weekend and was scheduled to meet with league officials on Aug. 20.
The report adds that Smith's exact violation is unclear, but it could be connected to a child custody case between Smith and Micaela Sanchez, the mother of his first child. A story published in November by the Baltimore Sun included details by Sanchez of alleged domestic violence and drug use by Smith, which the Ravens veteran has denied.
Two days after a roughing-the-passer call drew his consternation, then seemingly his understanding, Minnesota Vikings head coach Mike Zimmer said he anticipates major consequences to come from the NFL's new helmet rules.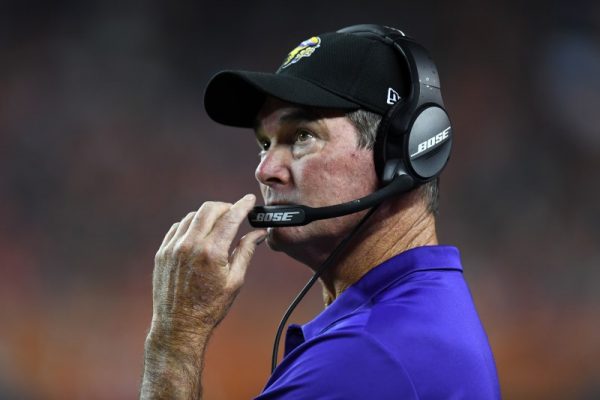 "It's going to cost some people some jobs," Zimmer said, per The Athletic. "Playoffs, jobs, the whole bit, I guess."
Zimmer was visibly upset on Aug. 18 after Vikings linebacker Antwione Williams was flagged for roughing the passer on a sack of Jaguars QB Cody Kessler, though Zimmer said he understood why it was called after having time to reflect on it. However, he said he has asked the league for clarification on another call and has not been told anything about plans to relax the new helmet rule once the regular season begins.
Chicago Bears outside linebacker Leonard Floyd had surgery on Aug. 19 after suffering a fractured right hand in Saturday's preseason game against Denver, the team announced.
Head coach Matt Nagy said the team is "staying optimistic" about Floyd's availability for the Sept. 9 season opener at Green Bay, but added that Floyd will likely be limited by a protective cast or padding when he gets back on the field.
"I don't think it's going to be healed (by Week 1)," Nagy told reporters of Floyd, who was injured while being cut-blocked against the Broncos. "I think he's going to have to end up playing through it. It might require something in regards to having a cast or a club-type deal."
The Los Angeles Rams have extended starting right tackle Rob Havenstein on a deal that will keep him with the club through 2022, the team announced.
Financial terms were not disclosed, but according to ESPN, Havenstein will make $32.5 million over the four-year extension.
A second-round pick in 2015 out of Wisconsin, Havenstein has started in each of the 43 games he has played in his career. He was scheduled to make $976,367 this season in the final year of his rookie deal.
Eagles defensive end Brandon Graham participated in his first preseason practice after being activated from the physically unable to perform list.
Graham is returning from offseason ankle surgery and said he expects to play in the season opener against the Atlanta Falcons on Sept. 6.
A hero of Philadelphia's Super Bowl win over the New England Patriots with a strip-sack late in the fourth quarter against Tom Brady, Graham was a first-round pick out of Michigan in 2010. He is listed as the starter at left defensive end.
Injured offensive lineman Menelik Watson is expected to be released by the Broncos, who will absorb his guaranteed $5.5 million salary for the 2018 season.
Watson was officially placed on the reserve/injured list by Denver on Aug. 20. The team intends to release Watson once he passes a physical, according to multiple reports, which will likely be in a few weeks.
"I would speak more to our guys that are playing well, like Billy Turner and 'Eli' (Wilkinson). Those guys have played really well," Broncos coach Vance Joseph said when asked about Watson, who signed a three-year, $18.3 million deal in March 2017. "It's more about those guys than it was Menelik not being a fit."
The Seattle Seahawks shook up their kicking units by releasing punter Jon Ryan, the longest tenured player on the team, and kicker Jason Myers.
Ryan's release comes after Seattle used a fifth-round draft pick on former Texas Longhorns standout and Ray Guy Award winner Michael Dickson in April. Myers, a free-agent pickup from Jacksonville, was competing with 40-year-old veteran Sebastian Janikowski for the placekicking job.
Ryan, 36, spent the past 10 seasons with the Seahawks, winning one Super Bowl title. The Canadian took to Twitter on Monday to thank the Seahawks organization and fans, saying, "Even though I'm leaving, I will always be a Seahawk."
Vikings rookie Daniel Carlson won the kicking job in Minnesota over Kai Forbath, who was released.
Carlson, the former Auburn kicker who nailed a 57-yarder in his preseason debut, was a fifth-round pick in the 2018 NFL Draft. Forbath had been the placekicker for the Vikings since Blair Walsh was released in 2016.
"We just figured it was getting close to the last couple preseason games. Kai did a great job while he was here, he's a good kid. We just decided to go with Daniel," Zimmer said.
Cleveland Browns cornerback E.J. Gaines will be sidelined three to four weeks with a sprained knee.
The team announced Gaines' injury on Monday after he left the Aug.19 practice on a motorized cart, gripping his right knee.
Gaines' right knee buckled as he tried to break up a pass to wide receiver Jarvis Landry. The cornerback crumpled to the ground and grabbed his knee as the team's training staff and head coach Hue Jackson headed to the field to attend to him. Gaines acknowledged fans' support as he was carted off.
Mike Tirico will officially replace Dan Patrick as the studio host for NBC's "Football Night in America."
Patrick, 61, announced in March that he would not be returning to the program after saying that he turned down a five-year contract extension, telling the New York Post, "I didn't want to do it and not love doing it."
He will be replaced by good friend Tirico, who adds to a busy slate that includes doing play-by-play on Notre Dame games in addition to a number of other hosting duties. Tirico left ESPN in 2016, and has served as NBC Sports' host for many of the network's marquee sporting events, including the Olympics, the Triple Crown of horse racing and major golf tournaments.
The Chicago Bears announced that the NFL suspended third-year safety Deiondre' Hall for the regular-season opener after violating the league's substance-abuse policy.
Hall will be allowed to practice and play with the Bears through the preseason. He will then be eligible to return to the team Sept. 10, the day after the Bears' season opener in Green Bay.
A fourth-round pick in 2016, Hall has played in 10 games in two seasons, picking off a pass in eight games as a rookie before playing in only two games last season while fighting a hamstring injury.
The Tennessee Titans placed cornerback Kalan Reed on injured reserve with a torn ACL and agreed to terms with defensive back Josh Kalu.
Reed is the third defensive back placed on injured reserve by Tennessee this preseason, following safety Jonathan Cyprien and cornerback Tye Smith. Cyprien went down to a knee injury during a non-contact play in practice, prompting the team to sign former New Orleans Saints first-round pick Kenny Vaccaro.
Reed was the final pick of the 2016 NFL Draft, dubbed "Mr. Irrelevant." The 5-foot-11, 192-pound former Southern Miss standout is a former track star who was competing for snaps as a reserve in the Titans' young cornerback group.
The Detroit Lions placed linebacker Steve Longa on injured reserve with a torn knee ligament.
The team also cut veteran defensive lineman Cornelius Washington and cornerback Antwuan Davis, while signing cornerbacks Sterling Moore and Dexter McDougle along with offensive lineman Beau Nunn.
Longa was injured while pursuing New York Giants quarterback Kyle Lauletta on a touchdown run during the second quarter of Friday's preseason game. Longa walked off the field, but was seen wearing a heavy brace after the game and tests confirmed the torn ligament.
The Atlanta Falcons signed fullback Jalston Fowler and wide receiver Julian Williams, and waived fullback Luke McNitt and wide receiver Taj Williams.
A fourth-round pick by the Tennessee Titans in 2015, Fowler will compete with Ricky Ortiz for a roster spot in Atlanta. Falcons coach Dan Quinn indicated Sunday that Ortiz had pulled ahead of McNitt.
Fowler appeared in 42 games for the Titans, including eight starts, over the past three seasons. He has rushed for 20 yards and a touchdown on 10 career carries and added one touchdown on six catches.