The National Football League has become the least liked sports league in America after a wave of national anthem protests by players, coaches, and owners, according to a Winston Group poll obtained by the Washington Examiner.
The favorable ratings for the NFL dropped from 57 to 44 percent from the end of August to the end of September, according to the poll. The league now also holds the worst unfavorable rating of any major U.S. sports league at 40 percent.
The new poll is another blow to the NFL, which is seeing a second year of steady television viewership rating declines and widespread outrage from fans over the disrespect to the national anthem.
In the most significant indication that the NFL is out of touch with its base, favorability ratings among the core fans, men aged 34-54, nosedived spectacularly. The favorable viewpoint of the sport among the core fans dropped from 74 percent in August to 42 percent in September.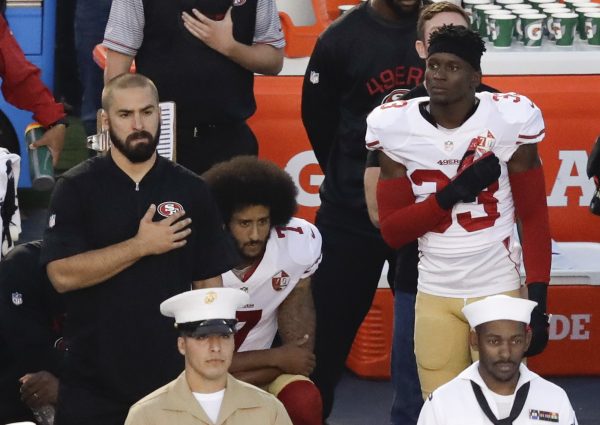 Meanwhile, 47 percent of the core fans now have an unfavorable view of the league, compared to just 19 percent in August.
"More critically for the NFL, the fall off in favorables occurred among important audiences," the report states. "Among males, NFL favorables fell 23 percent, going from 68 percent to 45 percent."
The Winston Poll surveyed a sample of 1,000 registered voters on August 29-30 and then on September 28-29. The survey polled the brand images of the NFL, Major League Baseball, the National Basketball Association, college football, and college basketball.
President Donald Trump triggered a wave of protest by players after he said they should be fired if they kneel during the anthem. After the president's remarks, more than 200 players took a knee during the anthem, drawing ire from fans nationwide.
The NFL did not fire any players over the protests, but Trump suggested the league should have a rule enforcing respect for the National Anthem and the American flag.
"If a player wants the privilege of making millions of dollars in the NFL, or other leagues, he or she should not be allowed to disrespect our Great American Flag (or Country) and should stand for the National Anthem," Trump wrote on Twitter. "If not, YOU'RE FIRED. Find something else to do!"
Trump was unmoved by the protests that followed and doubled down on criticism of the players who kneel.
"Many people booed the players who kneeled yesterday (which was a small percentage of total)," Trump wrote on Twitter. "These are fans who demand respect for our Flag!"
Fans who were outraged by the protests staged protests of their own, posting videos of themselves burning treasured NFL jerseys and memorabilia.
Just over a month after the initial protests, fewer players are taking a knee during the anthem each week. The week after the largest anthem protest, 54 players took a knee, down from approximately 200.