Newport Beach banned new tattoo parlors on May 10 from most areas in the city in order to "maintain the quality and character of the community," according to a recent staff report.
The city council's unanimous action means new tattoo shops are banned in the city's waterfront and storefront areas and barred from opening within 500 feet of schools, parks, and homes.
In addition, new tattoo parlors will not be allowed to open within 1,000 feet from one another in the city.
The regulations are necessary, city officials say, to ensure tattoo shops "are compatible with the surrounding area, do not result in an overconcentration, and maintain the quality and character of the community."
Last year, city officials identified as many as 200 sites potentially available for new tattoo shops in a staff report, though that number would decrease, officials said, due to the 1,000-foot spacing requirement as more shops open.
However, according to a recent city map of approved tattoo locations under the new ordinance, there are only three locations where potential new shops could open, specifically commercial and office zone at Interstate 55 and South Bristol Street, and the southeast portion of Fashion Island shopping center.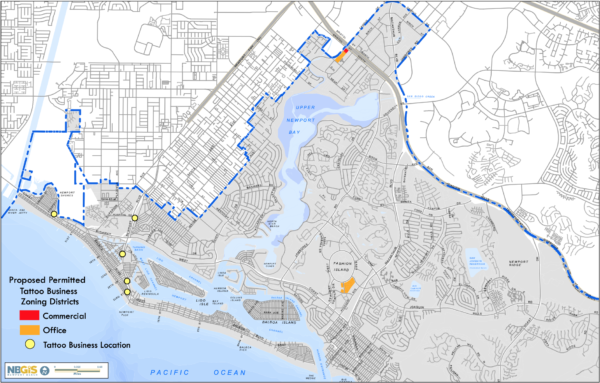 New operating hours for the parlors would also be from 10 a.m. to 10 p.m., and customers must schedule appointments.
Additionally, the shops can't serve alcohol, and marijuana use will be prohibited. Smoking within 20 feet of the shop will not be allowed either.
Because tattoos were ruled in 2010 to be protected speech under the First Amendment in a 9th Circuit District appeals case, cities are not allowed to ban or regulate tattoo establishments. However, they may restrict some "objective standards" such as hours and zoning.
There are currently five tattoo parlors in the city, according to officials. The ordinance only applies to new establishments.