HONG KONG—The draw for the Cathay Pacific/HSBC Hong Kong Ruby Sevens to take place on April 7-9, was completed at the Hyson Centre, Causeway Bay, on Monday March 13, 2017.
Participating guests officiating tonight's draws included Christine Loh, Under Secretary for the Environment and Yeung Tak Keung, Sports Commissioner, for the Hong Kong Government.
They were joined by Martin Murray, Director of Finance for Cathay Pacific Airways and Kevin Martin, Regional Head of Retail Banking and Wealth Management, Asia Pacific for HSBC.  Peter Duncan and Pieter Schats, respectively President and Chairman of the Hong Kong Rugby Union, also officiated in the ceremony.
With the addition of the Qualifier, the Hong Kong Sevens remains the largest men's tournament on the series, with 28 teams playing across three days. Including the World Rugby Women's Sevens Series Qualifier, there will be a total of 40 international teams participating in Hong Kong during Sevens Week.
The 2017 Cathay Pacific/HSBC Hong Kong Sevens tournament will feature 70 men's matches and for the first time ever, the semi-finals of the Women's Sevens Series Qualifier will be played in the Hong Kong Stadium, alongside the Cup Final, which has been played in the stadium since 1998, for a total of 73 matches across the weekend.
Main Draw
Sixteen teams will take part in the Hong Kong Sevens: England, South Africa, Fiji, USA, Australia, Canada, New Zealand, Argentina, Samoa, Kenya, Wales, Scotland, South Korea, France, Japan and Russia.
The highlight from the draw is New Zealand being placed in the same group as last year's tournament winners, Fiji. As well as sparking some outstanding matches in the Pool games, this will put particular pressure on Wales who are also in Pool C, it looks like being particularly tough on Japan. Pool A should also produce some top play comprising England, Australia and Samoa, South Africa should dominate Pool B but they have not shown their full potential at the Hong Kong in recent years.  Pool D looks like producing some well-balanced matches.
Draw results: Pool A – England, Australia, Samoa and South Korea; Pool B – South Africa, Canada, Kenya and France; Pool C – Fiji, New Zealand, Wales and Japan; Pool D – USA, Argentina, Scotland and Russia.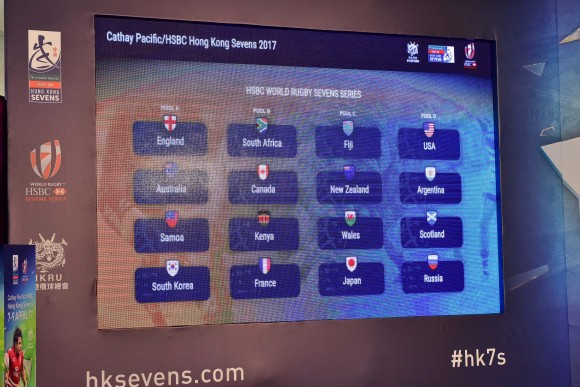 Qualifier Tournaments
In addition to the main draw, Hong Kong will again host the Men's and Women's Qualifying competitions as part of the Hong Kong Rugby Sevens event, the winners of which will be included in next year's men's and women's HSBC Rugby Sevens World Series respectively.
Men's Qualifier: Twelve teams feature in the Men's Qualifier draw, 2 from each of the 6 World Rugby regions and in this year's competition will comprise: Tier 1; Germany, Hong Kong and Spain. Tier 2; Tonga, Chile and Papua New Guinea. Tier 3; Uganda, Sri Lanka and Uruguay and in Tier 4; Jamaica, Namibia and Guyana.
Hong Kong enter the Qualifier tournament as a Tier 1 competitor and are due to meet Chile, Sri Lanka and Namibia in the Pool matches.
Following the draw, new Hong Kong coach and former Wales Sevens coach and player Paul John said, "It's obviously a great honour to be coaching Hong Kong. I'm really excited and looking forward to getting involved.
"The countries in the Qualifier are getting stronger and stronger. Looking at our pool alone, Chile have had a good couple of tournaments on the Series so that will be a tough match but I think it's important to have a few of those in the pool stages.
"It will be a real challenge and it's always exciting to have the opportunity to play against quality opposition," John added.
Draw results: Pool E – Germany, Tonga, Uganda and Jamaica; Pool F – Hong Kong, Chile, Sri Lanka and Namibia; Pool G – Spain, Papua New Guinea, Uruguay and Guyana.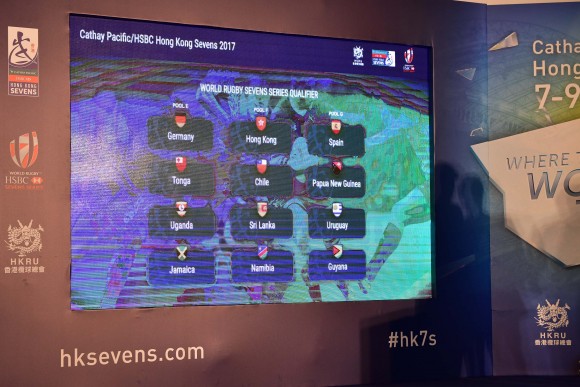 Women's Qualifier: The Women's Qualifier Pool matches played on Thursday April 6. The quarter finals comprising the top 2 teams from each Pool plus the next 2 highest ranking finishers will be played at So Kon Po Sports ground. The semi-finals and final will be played in the Hong Kong Stadium.  The winner of the Qualifier will be promoted to next year's HSBC World Rugby Women's Sevens Series, replacing the team finishing bottom of the standings at the end of the 2016-17 series in May.
Hong Kong are included placed in Tier 3 of Pool B to compete against Argentina, Kenya and Belgium. Of the draw Hong Kong women's sevens coach and former New Zealand Black Fern Anna Richards believes Hong Kong have a challenge in their group. 
"It's an amazing opportunity to contest the qualifier at home. The girls are all very excited. They love playing in front of their home crowd and it's thrilling to have the possibility of going through to the Series.
"I'm pretty happy with our pool.  For a moment I thought we might get stuck in all-Asian pool with Japan and China but fortunately we were drawn in Pool B. We came up short last time against Argentina and we played Kenya here a few years ago so it will be good to have another crack at both of those teams," said Richards.
Draw results: Pool A – Japan, China, Netherlands and Jamaica; Pool B – Argentina, Kenya, Hong Kong, and Belgium; Pool C – South Africa, Columbia, Papua New Guinea and Italy.