New York is moving to the "reopening phase," Gov. Andrew Cuomo said on Friday as state officials recorded the fourth consecutive daily decrease in COVID-19 patients being cared for in hospitals.
More patients are being discharged from state hospitals than the number of new admissions.
"The net change of hospitalizations is undeniably on the decline," Cuomo told reporters in Albany.
Hospitals also reported declines in patients in intensive care and new intubations.
The conditions are prompting officials to explore when and how to reopen. New York is leading a regional pact that includes New Jersey, Connecticut, and Rhode Island.
"The situation we're in now is unsustainable. People can't stay in their homes for this length of time. They can't stay out of work. You can't keep the economy closed forever. You just can't. Society can't handle it, personally or economically," Cuomo said.
"So now we're moving into another phase, which is this reopening phase."
The governor on Thursday said certain businesses will be allowed to reopen first. He declined to set a date for the first phase of reopening and reiterated that he believes the situation won't fully resolve until a vaccine is developed or a treatment proved to work against COVID-19 is produced. A vaccine is not expected until next year.

Governors across the country are planning on reopening their states and the federal government issued guidelines late Thursday for when to start different phases of reopening.
States and regions that see a downward trajectory of documented cases of positive tests as a percent of total tests, have hospitals able to treat all patients without "crisis care," and have a robust testing program in place were told to proceed to phase one, which includes some businesses reopening and minimal non-essential travel.
"If you look at Montana, Wyoming, North Dakota—that's a lot different than New York. It's a lot different than New Jersey. So it's going to be very dependent on the governor," President Donald Trump told reporters at the White House.
The first phase of the response was bringing down the infection rate, Cuomo said Friday. The rate has dropped from one person infecting 1.4 other people on average to one person infecting 0.9 people on average, according to state data.
"That then sees the outbreak starting to subside, the numbers starting to come down," the governor stated.
The state also required hospitals to boost capacity by at least 50 percent and the federal government transformed the Javits Center, a large convention center on the West side of Manhattan, into an emergency hospital. A military hospital ship arrived in Manhattan last month.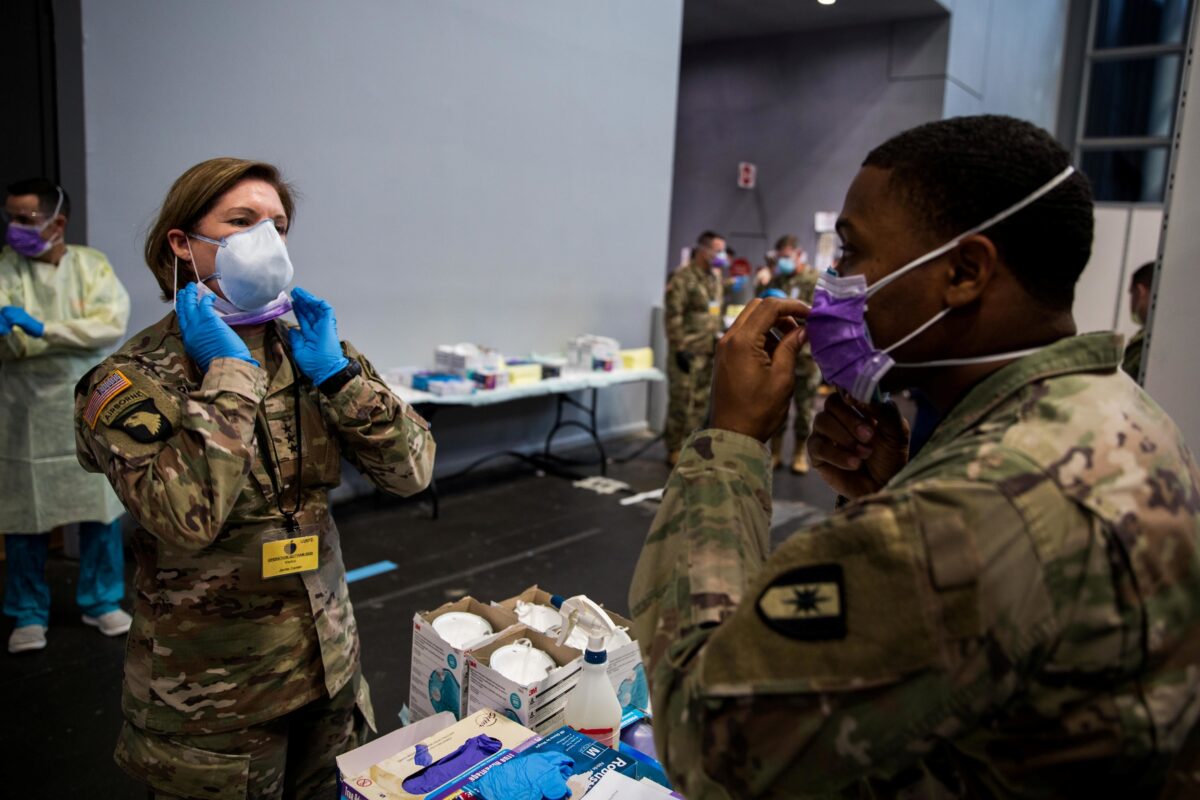 New York officials relied on models that projected a need of up to 140,000 hospital beds and 40,000 ventilators. The state's peak instead arrived with under 19,000 COVID-19 patients in hospital beds. Only a subset of patients require assistance breathing.
Officials have said people committing to social distancing brought the peak down. Many models already factored in some degree of social distancing.
New York is the hardest-hit state in the nation by the pandemic, with over 12,000 deaths and hundreds of thousands of cases. Over 17,000 patients remain hospitalized, a number that's dropped by the hundreds in each of the last four days.
Phase two for New York will revolve around "doing no harm." Officials don't want the infection rate to go back up.
A slow reopening will be underpinned by a system of testing, tracing contacts of people who tested positive, and isolating confirmed and suspected cases. The current testing system is insufficient to handle the expected volume needed, according to Cuomo.
He compared the rapid boost officials project is necessary for testing to how the state boosted hospital capacity. Officials envision one system featuring the 301 laboratories and hospitals that are licensed to perform testing in the state. Besides coordinating the hundreds of facilities, officials must figure out supply chain issues. A major problem is a dearth of chemicals required to run some of the tests. The chemicals, or reagents, originate in China, where the CCP (Chinese Communist Party) virus started last year.
States need help from the federal government, Cuomo said, claiming New York has seen no federal funds from the three virus-related bills Congress approved in recent weeks.
"Is there any funding so I can do these things that you want us to do? 'No,'" Cuomo said. "That is passing the buck without passing the bucks."
Cuomo and Maryland Gov. Larry Hogan, who lead a governors group, asked for $500 billion for states earlier this month.