A New York fraternity has been suspended following the emergence of a video that purports to show members force-feeding beer to a dog in what's known as a "keg stand."
The Alpha Epsilon Pi fraternity at Hofstra University on Long Island, New York, has been placed on "interim suspension pending an investigation," the college spokesperson Karla Schuster said, according to the New York Post.
Former Alpha Epsilon Pi International president and the organization's current spokesman Jon Pierce told Newsday that the Hofstra chapter of the fraternity faces additional sanctions.
"Alpha Epsilon Pi International has placed our chapter at Hofstra University on 'cease and desist' due to suspected violations of our health and safety policies," he told the outlet in a statement. "During this investigatory period, there can be no chapter activities."
News of the incident broke when the Twitter account @kristinaproscia shared a five-second video that allegedly shows Alpha Epsilon Pi members at an off-campus party forcing a dog to drink beer from a keg.
Hofstra frat suspended over dog 'keg stand' video https://t.co/1cMlngjSvS pic.twitter.com/jnX4zeYYKo

— New York Post (@nypost) May 13, 2019
In the video, posted on May 11, one person holds what has been identified in the report as a Cavalier King Charles Spaniel, while another person directs a stream of beer into the dog's mouth.
At the time of reporting, the video has been viewed over 100,000 times.
shared

so apparently it's okay to force dogs to drink beer even though it can kill them???? @HofstraU @AEPi pls do better @peta pic.twitter.com/u8Wx78MUfL

— Kristina (@kristinaproscia) May 11, 2019
The video was recorded on Saturday, May 11, at a fraternity house in Hempstead, New York, and initially shared on Snapchat, according to NBC, citing the Society for the Prevention of Cruelty to Animals (SPCA).
The Twitter account that shared the video asked for viewers to share it widely, following up with a message: "I did not share this to retaliate or to get the people involved in trouble. I did this to show that the Greek Life I know and love is not like this, nor supports it."
The poster, who identified herself as the Director of Harm Reduction and Prevention (Risk Management) of a sorority, said in a Tweet that she "simply shared this to protect the dog and to show I do not support this and this is not an accurate representation of Greek Life."
Gary Rogers, a detective with the Nassau County SPCA, told NBC that alcohol could be toxic for animals and "we shouldn't have frat hazing to animals."
Rogers added he had inspected the dog since the incident and it seemed to be in good health.
Hofstra University wrote in a statement shared on Twitter that "any individual students identified in the video will also be subject to the University's Code of Community Standards."
Crime in the United States
Violent crime in the United States has fallen sharply over the past 25 years, according to both the FBI's Uniform Crime Reports (UCR) and the Bureau of Justice Statistics (BJS) National Crime Victimization Survey (NCVS).
The rate of violent crimes fell by 49 percent between 1993 and 2017, according to the FBI's UCR, which only reflects crimes reported to the police.
The violent crime rate dropped by 74 percent between 1993 and 2017, according to BJS's CVS, which takes into account both crimes that have been reported to the police and those that have not.
"From 1993 to 2017, the rate of violent victimization declined 74 percent, from 79.8 to 20.6 victimizations per 1,000 persons age 12 or older," the U.S. Department of Justice stated (pdf).
Both studies are based on data up to and including 2017, the most recent year for which complete figures are available.
The FBI recently released preliminary data for 2018. According to the Preliminary Semiannual Uniform Crime Report, from January to June 2018, violent crime rates in the United States dropped by 4.3 percent compared to the same six-month period in 2017.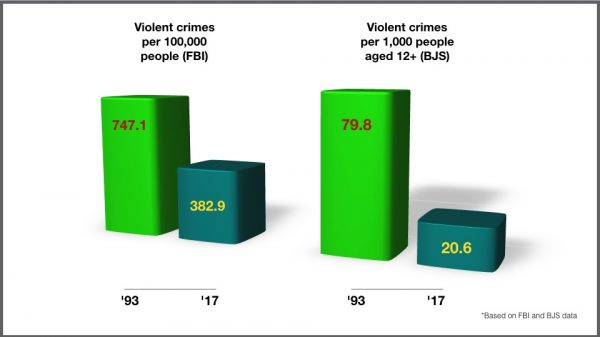 While the overall rate of violent crime has seen a steady downward drop since its peak in the 1990s, there have been several upticks that bucked the trend.
Between 2014 and 2016, the murder rate increased by more than 20 percent, to 5.4 per 100,000 residents, from 4.4, according to an analysis of FBI data. The last two-year period that the rate soared so quickly was between 1966 and 1968.
Property Crime
The property crime rate fell by 50 percent between 1993 and 2017, according to the FBI, and by 69 percent according to BJS.
According to the FBI's preliminary figures for the first half of 2018, property crime rates in the United States dropped by 7.2 percent compared to the same six-month period in 2017.
As with violent crime, the FBI survey only takes into account crime reported to the police, while the BJS figures include reported and nonreported crime.
Public Perception About Crime
Despite falling long-term trends in both violent crime and property crime, opinion surveys repeatedly show Americans believe that crime is up.
The vast majority of Gallup polls taken since 1993 show (pdf) that over 60 percent of Americans believe there is more crime in the United States on a national scale compared to the previous year.
Pew Research surveys show similar findings. A survey in late 2016 revealed that 57 percent of registered voters said crime in the nation as a whole increased since 2008, despite both FBI and BJS data showing double-digit drops in violent and property crimes.
Perceptions differed on a national versus local level.
Surveys of perceptions of crime levels on a local scale showed that fewer than 50 percent of respondents in every single Gallup survey (pdf) done since 1996 believed that crime in their area had risen compared to the previous year.