A district attorney in upstate New York on Monday said that he will not be pursuing a sexual harassment allegation against former New York Gov. Andrew Cuomo because there was "not a sufficient legal basis" to bring charges against the Democrat.
The decision by Oswego County District Attorney Gregory Oakes brings to an end the last of five criminal probes into the disgraced former governor regarding allegations of sexual misconduct.
Monday's decision pertained to a sexual harassment allegation from a woman named Virginia Limmiatis, 55, an employee of an energy company.
Limmiatis had accused Cuomo of touching her chest during a conservation event in Oswego County in May 2017.
According to the report from New York Attorney General Letitia James's (D) office, Limmiatis claimed that Cuomo ran two of his fingers across her chest while she stood in a rope line.
She said the governor leaned toward her, putting his face close to her cheek, and whispered, "I'm going to say I see a spider on your shoulder" before "brushing his hand in the area between her shoulder and breasts (and below her collarbone)," leaving her shocked.
Limmiatis immediately informed a number of other people attending the event about what had happened but did not go public with her story until March 3, after she heard Cuomo say at a press conference that he had never touched anyone inappropriately, and felt "compelled to come forward to tell the truth."
Cuomo denied the accusation, but he resigned last August after an investigation led by New York Attorney General Letitia James's office found that he had sexually harassed 11 women, one of whom was Limmiatis, from 2013 to 2020.
On Monday, Oakes said that while he had found Limmiatis to be "reliable and reasonable" ultimately, "there is not a sufficient legal basis" to criminally charge Cuomo based her allegations.
"After a thorough review of the available evidence and applicable law, the Oswego County District Attorney's Office has concluded that there is not a sufficient legal basis to bring criminal charges against former Governor Andrew Cuomo based upon the allegations of unwanted physical contact made by Virginia Limmiatis," Oakes said in a statement on Monday.
"To be clear, this decision is based solely upon an assessment of the law and whether the People can establish a legally sufficient case under controlling precedent. In no way should this decision be interpreted as casting doubt upon the character or credibility of Ms. Limmiatis, or how harmful the acts she experienced were," he added.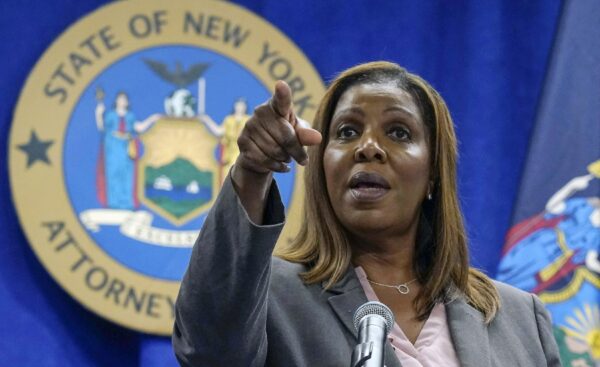 Oakes went on to criticize the sex offense statutes in New York for failing to provide adequate protection to victims and called for the law to be revised.
"This investigation makes clear what victims, their advocates, police, and prosecutors have said for years: The current sex offense statutes in New York fail to properly hold offenders accountable and fail to adequately protect victims," Oakes said.
"If justice is to ever be obtained for the countless victims who are sexually abused and harassed in this state each day, the law must be revised and reformed to reflect the lived experiences of victims. I implore legislative leadership in both the NYS Senate and Assembly to please address this issue, or else victims will continue to be denied the justice that they deserve," Oakes wrote.
In a statement, Limmiatis' lawyer, Mariann Wang, said that "Not every violation of law results in a criminal prosecution" but that Oakes' decision "does not mean Cuomo acted appropriately or lawfully towards Ms. Limmiatis or any of the other women who came forward, or that he didn't cause them significant harm."
Following Monday's decision in Oswego County, Rita Glavin, an attorney for Cuomo, said that photographs from the event show Cuomo did not act improperly, and that "truth and the rule of law prevailed, not politics or mob mentality."
Meanwhile, Cuomo called New York Attorney General Letitia James a "serial liar whose touted 11 cases have now been reviewed by Democratic & Republican DAs across the state & have resulted in 0 cases being brought" while claiming that she had "misused her office" in an attempt to become governor of New York herself.
Monday's decision brings to a close the last of five criminal cases against Cuomo in Nassau, Westchester, Albany, and Manhattan. None have resulted in charges against the former governor.
The Associated Press contributed to this report.