New York City isn't sending layoff notices to some 22,000 workers on Monday as planned, Mayor Bill de Blasio announced at a press briefing at City Hall.
Labor union leaders went to the mayor and convinced him to hold off as they try to convince state lawmakers to reconvene and approve a long-term borrowing plan that would resolve the budget crisis that will lead to the layoffs unless it's resolved.
"I am hoping that this pause will lead to more progress in Albany because of the intense commitment of labor to getting this done," de Blasio, a Democrat, told reporters.
State lawmakers approving the borrowing "would avert the layoffs instantly," he added later.
The layoff notices are ready to be printed, city officials said. The layoffs would go into effect on Oct. 1.
If nothing happens, 22,000 workers will be fired, the mayor told reporters earlier in August.
"It's a massive, painful number. It resembles the kind of things we have to do decades ago, but the job here is to try and avert it if we can," he said.
The prospect of so many layoffs was first outlined in June. At the time, city officials said they were $1 billion short.
In recent days, officials said they want to borrow up to $5 billion.
There's growing support for approving a long-term borrowing plan, the mayor claimed, pointing to statements in support issued by groups including the New York State Association of Counties, the Citizens Committee for Children, and the Municipal Labor Committee.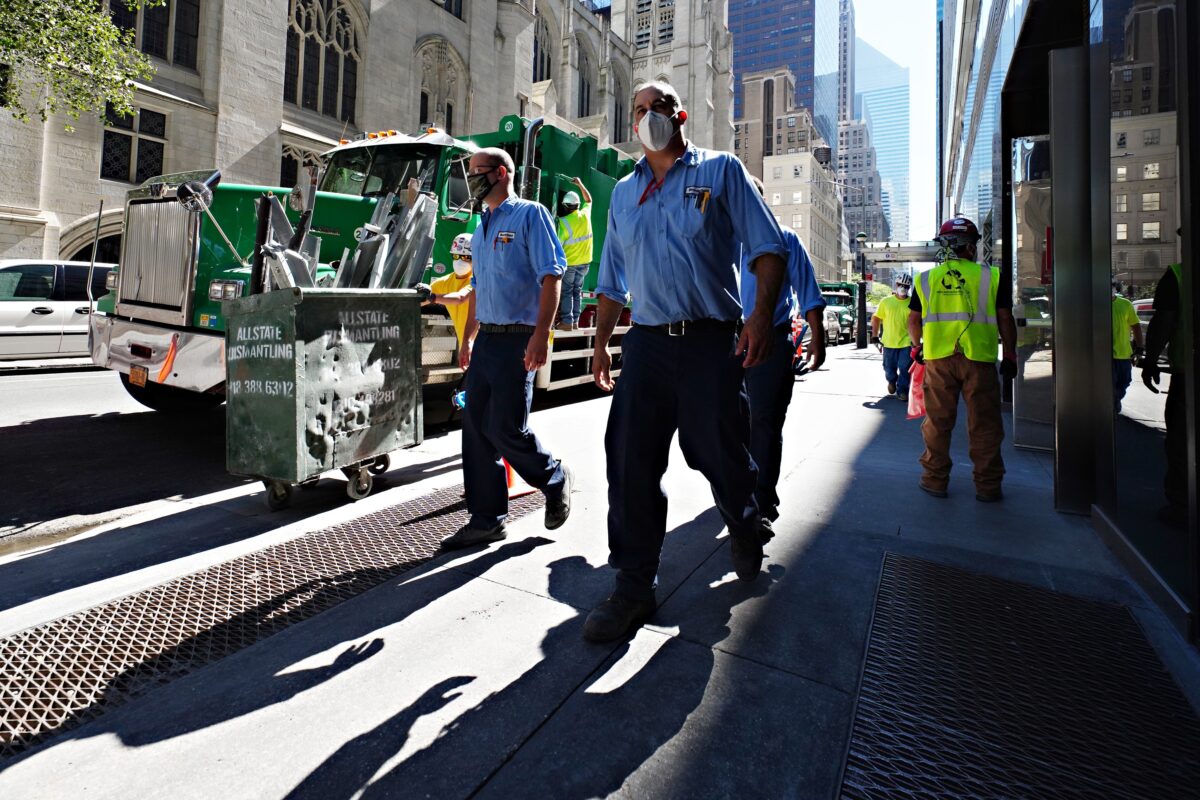 But without concrete proof of progress from the state, the notices will still be sent out as soon as Tuesday as city officials reassess the situation on a daily basis.
"We only have a little time," de Blasio said. "If there's not progress, then we're going to have to proceed."
New York City has about 327,000 municipal employees, according to the Citizens Budget Commission.
City officials have lamented the lack of stimulus funding from the federal government, turning to the state for an influx of funds. Like some other states, New York is facing a budget crunch due to lower economic activity, higher unemployment, and other effects stemming from harsh measures imposed to try to curb the spread of the CCP (Chinese Communist Party) virus, which causes COVID-19.
State lawmakers have given little indication that they're prepared to reconvene to consider the borrowing requests.
Senate Majority Leader Andrea Stewart-Cousins, a Democrat, said in late June that senators were "open to approving limited loan authorization but more work needs to be done to develop a consensus around a sound approach" but urged "prudence" in developing a plan.
The Senate majority didn't respond to a request for comment.
New York Gov. Andrew Cuomo, a Democrat, has said he opposes granting the city borrowing power. "Borrowing is easy, paying back is hard," Cuomo told reporters earlier this summer.
Alternatives to mass layoffs or emergency funding include offering an early retirement incentive, some labor leaders have said.
The Municipal Labor Committee said in an Aug. 24 letter to the mayor that short-term moves include issuing bonds at a lower interest rate and potentially applying for the Federal Reserve's Municipal Bond Liquidity Program.