New York's private business COVID-19 vaccine and school masking mandates will be lifted soon, the city's mayor has said.
However, Mayor Eric Adams, a Democrat, still isn't rescinding the mandate that forces city workers to get vaccinated, as New York continues to be the most reluctant locale in the nation in rolling back rules imposed during the COVID-19 pandemic.
Meanwhile, New York Gov. Kathy Hochul, a Democrat, said on Feb. 27 that the state is dropping its school mask mandate, citing how the Centers for Disease Control and Prevention (CDC) has abruptly and drastically changed a key measure influencing mask mandates across the country.
"Given the decline in our rates, our hospitalizations, strong vaccination rates, and the CDC guidance, my friends, the day has come," Hochul told a briefing.
Adams then issued a Feb. 27 statement saying that he would soon follow suit.
"If we see no unforeseen spikes and our numbers continue to show a low level of risk, New York City will remove the indoor mask mandate for public school children, effective next Monday, March 7," he said.
The school system's outdoor mask mandate was rolled back on Feb. 28.
The city's so-called Key to NYC program, which requires businesses to verify that customers have received a COVID-19 vaccine, will also end on March 7 "as long as COVID indicators show a low level of risk and we see no surprises this week," according to Adams.
Adams, a former police officer, inherited complex COVID-19 rules from his predecessor, Bill de Blasio. Thus far, he has kept virtually all of them in place.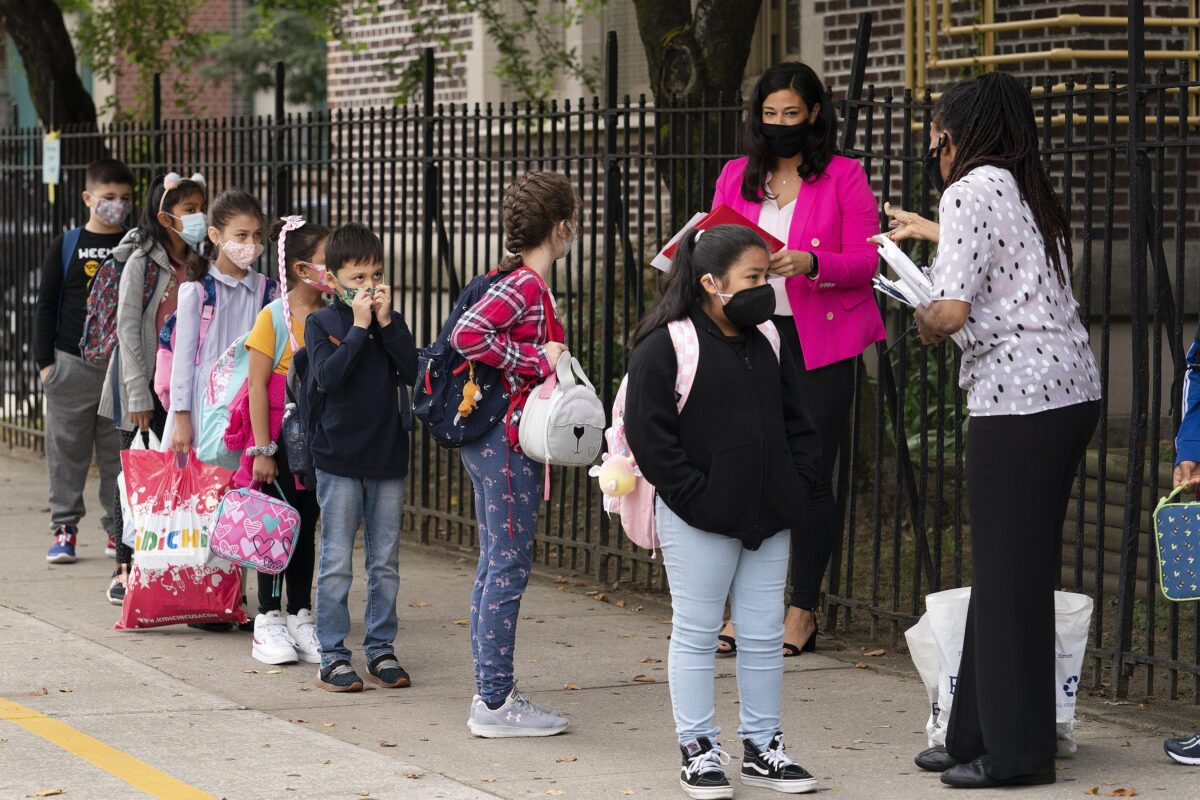 Adams said all other rules wouldn't be withdrawn, even if numbers remain low, claiming that they "are and have been vital to protecting New Yorkers."
Many of the rules in New York and elsewhere were imposed after data began emerging indicating that the COVID-19 vaccines don't prevent transmission and that vaccinated people can get infected.
Since then, the Omicron coronavirus variant has displaced the Delta variant as the dominant strain in the United States. Data suggest that the vaccines perform the worst against Omicron, providing little to no protection against infection and not shielding as well against severe disease.
Some 96 percent of adults in New York have gotten at least one dose of a COVID-19 vaccine, and all Americans aged 5 or older are eligible to get vaccinated.
Andrew Rigie, executive director of the NYC Hospitality Alliance, said "removing proof of vaccination for indoor dining in NYC will be welcome news to many restaurants and bars," but noted that he "wouldn't be surprised if some businesses want to voluntarily" keep the requirements in place.
Jack Phillips contributed to this report.