LOS ANGELES—Alberto Carvalho, superintendent of the Miami-Dade School District and the next superintendent of the Los Angeles Unified School District (LAUSD), has a record of pushing for positive educational outcomes, expanding learning options, and supporting COVID-19 mask and vaccination requirements in schools in Miami.
Carvalho became one of the nation's most sought-after education leaders during his 13 years as superintendent of Miami-Dade, the nation's fourth-largest school district.
He is credited with improving academic performance in the district by providing stable leadership and creating programs that offer parents more schooling choices.
In 2018, he agreed to be chancellor of New York City's school district, the largest in the nation; however, Carvalho announced on live television the next day that he decided to stay in Miami until his term ended in 2020.
Now he's contracted with LAUSD to begin March 1, 2022, with a salary of $440,000 per year during his four-year term—$90,000 more than his predecessor.
Carrying high expectations from the new school district he's going to serve, Carvalho said extensive community outreach is necessary once he arrives in Los Angeles before he can determine his first steps as superintendent.
"Do not expect me to … take actions without that firsthand experience. So yes, I will go armed with my philosophy, with my skill set, but being fully cognizant of the fact that I don't know what I don't know," he said during a Dec. 9 press conference.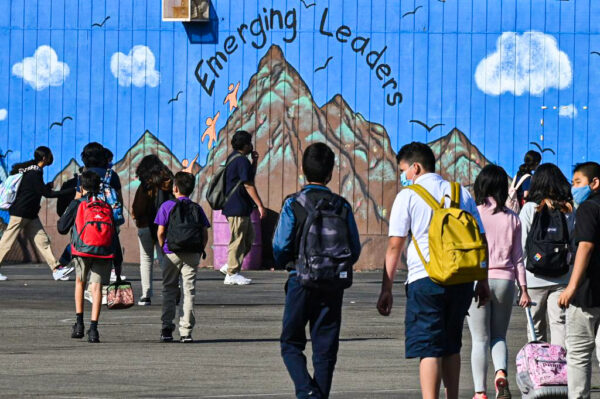 School Choice
Carvalho enters the scene during a rocky time for the LAUSD.
Facing the dilemma of either losing 34,000 unvaccinated students or overloading the remote learning program due to the district's COVID-19 vaccine mandate for in-person learning, the LAUSD Board of Education voted this week to delay the deadline for full vaccination from Jan. 10 to fall 2022.
In September, data released by the LAUSD showed that 27,000 fewer students were enrolled in the district than the previous year.
Earlier this month, the Los Angeles Times also reported that the district's remote learning program, City of Angels, is struggling with staff shortages.
In addition, 16 percent of students in the online learning program have disabilities, some of whom already have difficulties gaining access to the resources they need, according to the Los Angeles Times.
Therefore, the program would likely be overwhelmed by additional enrollment from unvaccinated students joining all at once.
Currently, the LAUSD offers an online learning program, several school programs for at-risk students, a program for pregnant minors, a program for dropouts, a program for students with disabilities, and a continuation school.
Carvalho also said during the press conference that he was "deeply concerned" about LAUSD's enrollment decline and pledged to remedy it by improving the quality of learning so that its education "is not comparable to anything else [students] would get anywhere else."
During his time in Miami, Carvalho expanded school choice to include private-public school partnerships, career academies, specialized cross-district magnet schools—specialized public programs that focus on special areas of interests or skills, designed to attract students from across a district—and non-magnetized special programs that prioritize students within the district.
"I think we ought to create pathways where every single student is entitled with the opportunity and the skill set and the equitable access to educational programs that will lead to college, while simultaneously providing opportunities for students who may not want to go to college and may want to enter the workforce after some degree of technical training," he said on Dec. 14.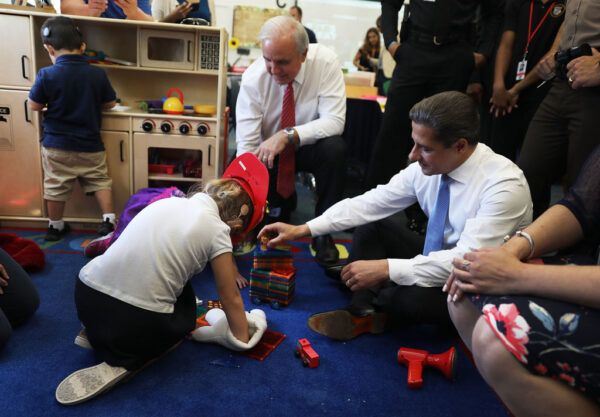 COVID-19 Mask and Vaccine Mandates
During the pandemic, Florida Gov. Ron DeSantis declared a ban on mask mandates for schools.
Masks remained optional at Miami-Dade schools for much of the pandemic; however, Carvalho defied DeSantis' ban in August 2021 when he issued a mask mandate for the Miami-Dade school district.
"My mind is pretty made up on the way to move forward. And that is in full agreement with the recommendations of this task force," Carvalho said Aug. 17.
He said he came to his conclusion based on reports by medical experts, despite criticism from parents who said children had a statistically low probability of developing a serious or fatal case of COVID-19.
In November, Carvalho dropped the mask mandate for students, citing a dropping rate of new COVID-19 cases.
The Miami-Dade school district doesn't currently have a student vaccine mandate, though vaccination is encouraged. As for the district's public school employees, a one-time stipend of $250 will be granted to each person who can provide proof of full vaccination against COVID-19.
Carvalho also said he supports the LAUSD's COVID-19 safety measure decisions, including delaying the deadline for students to be vaccinated.
"I think that is the right recommendation," Carvalho said. "That opens the door of opportunity for an expanded timeline."