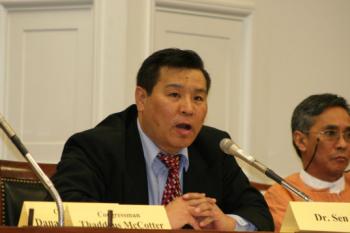 WASHINGTON—As the new Obama administration gets into gear, hopes are running high among many in Congress and some non-government organizations (NGOs) that the United States will be reinvigorated in its advocacy of human rights and religious freedom.
President Obama's executive orders closing Guantanamo and ending the use of torture in interrogations of terror suspects was interpreted by many that the new administration was going to take a different path with respect to human rights from the previous administration.
Many high-ranking officials in the new administration, for example the U.N. ambassador Susan Rice, who in the past has spoken out on Darfur, have reputations of being strong advocates for human rights.
On Thursday, several Congress members, joined by Asian leaders of human rights NGOs, spoke out at a forum on Capitol Hill on the deteriorating human rights and freedom in China, Vietnam, Burma, Tibet, East Turkestan, Laos, and Thailand and how they want the United States to become more proactive in addressing the abuses.
"The brutal rule of communism is shared in Asian countries," said Professor Sen Nieh, representing the Global Mission to Rescue Persecuted Falun Gong Practitioners. The realization that human rights are universal, that Asians as much as anyone else want freedom and dignity, provided the backdrop for forming the Coalition of Human Rights in Asia, which sponsored this forum. This was a loose coalition of 16 human rights organizations that were later joined by a few other organizations.
"Communism was only defeated in Europe," said Congressman Lincoln Diaz-Balart (R-Fla.), quoting from Congressman McCutter (R-Mich.), who likes to remind people of this fact. Congressman Diaz-Balart, who was born in an "enslaved state" (Cuba) continued: "Communism is very much alive with its diabolical evil." He explained that just because a communist country like China has adopted some capitalistic features does not change its basic character.
Spokespersons on behalf of the Tibetans, Uyghurs, and Falun Gong described the difficulties their respective groups have with the suppression and violence from Chinese authorities. The loss of Tibetan and Uyghur languages and the destruction of their cultures were discussed as an attempt to make everyone Chinese.
"From 1964 to 1996, China conducted nuclear testing above and below ground where the radiation was hundred times stronger than what was used on Japan," said Alim Seytoff of the Uyghur American Association. Amazingly, China never informed the indigenous people, and as a result leukemia is 30 percent higher in this area of East Turkestan than in China.
Another massive human rights atrocity mentioned at the forum is the persecution of Falun Gong adherents, who remain the country's largest population of prisoners of conscience. Thousands of practitioners are detained in labor camps and endure forced brainwashing. A formal document authored by the Human Rights Law Foundation submitted to two U.S. human rights commissions, and made available at the forum, gives the testimony of Ying Dai, who experienced numerous beatings, forced-feeding, brainwashing and forced labor for 14 hours a day. She describes how she lost one eye:
"Secretary Lin and three prisoners … dragged me to a basement. The three prisoners pressed me into the ground and held me so tight I could not move. Secretary Lin began to shock me with an electric baton. She pressed it onto my acupuncture points and sensitive spots, including my temples … the central nervous system at my cervical vertebra and other places. I cried out in pain. It felt like my head had split open from the shocks. … The morning after, I found my vision to be blurry."
A hopeful sign of the future was given at the forum by Dayong Li, executive director of the Global Service Center for Quitting CCP, who said an historical milestone will be reached: "The total number to quit the Chinese Communist Party, Chinese Communist Youth League and the Chinese Communist Young Pioneers will reach 50 million late this month."
Representative Wolf Gives Advice to the HR Advocates
Much that transpired at the forum was the sentiment that now is time to go on the offensive to condemn countries that persist in human rights abuses and apply sanctions to them. Human rights advocacy had been on the defensive during the Bush administration, according to this view.

"The United States needs to be seen as being on the side of those who seek freedom. We are a country not just interested in business, or trade or greater security, but fundamental human rights," said Scott Flipes, who is Asian Sr. Analyst for the U.S. Commission for International Religious Freedom.
Flipes said that Vietnam was taken off the State Department list of a country of particular concern (CPC). Flipes said that was a mistake and that his Commission was recommending putting Vietnam back on the CPC list. Much was said at the forum of the lack of religious tolerance toward Catholics, independent Protestants, and ethnic Buddhists in Vietnam. It is well documented that Montagnards in the Central Highlands are beaten, arrested, and tortured by state authorities often for their Christian beliefs.
Advocating a much more aggressive approach to human rights was Congressman Frank Wolf (R-Va.). The United States with its founding document, the Declaration of Independence, "made a covenant with the rest world," that human freedom should be the basis of government, when it says, "We hold these truths to be self-evident, that all men are created equal, that they are endowed by their Creator with certain unalienable Rights."
With that sacred charge, we need people filling the U.S. ambassador to China, the assistant secretary of Southeast Asia, and assistant secretary for Human Rights to be advocates for human rights and freedom, and meet with dissidents as they did under President Ronald Reagan, said Rep. Wolf.
Wolf said that the human rights community needs to become more unified and aggressively seek to play a role in the naming of persons to the three positions above. He lamented the fact that the persons who are the diplomats interacting with Chinese officials are more preoccupied with business prospects than the sufferings of dissidents and religious adherents.

"Are you thinking the U.S. Chamber of Commerce hasn't come up with names?" he asked rhetorically.
Wolf described his experience last July with Rep. Chris Smith when they had appointments to meet with Chinese dissidents. "Every person was arrested, except one. And he was arrested the next day. Meanwhile, all that the American Embassy would do about this was discuss the various venues for the Olympics," said Wolf in disgust. Wolf said that whenever our diplomats meet with theirs, they need to show lists of persons being held in the Chinese jails. The persecuted people will come to know that someone is speaking for them and this will give them hope.
These sentiments to become more vocal advocates of human rights were echoed by all the Congress members who came, including Representative Joseph Cao (R-La.), newly elected and the first Representative of Vietnamese descent. Congressman Dana Rohrabacher (R-Calif.) was unable to attend, and Representative Thaddeus McCotter sent word he couldn't get in the room because it was filled with so many people. Both congressmen are strong supporters of the coalition.
Where Does Obama Stand on Human Rights?
Where does President Obama stand on these issues? One indication that was cited at the forum was a statement Candidate Obama made on June 19, 2008, on the occasion of Burma's Suu Kyi's 63d birthday. Barack Obama praised her exceedingly:
"She has sacrificed family and ultimately her freedom to remain true to her people and the cause of liberty. And she has done so using the tools of nonviolent resistance in the great tradition of Mahatma Gandhi, Nelson Mandela, and Martin Luther King."

Under house arrest for 13 years, Aung San Suu Kyi is the leader of the democracy movement of Burma. Jeremy Woodrum, campaign director of U.S. Campaign for Burma, pointed out this unique statement of Obama's and that as a senator, "Obama voted 100 percent of the time for sanctions and pressure on the military regime." So far, "Obama has appointed people who are very good on Africa, for example, Ambassador Susan Rice," but Mr. Woodrum wasn't sure how the administration would come down on Asia.
T. Kumar, Amnesty International USA, sees mixed signals. On the one hand, Kumar praised President Obama for the eventual closure of Guantanamo prison, ending torture as a U.S. policy, and for ensuring fair trials of Guantanamo prisoners and others.
However, Kumar said, "President Obama was silent in criticizing [China] for censoring his speech and we hope that is an exception." Obama's inauguration speech was partially censored in China and Kumar notes that neither the president nor the State Department protested.
The test will come for Obama said Kumar when the United States goes after terrorists, whether it "makes sure that human rights are observed and addressed."
"Over the last eight years, especially the last seven, our advocacy for human rights has been hurt, especially because of Guantanamo and waterboarding," said David Young, who worked for the State Department for 20 years and currently is advising Congressman Jim Moran on foreign policy. The fact that Obama did this at the outset of his administration and the fact that his attorney general was unequivocal on this issue "sends a very powerful signal," said Mr. Young.
Another disappointment for some at the forum was the lack of U.S. participation in the Universal Periodic Review (UPR) process on China this week. The United States regrettably did not play any role, noted Dr. Sophie Richardson of Human Rights Watch, but hopefully, she said, the United States will have its act together by May, when Vietnam's human rights record is reviewed. The UPR mechanism was established by the Human Rights Council in June 2007, to subject all 192 member states of the United Nations to a human rights record review every four years, in order to improve human rights conditions worldwide.
Views expressed in this article are the opinions of the author and do not necessarily reflect the views of The Epoch Times.