New building permits surged to a near 13-year high, pointing to sustained housing market strength amidst a period of continuing economic expansion in the United States that is the longest in recorded history.
Permits to build new homes in the United States soared 9.2 percent to a rate of 1.551 million units in January, the Commerce Department said on Feb. 19, which is the highest level since March 2007.
January 2020 seasonally adjusted U.S. total #building #permits are up 9.2% to 1,551K (annualized). https://t.co/a0moOWD1Vf #Census

— U.S. Census Bureau (@uscensusbureau) February 19, 2020
Housing starts, another data point in Wednesday's Commerce Department release, fell 3.6 percent to a seasonally adjusted annual rate of 1.567 million units in January, which followed three straight monthly increases. A comparison of housing starts between January 2020 and January 2019 shows a year-on-year jump of 21.4 percent.
January's number is a preliminary estimate and subject to revision in next month's release. Also, data for December was revised up to show homebuilding rising to a pace of 1.626 million units, the highest level since December 2006.
Single-family homebuilding, which accounts for the largest share of the housing market, fell 5.9 percent to a rate of 1.010 million units in January. New building permits for single-family dwellings increased 6.4 percent to a rate of 987,000 units in January, the highest level since June 2007.
While housing directly accounts for about 3.1 percent of gross domestic product, it has a broader footprint on the U.S. economy.
New Building Permits as Leading Economic Indicators
Senior financial analyst and Merk Investments portfolio manager Nicholas Reece told The Epoch Times that new building permits are a gauge of the strength of the economy and an important marker used to estimate the economy's current place in the boom-bust business cycle.
"If you get a building permit to build a house, then that's going to turn into construction activity, which is going to turn into buying household durable goods like refrigerators," Reece explained. "You normally don't see an economy going into an imminent recession with building permits on a cycle high."
The United States is enjoying a record-long business cycle boom, now into its 11th year.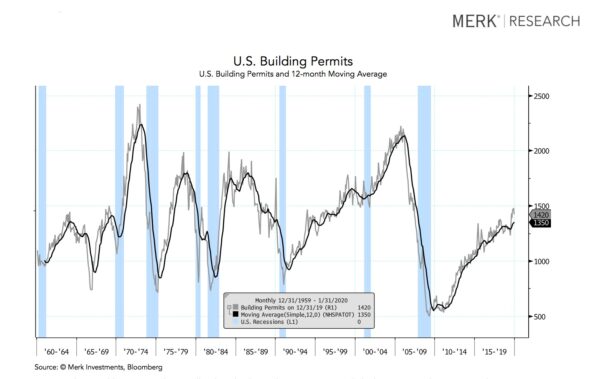 Georgia Bruggeman, Founder and CEO at Meridian Financial Advisors, told The Epoch Times in an email that new building permits are her go-to leading indicator for anticipating economic downturns.
"New housing requires a huge amount of resources in terms of lumber, copper, steel, glass, new appliances, new furniture," Bruggeman explained, adding that in her view, new housing permits would fall significantly ahead of serious economic trouble.
"A meaningful drop in this activity will hit the economy before we actually go into recession," she said.
Builder Confidence Stays Robust in February
In another sign of housing sector strength, builder confidence in the housing market remained buoyant in February, according to the latest National Association of Home Builders (NAHB) Housing Market Index (HMI), with the last three monthly sentiment readings hitting its highest levels since December 2017.
The composite index, which reflects confidence in the market for newly-built single family homes, came in at 74 in February, which is a one-point drop from January's figure, but an annual growth of 19.35 percent compared to last February's print.
The results, which are expressed on a scale of 0 to 100, are adjusted to smooth out seasonal fluctuations. A reading above 50 suggests optimism in the housing market, while a lower print suggests pessimism.
The HMI survey asks respondents to rate both current and six-month-forward market conditions for the sale of new homes, as well as the traffic of prospective buyers of new homes. NAHB then publishes the readings in the three categories and as a fourth composite measure.
In February, the index gauging current sales conditions fell one point to 80, the one measuring sales expectations in the next six months was one point lower at 79, and the prospective buyer traffic indicator also decreased one point to 57.
Significantly, the gauge of prospective buyer traffic rolled over from more pessimistic to more optimistic in September and then grew steadily over the next three months.
Reuters contributed to this report.