WASHINGTON—The commonly held view that China is a manufacturing juggernaut about to eclipse the United States and is taking away millions of jobs from Americans is wrong, according to a newly published book, "Unmade in China: The Hidden Truth About China's Economic Miracle."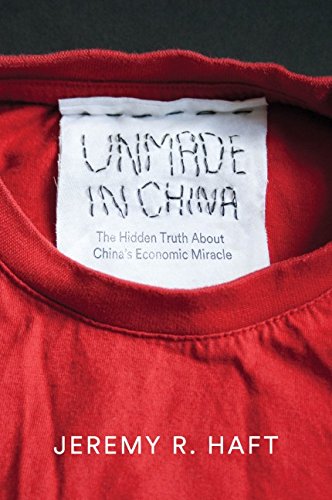 Author Jeremy Haft says that we have too readily accepted notions about China from the pundits, politicians, and the media that don't stand up to how things are actually made in China. The true threat from China's economy is not what people typically think; it's really about an economy that struggles to make its products safe and of high quality.
"Nearly everything we are told about China's rise is wrong; that, in fact, the very core of China's supposed might—how China makes things—is riddled with risk," Haft says in the preface.
Americans experience major safety breaches in Chinese imports in food, drugs, toys, tires, and bridges, including baby formula spiked with melamine, toxic blood thinner (heparin), lead paint in Mattel toys and rotting Chinese drywall, faulty ignition switches, poison toothpaste and cough syrup, and cracked welds on the San Francisco Bay Bridge.
Within China, safety lapses are widespread and more frequent than here. He lists several: "Exploding watermelons, glow-in-the-dark pork, resold gutter oil, tainted seafood, scraps of animal skin in milk, arsenic in soy sauce, cadmium in rice, paraffin and ink in noodles, bleach in mushrooms, resin and starch to make fake eggs, poison gel caps and lethal antibiotics, collapsing roads and bridges."
'Casual Business Practices'
Haft is an entrepreneur, CEO of SafeSource Trading, an export trading firm, and co-founder and chairman of Caracal Strategies, a business advisory firm. He has been building businesses in China since 1997, producing a wide variety of articles: from auto parts to oil rigs, door knobs to dental-bite blocks, valves and vents, digital music players, chum buckets, fencepost caps, and more.
When he started, he took a team of engineers and spent 18 months "walking the supply chain," he said, to see how things are made in China from the raw materials to the manufacturing fabrications to the assembly. He said they visited over 600 suppliers, looked at plants and equipment, and interviewed managers.
Nearly everything we are told about China's rise is wrong; that, in fact, the very core of China's supposed might—how China makes things—is riddled with risk.
"What we saw was something radically different from what we in America consider how things are made in China," he said, Jan. 20, at the East–West Center.
Haft reminds us that China is not a capitalist economy with an autocratic regime. "It's a hybrid economy, part communism, part capitalism," he writes.
State-owned enterprises have access to loans and at rates below China's stated rate while non-state-owned companies have a hard time borrowing money. "State-owned companies often receive their land for free or at highly reduced pricing," and "energy is also often deeply discounted, as are raw material inputs."
Haft says that Chinese companies are quite casual in their business practices. It's typical in China for a firm to keep multiple sets of books—"numbers for your investors, numbers for the taxman, numbers for the local government, and still other numbers for your partners." What would land you in jail in the United States or EU is normal business practice in China.
The rule of law, the foundation of a capitalist economy, is not the same in China, where enforcement of its many laws is "extremely spotty, and often depends on whom you know and how much you are willing to pay." The rule of law is far from perfect in America, but at least the players can count on contract enforcement and protection of intellectual property.
The corporate governance in China is nothing like a Western company with clearly defined roles and responsibilities. A good company has well-defined lines of reporting from corporate officers to managers to staff, he says.

Supply Chain Fragmentation
In China, it typically takes two or three times as many firms as in the United States to make or bring a product to market. Several firms are required to do a job that should just take one, which in business parlance is called a fragmented supply chain. Plus in China there are the myriad number of middlemen to "glut the chain at each node," he writes. In a globalized supply chain, a product may move through 12, 18, or even more hands in China, he writes.
"Each node of production adds risk that the outcome will be unsafe," he said at the East–West Center.
The system dates back to Chairman Mao's concept of each province to be self-sufficient, with its own steel mills, breweries, clothing manufacturers, and so on, and production outputs were dictated by the central government. This disastrous arrangement was reformed by Deng Xiaoping, who supported some privatization and the formation of small companies in partnership with local municipalities.
These small businesses "blazed the trail for China's emerging market economy," but the Chinese Communist Party still retained power and an interest in production; advancement in the Party structure still depends on economic performance. Hence, it's not a rational market system. These small firms are usually shielded from competition, he wrote.
The world's largest toy company, Mattel prided itself in taking command over its many factories in China. But in 2007, it had two large lead paint recalls. China's fragmented supply chain was too much for an experienced international company like Mattel. He writes:
"Many of Mattel's product lines were farmed out to 30–40 outside vendors. These vendors in turn would job out the work to subcontractors that hired still other sub-contractors and even sub-sub-subcontractors. So, although Mattel owned local factories, and even audited its outside contractors, it had not audited any of the subcontractors."
Although Mattel owned local factories, and even audited its outside contractors, it had not audited any of the subcontractors.
In the book, Haft provides the details of the source of the lead paint. He names the subcontractors and their subcontractors all the way down to the guilty supplier.
"China's supply chain is so complex and opaque" that errors can occur unnoticed. Haft points out that Mattel's vendors had lead-detecting equipment and had been faithful suppliers to Mattel for years. He says the whole system is to blame for similar safety lapses, not a handful of evildoers, as the communist regime likes to blame.
'Advanced' Shipyard Flunks
My favorite example in the book is the Shanghai Waigaoqiao Shipyard (SWS), "China's newest and most advanced shipyard." Shell Oil was seeking to purchase a rig, and so it did an audit before offering a contract to a new supplier.
Despite its reputation, SWS flunked every evaluation category. Shell found that the shipyard had no coherent system for managing its suppliers. It lacked engineering and design capability needed to oversee vendor performance and the capability to manage design changes in mid-course. And it largely lacked health, safety, and environmental standards expected of an international company, and what it had was not implemented. For example, procedures for handling hazardous materials. There was also no clear line of authority and job responsibilities defined, and so accountability was absent.
"Lacking the most basic elements of a modern, well-run company, China's most advanced shipyard revealed itself to be a fly-by-night operation," he writes.
When given the opportunity to make necessary improvements, the company declined even though it meant losing potentially billions of dollars of business from Shell. "This posture is typical of China's state-owned enterprises. Lazy, bloated, and uncompetitive," writes Haft.
Lacking the most basic elements of a modern, well-run company, China's most advanced shipyard revealed itself to be a fly-by-night operation.
Myth of the Economic Powerhouse
By now, the reader is thinking how can the above narrative be true when we "know" that China's economy is second only to ours and is about to surpass us. And isn't it true that just about everything is made in China today?
Haft says that these are myths which he tries to dispel in the first chapter. The economic growth that is bandied about and used to assert that China is about to overtake the United States is based on the gross domestic product (GDP), which is an "inappropriate metric," he says. The way it is computed, imports are subtracted from the overall total. But Haft states that many of the imports that say "Made in China" contain inputs from the United States—for example, American cotton in your khakis. It misses the jobs it takes to bring the imports to market and the jobs that went into the components of the imported goods.
Further, a lot of economic activity in China is useless, such as the "ghost cities," and "glutting China's property market with empty houses and malls, excess infrastructure and manufacturing capacity." This work also adds to the GDP.
The perception that China is the factory floor of the world is also wrong. "China is more like the assembler for the world." The "Made in China" label "doesn't really mean the product is actually made in China," Haft says.
For example, the iPhone is not manufactured in China but only assembled there. Haft provides a table with the amount of input that various countries contribute to the iPhone, including Japan, Korea, Germany, and the United States. The breakdown shows that an iPhone costs about US$179 to make, and China's contribution was only $6.50 of value to assemble it from parts made elsewhere.
"But because China is the last country to export the iPhone to the United States, trade statistics consider it as 100 percent Chinese-made!" The same is true for other electronics, such as the iPad and the Macs.
Haft cites the recent head of the WTO who said that if China's added-value portion of American imports were used in lieu of the total cost of production, the trade deficit with China would probably be more than half as large. Haft loses no time in castigating the pundits and politicians from both major political parties for mischaracterizing our trade deficit with China.
Moreover, Haft argues that the belief that China's manufacturing is taking jobs away from America is also mistaken. Citing the Federal Reserve Bank, academics, and The Economist magazine, "for every dollar spent on imported goods from China, about half the value actually flows to American firms."
Further, the high risk contained in China's products make the Chinese people desirous for foreign imports. The mainstream media and politicians are unaware that China's dangerous products have resulted in millions of American jobs across every state and nearly every congressional district. Raising tariffs on Chinese goods to protect American jobs would actually be a job killer, he says.