The battle for New York between the Knicks and the Brooklyn Nets came down to the Nets having the last possession after many lead changes, that entertained the largest crowd, of 18,081, ever to see a Nets game in Brooklyn on Tuesday night.
James Harden led the Nets with 28 of his 34 points in the first half to lead all scorers; he was 11–20 from the field, 3–8 three-pointers, and also added 10 rebounds and eight assists.
Kevin Durant overcame a cold start to eventually score 11 of his 27 in the fourth quarter; shooting 9–23 from the field, 0–5 threes, five rebounds, and nine assists.
The Nets overcame an eight-point deficit and ended the first quarter with a 33–28 lead with Harden contributing 15 points in the quarter.
"Being here two years now, it doesn't matter who's on that team or who's on this team, I think the energy's always going to be there," Harden said. "Whether it's here or at MSG, the fans are going to be cheering for their respective teams and it's going to be a good game every time, and tonight we're just happy to come out with the win."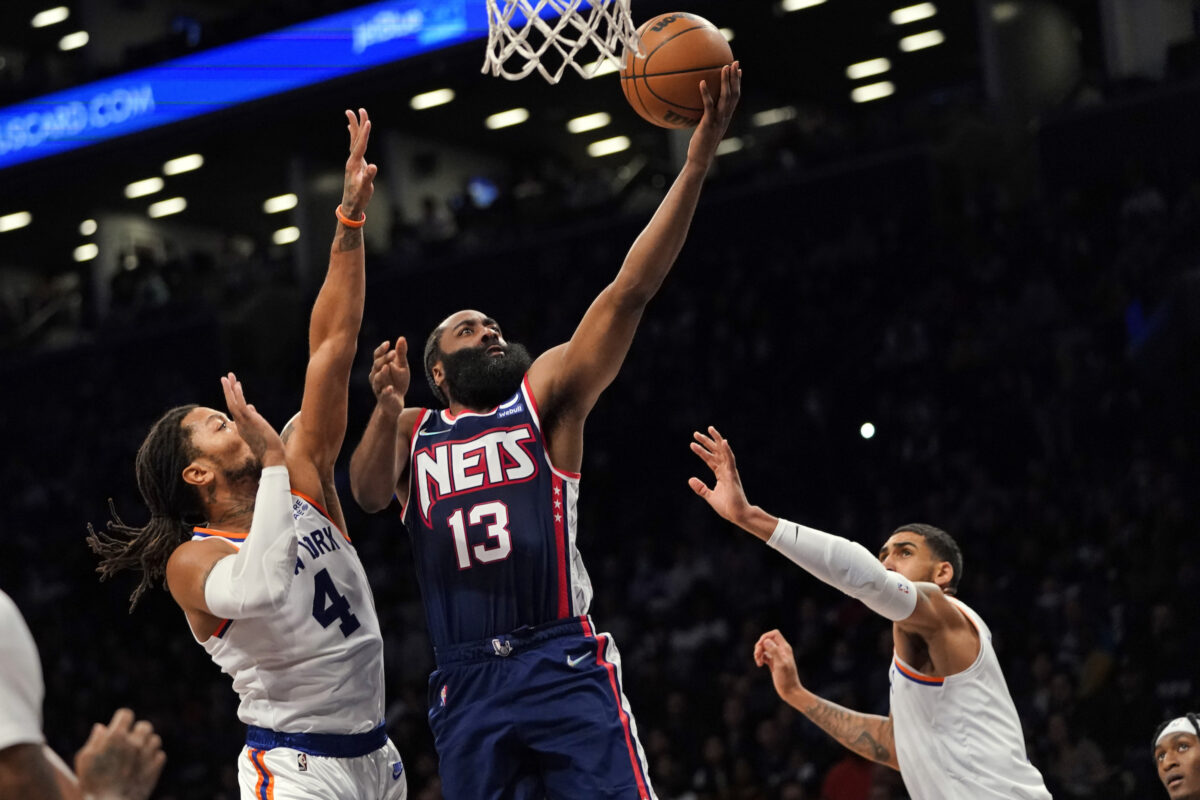 The Knicks shot an impressive 48.4 percent; Alec Burks led the way with 25 points.
Julius Randle scored 24 points, nine rebounds, and eight assists.  Derrick Rose scored 16 points and Evan Fournier added 13.
The Knicks regained the lead when Immanuel Quickley hit a 28-foot 3-pointer to make it 92–90 with 8:54 remaining in the game.
After three lead changes, the Knicks took a 98–95 lead on Obi Toppin's dunk with 6:29 left.
Knicks led 105–103 on Burks' open 3-pointer with 2:40 remaining.
Nets Patty Mills came back with a layup as the shot clock expired, and Durant made an 18-footer with 97 seconds left for a 107–105 lead.
Randle received a technical foul with 1:36 left in the game for complaining about not getting calls his way. Durant converted the free throw to a 108–105 advantage.
"As aggressive as I play, attacking the paint, I can't be penalized for just being stronger than people and that's the answer that I got today," Randle said.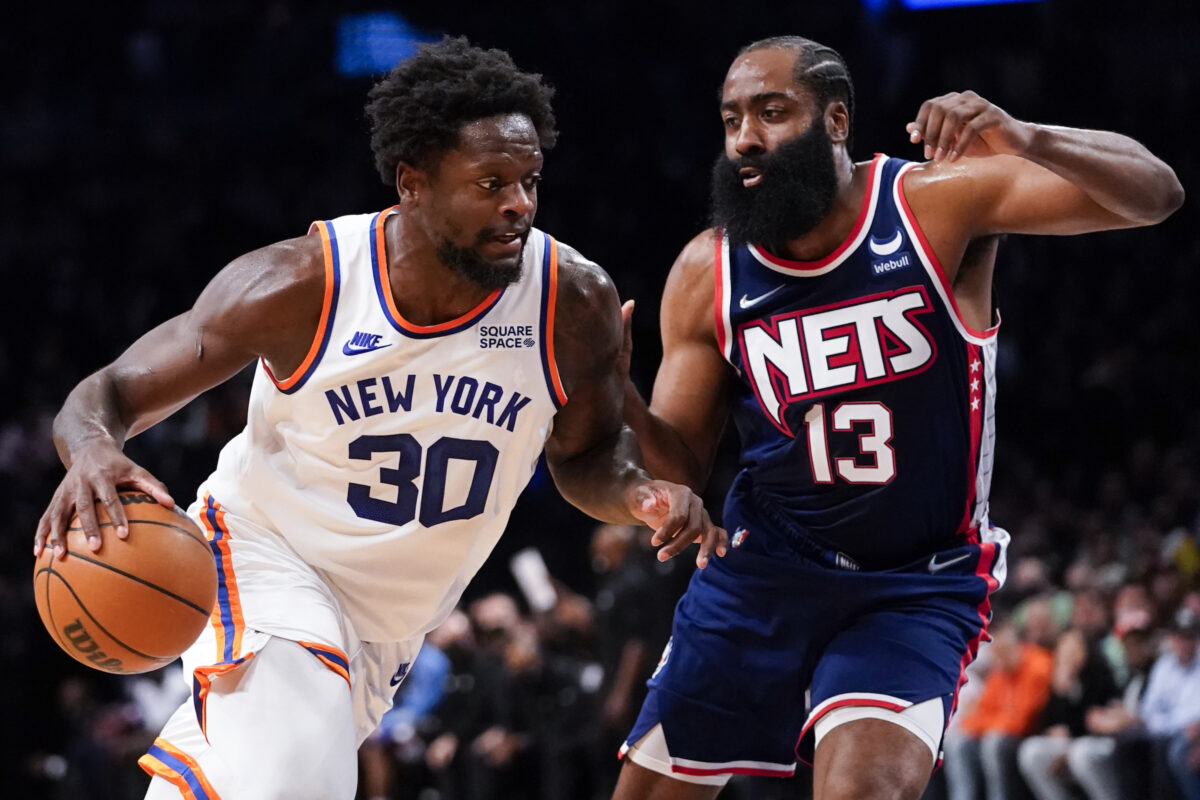 Durant hit two free throws to give Brooklyn a 109–107 lead with 27.5 seconds remaining.
The game was tied at 110–110 after New York's Evan Fournier hit a 3-pointer over Bruce Brown with 17 seconds left. Brooklyn used its last timeout to advance the ball, and James Harden inbounded to Kevin Durant.
The game was tied at 110–110 after Knicks Fournier hit a 3-pointer with 17.7 seconds left.
On the last possession, Durant received the inbounds pass and dribbled for several seconds looking to take the last shot.
Durant was met with a Knicks double-team, so he passed the ball to Johnson.
Johnson drove strongly to the basket and was fouled by Mitchell Robinson who took a swipe at the ball, instead of jumping straight up to defend. Johnson made both free throws to take the final advantage of 112–110.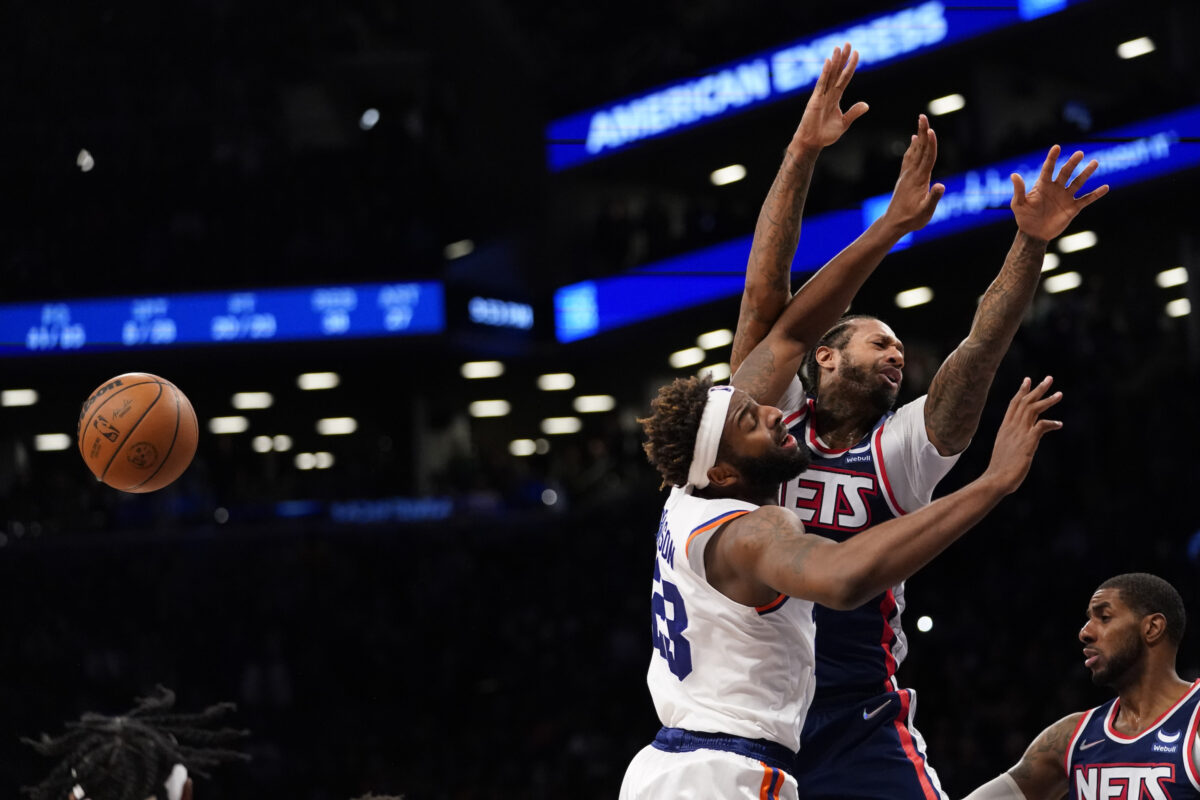 The Knicks had 2.2 seconds for a last-second shot to tie or win the game, but Fournier's 44-foot 3-point attempt hit the back-left of the rim as the buzzer sounded.