Following a disastrous triple-bogey on the 17th hole, Nelly Korda persevered to make back-to-back birdies on the 18th hole; both in regulation and in the first playoff hole to ultimately win the Pelican Women's Championship in Belleair, Florida.
A four-way playoff ensued following a dramatic last two holes of the final round on Sunday, as leaders Nelly Korda triple-bogeyed the 17th and Lexi Thompson bogeyed both holes.
Following Korda's great birdie on the 72nd hole of the tournament, Thompson had the final putt—a 4-foot left-to-right breaker for par to win the tournament. But she did not play enough break.
Both Americans, Korda and Thompson, shot a final-round 69 to finish at 17-under par 263, while Lydia Ko shot a 66 and Sei Young Kim shot a 67 to tie for the playoff. All four women set a new 72-hole scoring record for the Pelican Golf Club.
The women approached the playoff hole reaching the 18th green in regulation. However, New Zealand's Ko and South Korea's Kim were left with long birdie putts that they were not able to convert.
Korda had a similar line to the putt she had just made in regulation—this one from about 12 feet—and was able to convert back-to-back birdies on the long and difficult finishing hole.
Thompson again had the last putt, this time to tie with Korda and force a second playoff hole between the two. She, however, left a 6-footer short.
"It was a great week," Thompson said. "Played a lot of good golf, made a lot of good putts, and just wasn't meant for me in the end."
Thompson's last win on tour was in June, 2019, at The ShopRite LPGA Classic.
Her putting, especially short-putts, has been her weakness, preventing her from closing wins at the end of tournaments. Thompson has shown improvement since changing her putting grip to a claw-grip beginning in late 2019.
Thompson seemed destined to break through for a victory at a major in this year's U.S. Women's Open at Olympic Club. However, she lost a five-shot lead on the back nine; and finished with two bogeys to miss the playoff by one shot.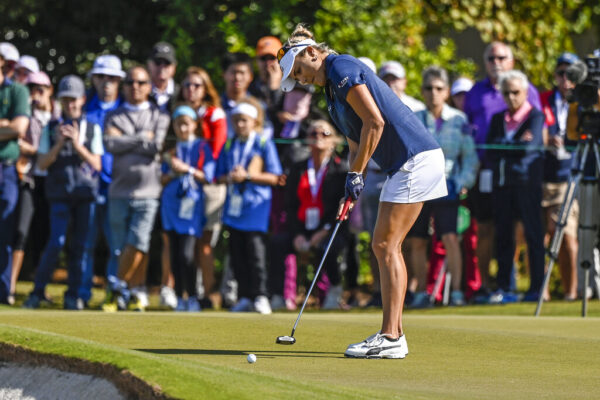 In a sporting gesture, Korda said of her fellow Floridian and Solheim Cup teammate Thompson, "It was a heated battle. I actually really enjoyed it. It was a lot of fun, and we were still kind of smiling and joking together. So it was nice. She definitely kept me on my toes."
"Unfortunate on 17, 18. Seventeen, there were a lot of spike marks around the hole, so I don't know if she hit one to three putt." Korda added. "But that's how golf is sometimes. You're going to lose these and sometimes, you're going to win them."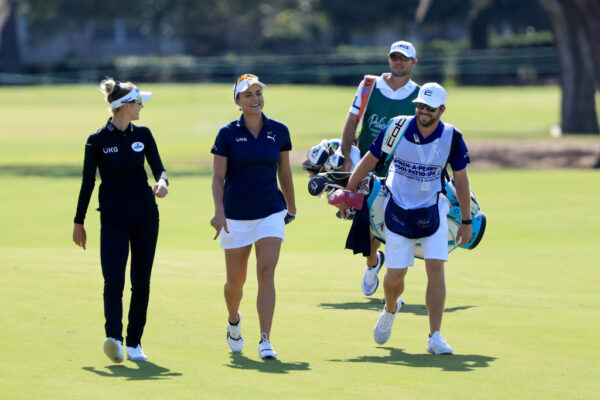 Korda added of the horrific result of her approach shot on hole 17, "I honestly lost hope. I was like, OK, just try to make a solid par, 18 is a really tough hole. If you have a chance or birdie, then try and go after it. My caddie really kept me in the moment and I didn't give up. Thank God I didn't."
"If I missed a putt, which there were a lot this week, just [had] to shake it off and see if I can do it the next hole," Korda said, "So I just tried to keep it really light and easy."
Korda continued, "I just found myself probably the best putt (at hole 18), putted two times in a row, and rolled it in really nicely."
This is Korda's fourth tournament win of the year, matching her with Korea's Jin Young Ko. Korda also won the Gold Medal in this year's Olympics, but that is not an LPGA event.
She considers her first major victory this year's Women's PGA—her favorite win. It also propelled her to a #1 ranking.
Korda also has an older sister on the LPGA tour, Jessica Korda. Their athletic prowess and competitive spirit likely came from their father, Petr Korda of former Czechoslovakia, who won the 1998 Australian Open in tennis, which propelled him to a world ranking of #2 in February, 1998.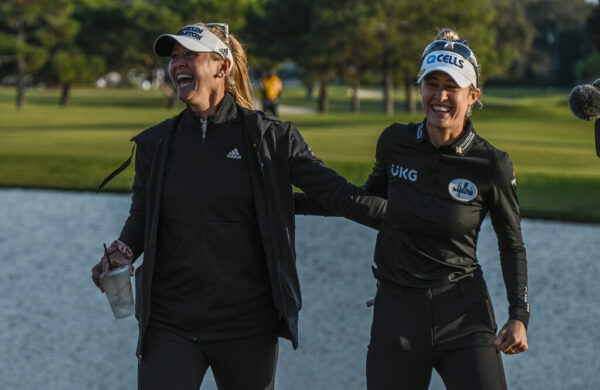 "When I used to play against my dad when I was younger, he would always try to [expletive] me off because he always said that I step it up a notch when I'm [expletive]."
"Because he was good [at golf] and [our matches] were always so close, and I would always pay, we would play for money and he would always try to tick me off. It worked a lot," she said.
This mental toughness may have helped her regain determination after she felt that she had lost hope after the debacle on Hole 17.
"You didn't want to know what I was saying from 18 tees to the 18 iron shot," Korda said. "But I think it was good that I got that anger out because I was very angry after 17. I thought I'd lost it there. I was like, 'Okay, I just gave it to Lexi,' in a sense. But it's a crazy game and I never give up. I will never give up. I'll go down fighting every single time."
Her victory places her back at No. 1 in the women's world ranking and moves her 12 points ahead of Jin Young Ko for LPGA Player of the Year. There's one more battle as they head into the season-ending CME Group Tour Championship next week in Naples, Florida.