Nebraska's Republican Party has voted to rebuke Sen. Ben Sasse (R-Neb.) for his vote to impeach former President Donald Trump earlier this year and other aspects of Sasse's service in Washington, arguing that he wasn't representing his constituents' wishes.
The Nebraska GOP's State Central Committee approved an "expression of disappointment" resolution against Sasse, who won reelection last year with Trump's backing,
The resolution also says Sasse, when first elected, promised to repeal and replace the Affordable Care Act, also known as Obamacare, but has "failed to take any meaningful action to fulfill that or any other promise he made during campaign season."
It also noted that Sasse requested and received an endorsement from Trump but now criticizes supporters of the former president, including Nebraska Republicans.
And it highlighted how Sasse has said he refused to vote for Trump in 2016, "which, if broadly followed," would have led to a win for Democratic nominee Hillary Clinton.
Sasse also was criticized for his reaction to lawsuits brought on behalf of Trump but not saying anything about the approximately 200 lawsuits brought by Democrats seeking weaker election security protocols, his silence on the closure of major industries due to President Joe Biden's halting of the Keystone XL pipeline, and his failure to take steps to reform the U.S. immigration policy.
Sasse voted Feb. 13 to convict Trump on a charge of incitement of insurrection, even as 43 of his GOP colleagues voted no. Trump was acquitted.
"Now, therefore, be it resolved that the Nebraska Republican Party Central Committee expresses its deep disappointment and sadness with respect to the service of Senator Ben Sasse and calls for an immediate re-adjustment whereby he represents the people of Nebraska to Washington and not Washington to the people of Nebraska and stands rebuked," the resolution concludes.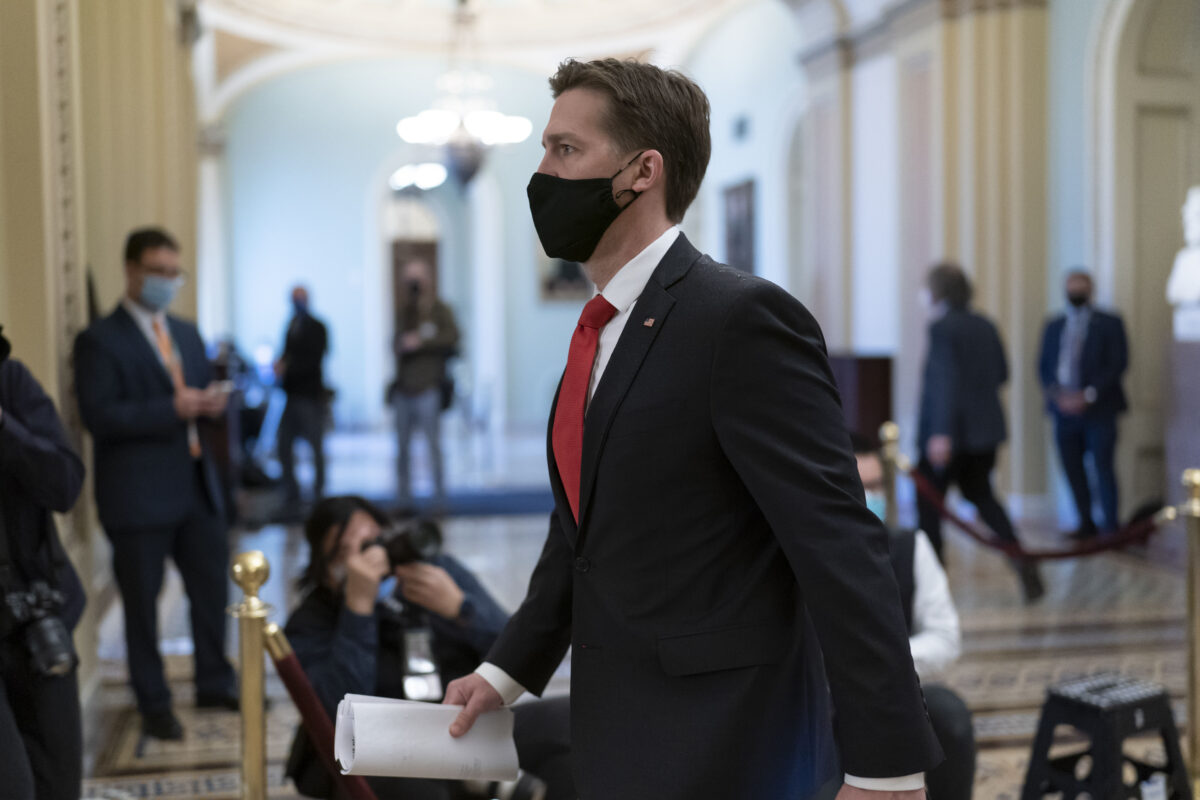 The resolution was passed in lieu of a censure. Other Republican senators who voted to convict Trump were censured by state parties, including Sen. Bill Cassidy (R-La.). Sasse has been censured by county GOPs.
The executive committee was divided on whether to censure Sasse, the Omaha World-Herald reported.
Carol Friesen, chairwoman of the Lincoln County GOP, said she wanted a censure, but would support the resolution if that was the only choice.
Pat McPherson, who used to be a member of the Nebraska State Board of Education, argued a censure could end up boosting Sasse. "When you start using the term censure, you turn around and promote what he thinks will be helpful for his run for the presidency," McPherson said.
In a response statement, Sasse said, "There are lots of good people involved in party activism and I care about them, but most Nebraskans don't think politics should be about the weird worship of one dude."
His spokesman added: "Ben's won far more votes and also earned more censures than anybody in Nebraska history, so maybe the two actually go hand in hand. He doesn't stick his finger in the wind."