State authorities in Australia's most populous state of New South Wales have taken legal action against more than 180 people for bushfire-related offenses since the devastating blazes began.
Since November 2019, a total of 183 people have been targeted by police in the state of New South Wales (NSW) for 205 fire-related offenses, according to the NSW Police Force.
NSW police said 24 were apprehended and charged with deliberately lighting bushfires. A further 53 people face legal action for allegedly failing to comply with a total fire ban, while 47 others are accused of improperly discarding lit cigarettes or matches outdoors.
Police in the north-eastern state of Queensland are also taking action against people for fire-related offenses. Police revealed to AAP that 103 fires had been deliberately lit since September, with 98 people—67 of them juveniles—having been identified as alleged culprits.
Devastating bushfires have ravaged Australia in recent months, in particular in southeast Australia's NSW and Victoria, killing at least 25 people and affecting hundreds of millions of animals and livestock. More than 2,000 homes have been destroyed by the blazes, which have so far burned through more than 5.25 million hectares (13 million acres) of land, an area twice the size of the U.S. state of Maryland.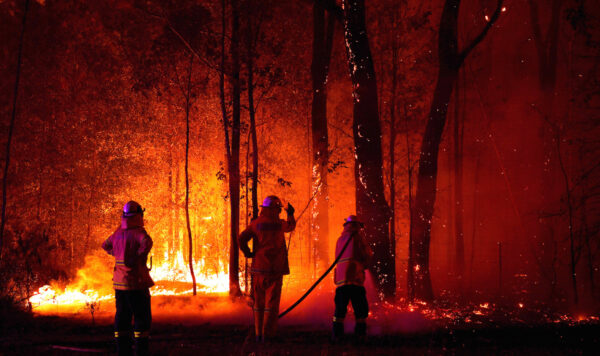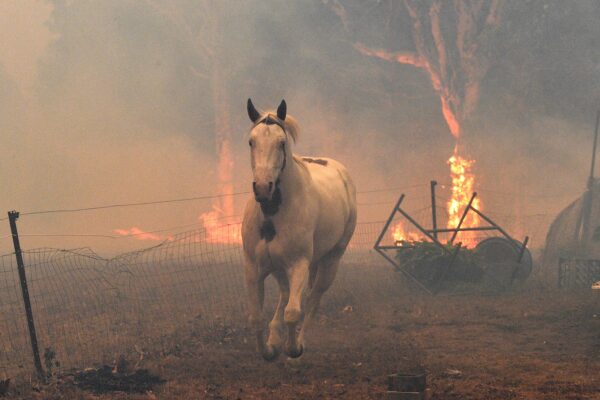 Under the NSW Crimes Act, the Rural Fires Act, and Rural Fires Regulation, penalties relating to lighting bushfires include up to 25 years in prison for damaging property with the intention of endangering life, and 21 years in prison for starting a bushfire and being reckless as to its spread.
Those caught lighting a fire when a total fire ban is in place risk up to 12 months imprisonment and an A$5,500 (about $3,779) fine, while those seen lighting or using a tobacco product within 15 meters of any stack of grain, hay corn, straw, or any standing crop, dry grass, or stubble field could be fined up to A$5,500.
Around 85 percent of bushfires are caused by humans either deliberately or accidentally starting them, Dr. Paul Read, co-director of the National Centre for Research in Bushfire and Arson, told the Australian Broadcasting Corporation (ABC) in September 2019.
"About 85 percent are related to human activity, 13 percent confirmed arson, and 37 percent suspected arson," he said. "The remainder are usually due to reckless fire lighting or even just children playing with fire."
According to Melbourne University bushfire expert Janet Stanley, the majority of fires are lit by young people aged 12 to 24. However, they have also been set by children as young as 10.
"Unfortunately, 10 percent of people who we think light fires are 10 years old or younger," she told Newscorp in December 2019.
Although there is very little research conducted on arsonists worldwide, Stanley believes there are a number of reasons and circumstances why they may start fires, adding that she doesn't believe they are evil. Stanley started researching bushfire arson after her own home burned in 1983.
"Older men are also prone to lighting fires," she said. "They often have a history of child abuse and neglect. They probably dropped out of school at a very early age, living on the edge of society, likely to be unemployed, not engaged in the community.
"In most cases, they don't intend to cause this chaos, they might just like to make a fuss," she added.
Stanley added that "much clearer" data needs to be collected to understand why people are lighting fires and noted that "not all fires are officially recorded, let alone being investigated."
"We need to understand how to better protect and understand these people [arsonists]. Sometimes they are quite happy to be caught—they feel safer in jail," she said.
Australia's current bushfire crisis began in September, coinciding with a temperature imbalance recorded in the Indian Ocean that, according to the Australian Bureau of Meteorology (BOM), has contributed to favorable fire conditions across the country.
The temperature imbalance, known as the Indian Ocean Dipole, brought reduced rainfall and low humidity to Australia, while causing intense rains on the western side of the Indian Ocean in East Africa.
There, devastating floods and landslides have killed more than 280 people, and hundreds of thousands more have been forced to flee their homes, according to the U.N. Office for the Coordination of Humanitarian Affairs.
The imbalance in the Indian Ocean Dipole is forecast to dissipate in early January 2020, according to BOM, which may bring more favorable climatic conditions to Australia's bushfire-ravaged east coast.
Correction: A previous version of this article, in the headline, incorrectly stated the actions police took against 183 people for alleged bushfire-related offenses in Australia. Police have taken legal action against them. The location of the police actions has also been clarified. The Epoch Times regrets the error.