The overall No. 1 seeded Gonzaga Bulldogs (28–3) ran into a physical Memphis Tigers (22–11) team in the second round of the West Region of the NCAA basketball tournament. Down 10 points at halftime, it would take the leadership of Drew Timme for Gonzaga to come from behind to win 82–78 at Moda Center, in Portland, Oregon, on March 19.
Before the start of the second half, Timme, the 6′ 10″ junior from Texas, brought his teammates together and emphatically stated that the result of the game was not important.
The most important thing was to "leave it on the floor because it can be your last 20 (minutes). If you go out and we still lose, play with no regrets," said Timme. "We took that to heart and we came out with the win fortunately."
"But give credit to Memphis, they really brought it," added Timme. "In the way they turned the season around. It's pretty remarkable."
The last Sweet 16 third-round appearance for Memphis was in 2009. The 9th seed Tigers in the West Region looked to return with a huge upset of Gonzaga through excellent game planning by their coach Penny Hardaway.
The former NBA superstar and Tigers alumni, Hardaway, strategized the athletic Tigers in a very physical game-plan to dominate the inside, and restrict Gonzaga's best players, Timme and All-American center Chet Holmgren.
Holmgren was limited to nine points, on 4 of 7 shooting, zero for three from three-pointers, and nine rebounds. He is expected to be a top pick in this year's NBA draft.
Timme led Gonzaga with 25 points, but was limited to four points in the first half before rallying Gonzaga in a fast second-half comeback. He shot 10 of 16 from the field, making his only three-point attempt, and added 14 rebounds and four assists.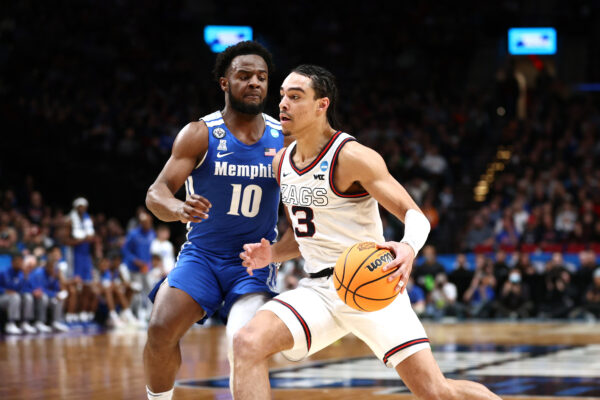 Gonzaga guard Andrew Nembhard played the entire game and scored critical late-hitting three-pointers and four free throws in the final minute. He scored 23 points on 6 of 12 shooting, mostly from 5 of 10 from three-pointers and five assists.
The other starting guard, Rasir Bolton, also played a big role; scoring 17 points, on 6 of 9 shooting, 3 of 6 three-pointers, and two assists and rebounds.
Gonzaga was dismal from the free-throw line before Nembhard and Bolton made six straight in the final 0:42 seconds; for a team total of 54 percent, hitting 13–24.
For Memphis, it was a total team effort with ten players scoring. DeAndre Williams led the Tigers with 14 points on 7 of 13 shooting and seven rebounds.
Tyler Harris came off-the-bench for 13 points, six of six from free throws in 23 minutes. Lester Quinones scored 10 points and had five rebounds. Alex Lomax added nine points, Malcolm Dandridge scored eight; starters Jalen Duren and Landers Nolley II both contributed with seven points.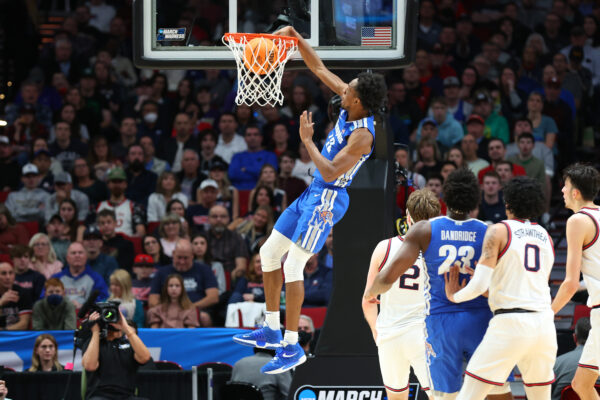 In the second half, Memphis could not maintain the physical inside game as fouls mounted and they were plagued with foul trouble.
Timme carried Gonzaga with its first 11 points in the second half. Holmgren's jumper would tie the game at 51–51 with 12:53 remaining in the game, before taking a four-point lead on Bolton's three-pointer with 9:58 remaining.
It remained close until Gonzaga took their largest lead, 76–69, on Membhard's three-pointer at the 2:21 mark. Memphis countered and got within three points 76–73 with 1:11 remaining on Williams' jumper.
Gonzaga's guards anchored the final minute, making all six free throws before Holmgren fouled out attempting to block a shot with 7 seconds remaining.
The resulting two free throws were made by Nolley II to get within two points 80–78.
After a time-out, Memphis fouled on throw-in, leaving 4.4 seconds. Nembhard made both free throws to ensure a Gonzaga victory, 82–78.