The NBA playoffs are just a handful of weeks away, and a number of teams are vying for a spot in the next part of the season.
In the Eastern Conference, six teams are battling for the two last playoff spots. All of them are now within 2.5 games of each other in the standings.
In the Western Conference, three teams are vying for the last playoff spot. They're within two games of each other.
Over the weekend, the East saw some re-shuffling as the Indiana Pacers moved into the eighth spot thanks to another one–the eighth in the past 10 games. No team in the East has won more during that period. While the Pacers are listed in eighth, though, two other teams–the Brooklyn Nets and Charlotte Hornets–have the same winning percentage, so they're essentially tied.
All three teams are just a half-a-game behind the Miami Heat for seventh place.
Despite serious struggles from some of the teams further up in the standings–principally the Washington Wizards, but also the Toronto Raptors, Chicago Bulls, and Milwaukee Bucks–no other spot is within reach of the six teams right now. Milwaukee, currently in sixth place, is 6.5 games ahead of Miami.
The two other teams–the Boston Celtics and Detroit Pistons–are one and two games, respectively, behind the Pacers and the eighth spot.
The top of the East is also of interest. The Cleveland Cavaliers are very close to nabbing the second spot, but sit one game behind Toronto and a half-a-game behind Chicago at the fourth spot.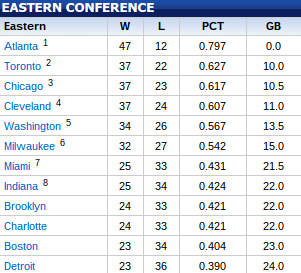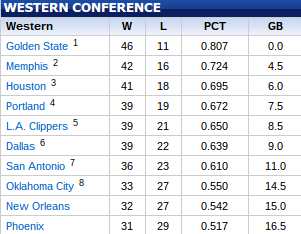 Over in the West, the three-team battle for eighth surprisingly continues. When Anthony Davis, Ryan Anderson, and Jrue Holiday got hurt, many counted the New Orleans Pelicans out. But the Pelicans have reeled off five straight wins, and are now only a half-a-game behind the Oklahoma City Thunder. The Thunder are without Kevin Durant and Russell Westbrook for the time being.
The Phoenix Suns, who dropped out of the top eight just after the All-Star break, are 1.5 games behind the Pelicans and 2 games behind the Thunder.
Despite how close they are, the teams in the middle of the West haven't changed positions since the break. The Memphis Grizzlies are 42-16 and in second place. 1.5 games behind them are the Houston Rockets. Another 1.5 back are the Portland Trail Blazers. 1 game behind them are the Los Angeles Clippers. A half-a-game behind them are the Dallas Mavericks. Two games behind them are the San Antonio Spurs.
The Spurs appeared to be in danger of falling out of the playoff race entirely but managed to win the past two games to keep a 3.5-game cushion from the eighth seed. However, every game certainly counts from now on, as the Thunder and Pelicans could eventually surpass the defending champions.