U.S. Marines in Japan recently trained to keep their F-35B fighter jets running in simulated hazardous conditions like those that could arise during a nuclear war.
The exercises, conducted at Marine Corps Air Station Iwakuni, Japan, required soldiers in Marine Fighter Attack Squadron 121 to don special suits worn to protect soldiers from chemical and biological hazards.
The hot refueling exercise took place Nov. 15 with marines refueling F-35B Lightning II strike fighters while wearing level 4 Mission Oriented Protective Posture (MOPP4).
There are five levels of MOPP gear, ranging from MOPP0, which is used when there is just a threat of chemical or biological hazards to MOPP4, which includes much more gear and is worn during and after an actual attack.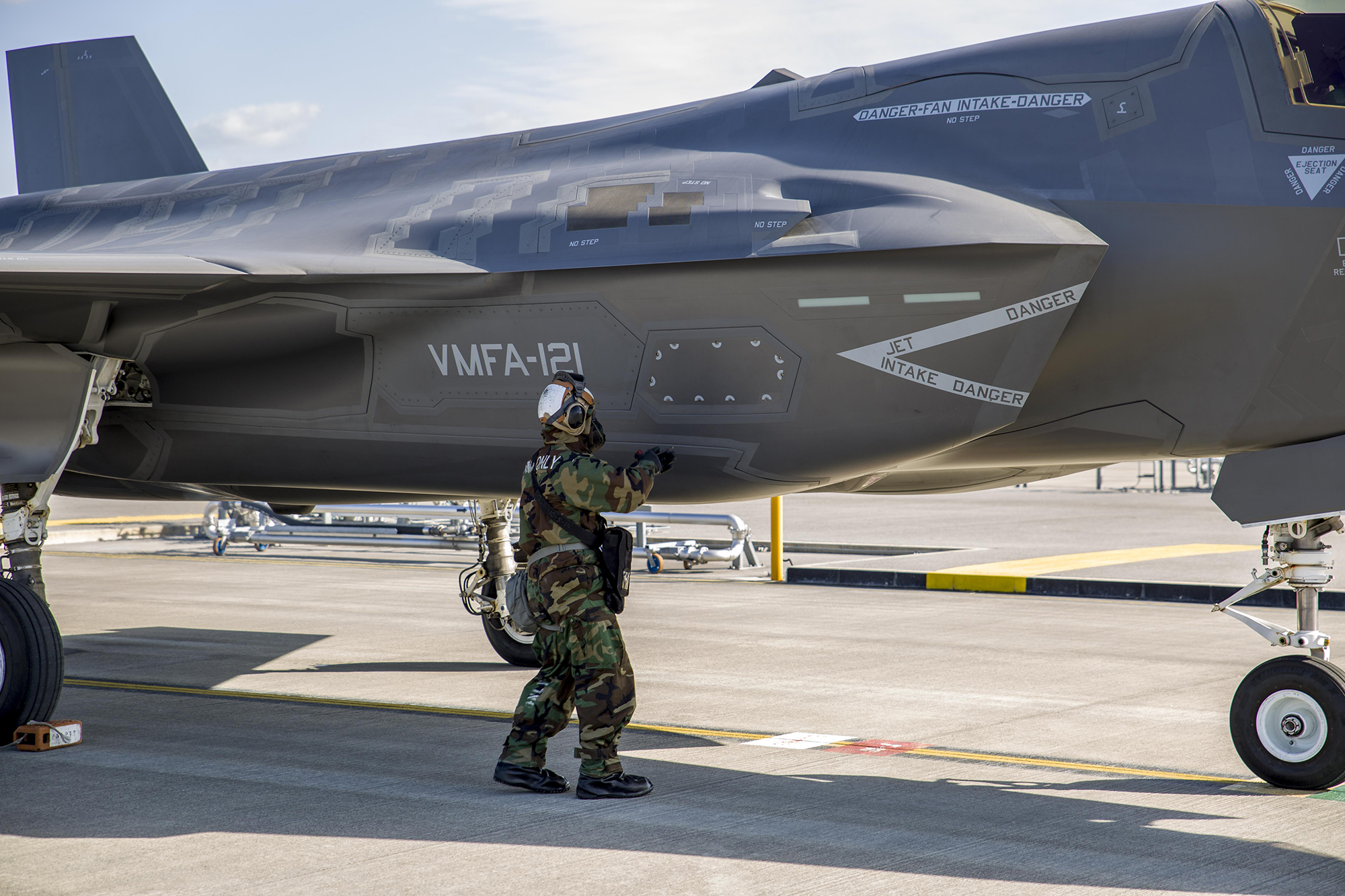 The exercise let Marines refine their procedures and get familiar with working in the bulky suits.
"It's important to practice in MOPP gear because the Marines don't get many opportunities to wear this on a daily basis, so in the instance where they do have to wear MOPP gear in a real-life scenario, it's not going to be a shock or surprise to them of how they are going to operate," U.S. Marine Corps Staff Sgt. Martin Aldrete said in the release.
According to the Pacific Command, it is essential for troops to train for scenarios where lethal agents such as chemical, biological or radiological weapons could be involved.
One such scenario would be a nuclear war, where aircraft are scrambling to counteract enemy aircraft or attack ground forces threatening civilian populations.
One technique the military uses to keep jets in the air as much as possible is the "hot refuel."
This fast-paced refueling method allows the pilot to refuel with the engine still running, allowing them to get them back into the fight more quickly.
For the Marine Corps, being faster than the enemy is seen as vital, as is working quickly no matter the environment, said the release.
"It's important to be proficient with this because on the battlefield there's not much time to put aircraft in the air," said U.S. Marine Corps Gunnery Sgt. Joseph Michael Jones,
"Every second that we can save on that is possibly saving someone's life."
The exercise was conducted on the same day that the squadron got the last F-35Bs needed to complete their squadron.
MCAS Iwakuni, Japan, is now home to the world first operational squadron of the stealth fighter jet.
The jets are part of the U.S. military presence in Japan, a long-standing alliance that the Pentagon routinely describes as the bedrock of security and stability in the Asia Pacific.
The U.S. Pacific Command conducts frequent training exercises with Japan Self-Defence Forces, most recently sending an Avenger-class mine countermeasures ship to join Japanese ships in an annual mine countermeasures operation on Nov. 21.
"By working together, it helps ensure our two nations are jointly postured to maintain peace and stability for Japan and throughout the region," said Lt. Cmdr. Frederick Crayton, Chief executive officer in a statement.
Japan is also an F-35 operator, with plans to build around 40 of the air force variant of the jet in Japan. The first Japanese built F-35A recently crossed the Pacific for testing in the United States.
After testing, Japan can move forward with building the rest of its F35As.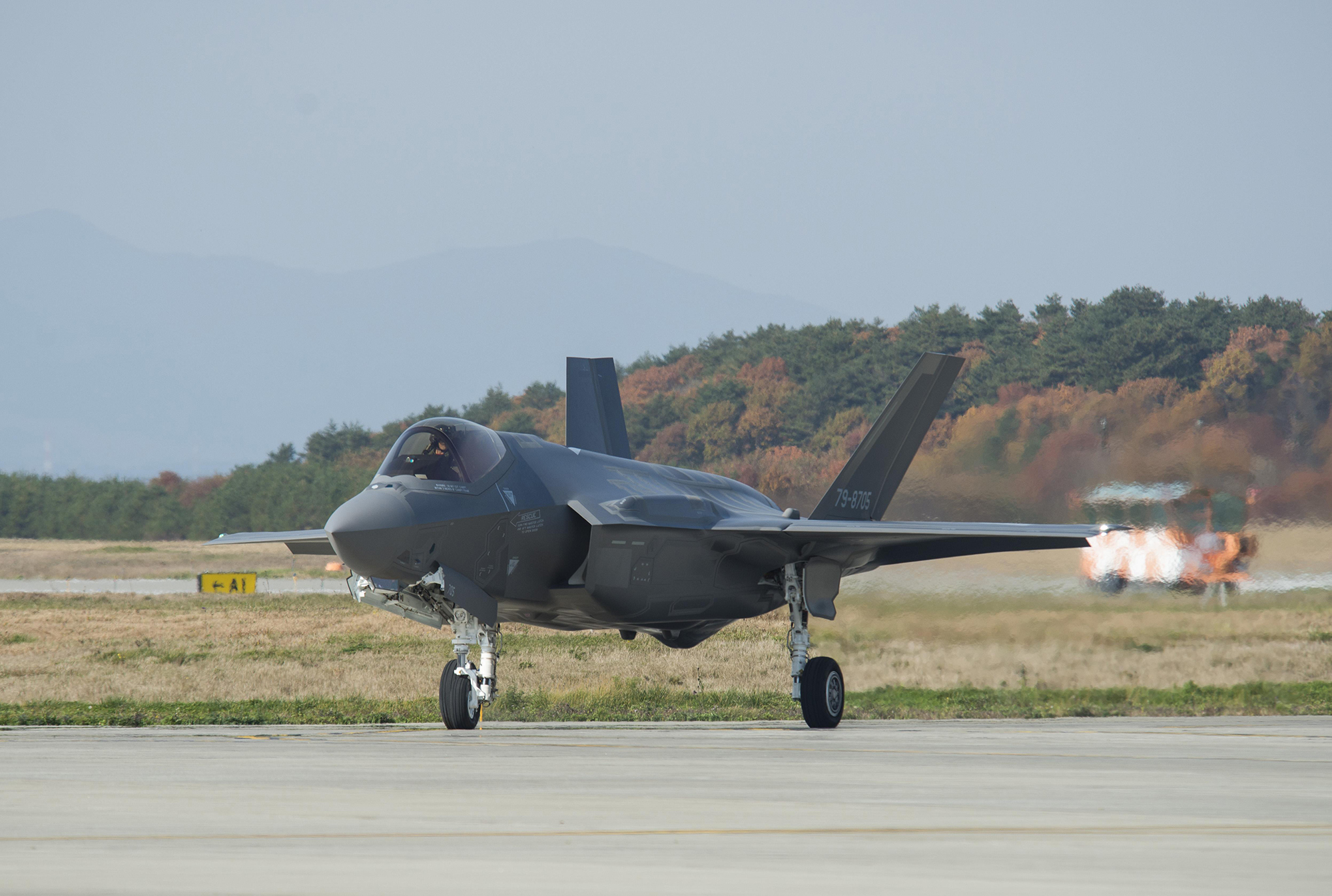 Think your friends may not know about this? Share it on Facebook and you will help keep them up to date and help us earn the ad revenue we need to keep reporting. Thank you!