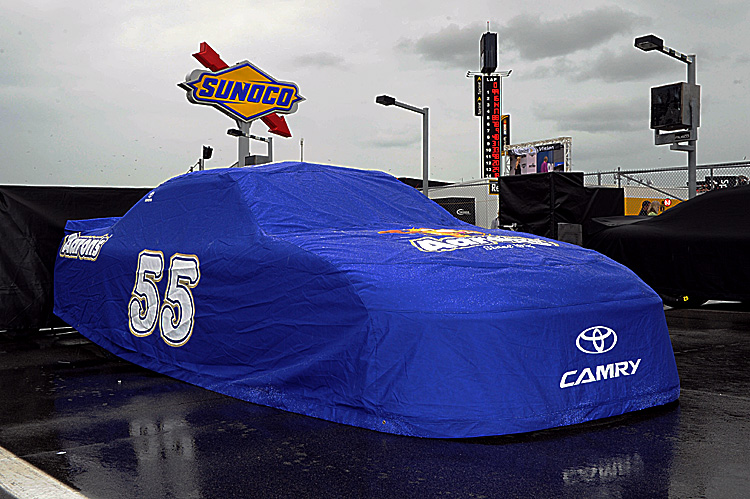 Continuing rain has forced NASCAR to reschedule the Daytona 500, originally set to start Sunday and then postponed to Monday noon, to 7 p.m. Monday evening under the lights at the Daytona International Speedway.
The late start was announced early to give fans time to prepare.
"The last thing we wanted to do was have our fans wait through another long day of rain delays and jet dryer activity," Daytona International Speedway president Joie Chitwood III told NASCAR.com. "We felt like this gives them some clarity so they can come up with their plans, and hopefully that means stay at home, stay at their hotel, rest, whatever it is they need to do and they can come out and enjoy the event this evening."
The rain is forecast to slacken off around 3 p.m., and it takes about three hours for NASCAR's jet dryers to dry the track. NASCAR is willing to push the race a little later if necessary.
If the rain doesn't let up—and there is still rain forecast for the evening—the race would have to be postponed until Tuesday, when the weather should be better.
"Tuesday is an option," said NASCAR president Mike Helton. "We're focused on [Monday] and [Monday] afternoon right now, but just so everyone knows, Tuesday is an option before we'd have to reconsider packing up and leaving. But [Tuesday] is an option."
If the race doesn't go off on Tuesday, it might not happen for a month. The Subway Fresh Fit 500 at Phoenix International Raceway is scheduled for next Sunday. Teams need time to pack up and travel for practice and qualifying; racing in Daytona on Wednesday is not an option.
There are races scheduled every weekend from Sunday until April 7; that would be the first available date for NASCAR's flagship race, traditionally the season opener.
2012 marks the first time in its 54-year history that the Daytona 500 was rained out. It has been postponed and shortened due to rain, but this year is the first it could not start on the scheduled day.