China's top disease control official on Thursday arrived in the eastern city of Nanjing, the epicenter of a new CCP (Chinese Communist Party) virus outbreak in China, after the virus reportedly spread to 27 Chinese cities in 15 provinces over a nine-day period.
Among the cities reporting new COVID-19 cases are the capital Beijing, Mianyang in southwestern Sichuan Province, and Zhongshan in southern Guangdong Province.
"The epidemic in Nanjing is out of control, and might spread to more provinces at an uncontrolled speed and scale," Tang Jingyuan, U.S.-based China affairs commentator told The Epoch Times on Thursday.
Tang added that Chinese leader Xi Jinping sent Wang Hesheng, director of  National Bureau of Disease Control and Prevention, to Nanjing—the capital of Jiangsu Province—to get the outbreak under control.

As part of measures all residents in the city of some 9 million people have been ordered to take at least two COVID-19 tests in the past nine days.
The regime had earlier sent a working team led by Lei Haichao, the fifth vice director of the National Health Commission (NHC), and several epidemiologists to Nanjing on July 23.
The first Nanjing infection was announced on July 20 and just over a week later 171 cases were announced on Wednesday. But total infections are thought to be higher as the Chinese regime counts asymptomatic carriers of the CCP virus in another category.
State-run Xinhua on Wednesday said that the first infection has been linked back to incidences at Nanjing's Lukou International Airport on July 10, ten days before the first patient was diagnosed.
Xinhua quoted Nanjing officials saying that anybody who had passed through the airport after this date would have a "yellow health code" on their cell phones, which means these people have a medium-risk of having been infected and can't leave their homes for at least 14 days until their codes change to green.

Uncontrollable  Outbreak
Lukou airport is a transportation hub for the Yangtze River Delta area. In 2020, the airport was the 12th busiest civil airport in the country with 19.9 million passengers who had arrived/left during the pandemic, according to Chinese Civil Aviation.
Since the Nanjing outbreak an increasing number of Chinese cities have announced new cases of the Delta variant of the CCP virus, commonly known as the novel coronavirus. The Delta variant, believed to be more transmissible than other versions, was first identified in India in late 2020.
The gene sequence of the variant is reportedly consistent with that of the virus in the Nanjing outbreak.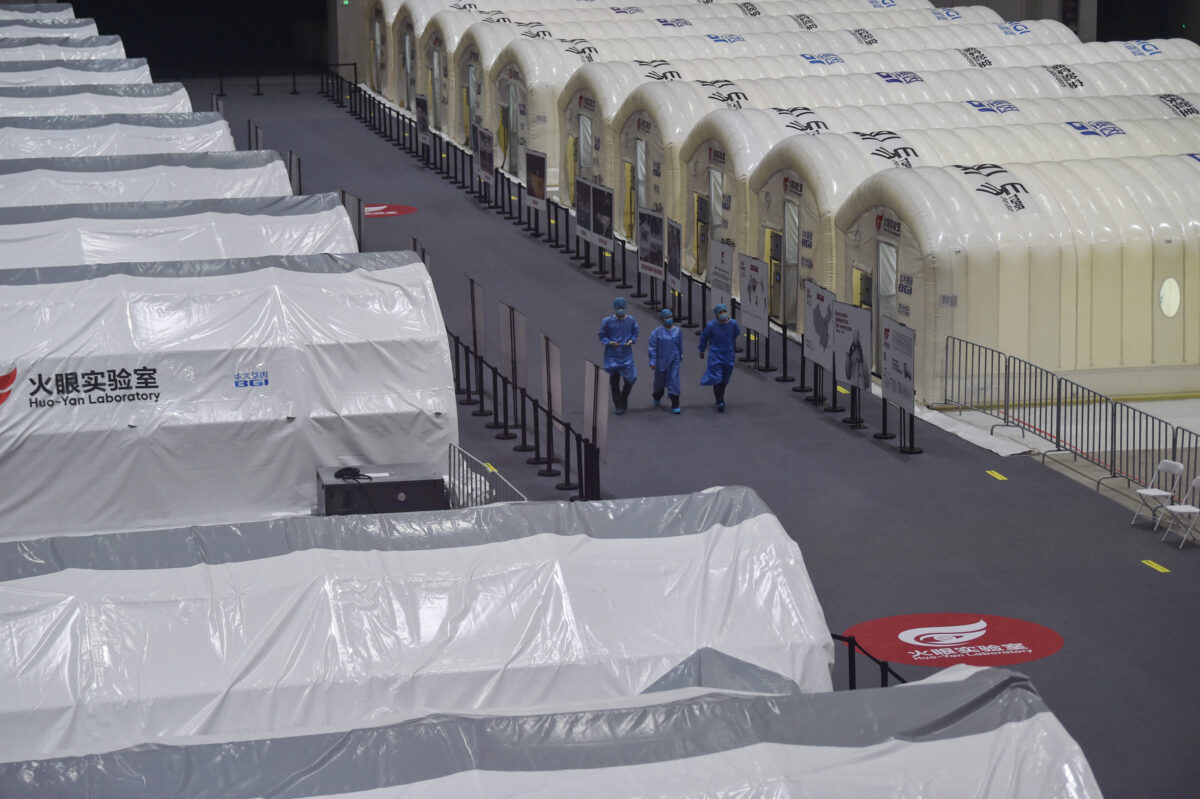 On Wednesday evening, Zhangjiajie city in Hunan Province announced that several tourists who attended a theatre performance in the city had been diagnosed with COVID-19 after they went back to their hometowns in different provinces.
The theatre, which caters to tourists, reportedly failed to apply social distancing rules.
"Over 2,000 audience members who watched a show at Meili Xiangxi Theatre from 6-7 p.m. on July 22 are considered to be of a high risk of infection," Zhangjiajie city announced.
The regime asked all audiences to report  to their local governments and to undergo centralized quarantine measures.
There are reports that a Beijing couple, who visited Hunan, have been found to have this strain the CCP virus.