Witnesses at a U.S. Senate hearing on election "irregularities" testified about a litany of alleged instances of election fraud occurring in certain states. Some also expressed concerns over last-minute changes to election laws and other issues they argued were unconstitutional.
Republican senators said they believe fraud did occur and that taking an honest look into the growing mountain of evidence is necessary for a democracy, noting that many Americans have similar concerns. A POLITICO/Morning Consult poll taken after the election found 70 percent of Republicans didn't believe it was free and fair. However, trust in the election actually increased for Democrats.
Democratic senators largely used their time to attack the hearing, declaring that the American people had already spoken and Republicans were spewing disinformation. Courts have struck down many of the suits contesting the results, they said. But witnesses, including politicians such as Sen. Rand Paul (R-Ky.), pointed out that the vast majority were rejected for procedural reasons, as opposed to merit-based or substantive-based rulings focused on the allegations of fraud. 
Sen. Ron Johnson (R-Wis.), chairman of the Senate Homeland Security and Governmental Affairs Committee, said in his opening statement that although the Electoral College awarded Democratic presidential candidate Joe Biden 306 votes, "a large percentage of the American public does not believe the November election results are legitimate."
"The fact that our last two presidential elections have not been accepted as legitimate by large percentages of the America public is a serious problem that threatens our republic," Johnson said at the first federal hearing on the matter of election fraud.
According to officials, witnesses, whistleblowers, and data experts, some level of fraud and other irregularities occurred during the 2020 election, but the level of fraud is disputed.
The question is "whether the level of fraud would alter the outcome of the election," Johnson said in his opening remarks.
Sen. Gary Peters (D-Mich.), the ranking Democrat on the Homeland Security Committee, said that the current legal challenges to the election results "undermine the will of the people, disenfranchise voters, and sow the seeds of mistrust."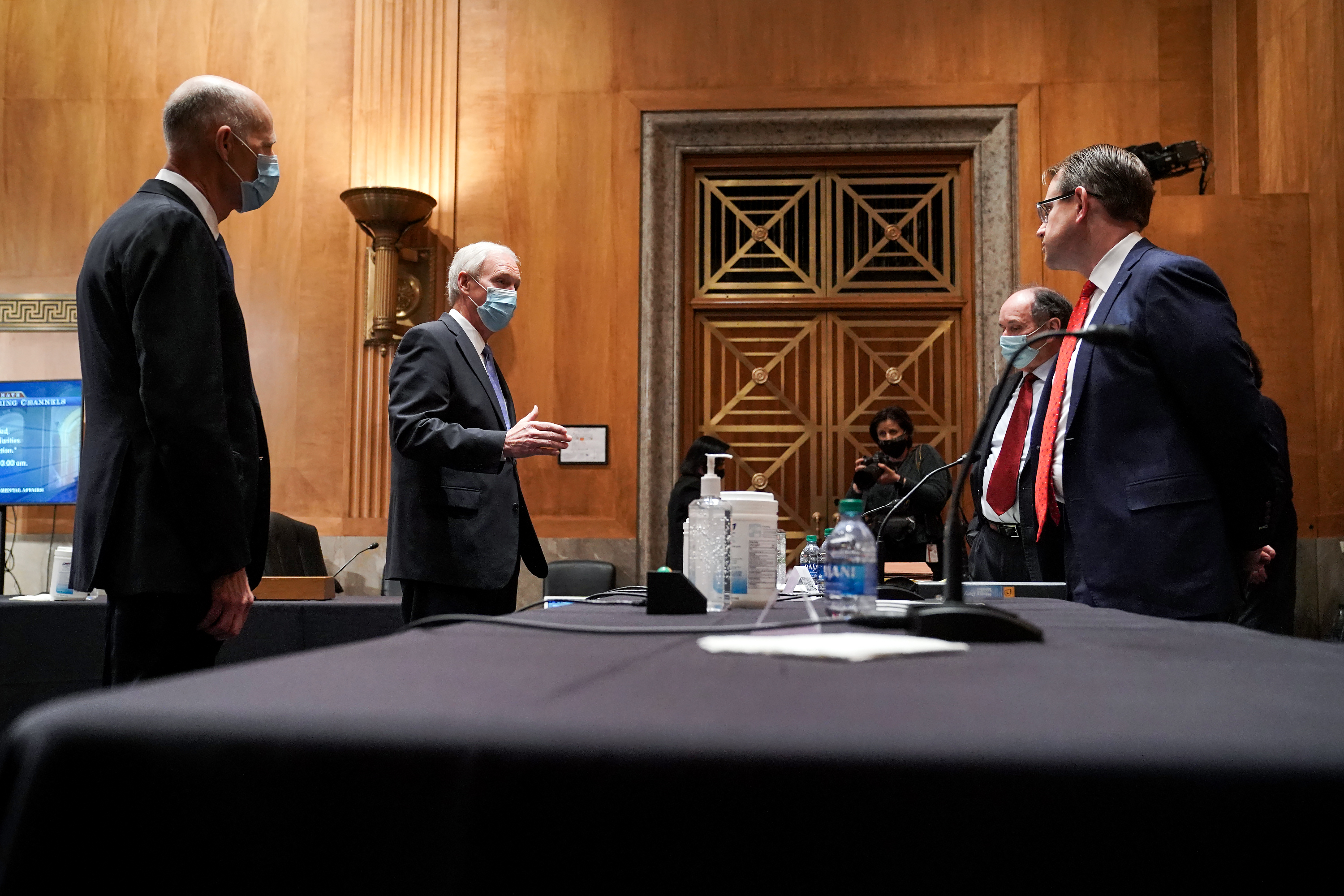 Witnesses Speak Out
Pennsylvania state Rep. Francis X. Ryan told senators in his testimony (pdf) that the state's mail-in ballot system for the election this year "was so fraught with inconsistencies and irregularities that the reliability of the mail-in votes in the Commonwealth of Pennsylvania is impossible to rely upon."
He noted how on Oct. 23, a petition from the Secretary of the Commonwealth ruled that mail-in ballots need not authenticate signatures, "thereby treating in-person and mail-in voters dissimilarly and eliminating a critical safeguard against potential election crime."
Ryan also talked about a pattern of inconsistencies in the state's results, noting how in a data file received on Nov. 4, the Commonwealth's PA Open Data sites reported over 3.1 million mail-in ballots sent out.
"But on November 2, the information was provided that only 2.7 million ballots had been sent out," he said. "This discrepancy of approximately 400,000 ballots from November 2 to November 4 has not been explained."
Another witness, Jesse Binnall, one of the Trump campaign's lawyers, told the committee that "the election was inevitably riddled with fraud, and our hotline never stopped ringing."
"Over 42,000 people voted more than once," Binnall said in his testimony (pdf). "Our experts were able to make this determination by reviewing the list of actual voters and comparing it to other voters with the same name, address, and date of birth."
"Here is how it happened. On August 3rd, 2020, after a rushed special session, Nevada legislators made drastic changes to the state's election law by adopting a bill known as AB4," he said, referring to the state law that relaxed restrictions on mail-in ballots.
Binnall said his team's efforts in Nevada to obtain evidence to file lawsuits were met with denials from relevant election officials.
"Paper [ballot] backups that were supposed to provide such transparency" were not given to the team, he said. Across the "entire state of Nevada," there was "zero transparency" from election officials, he said. Binnall filed a lawsuit challenging thousands of ballots in the Silver State before a judge rejected it on Dec. 4.
Other witnesses, such as Clinton-era independent counsel Ken Starr testified that Pennsylvania's last-minute changes to election laws before the Nov. 3 election were violations.
"The principle here is … [the] Constitution is very clear that it is the prerogative of state legislatures to determine what these rules and laws are," Starr told the Senate Homeland Security Committee. "And that was, I must say, flagrantly violated in Pennsylvania, and perhaps elsewhere as well."
Starr, a former prosecutor who led an impeachment investigation into former President Bill Clinton's affairs, cited the Supreme Court's ruling on Bush v. Gore in 2000. Starr previously served as a circuit judge, a solicitor general, and was part of President Donald Trump's legal counsel during the Senate impeachment trial.
"Bush v. Gore stands for [the] basic proposition" that the United States "cannot have changes to election laws after the fact," Starr told Paul and other members of the panel.
The Supreme Court ruling, in a 7–2 vote, stipulated that Florida's Supreme Court decision that called for a statewide recount violated the Equal Protection Clause of the 14th Amendment of the Constitution. It was in reference to the presidential election between then-GOP candidate George W. Bush and former Vice President Al Gore.
Witness Christopher Krebs, who directed the Department of Homeland Security's (DHS) Cybersecurity and Infrastructure Security Agency (CISA) before he was fired by Trump, said in his testimony that the allegations about manipulation of the equipment used in the election are baseless, dangerous, "and only serve to confuse, scare, and ultimately undermine confidence in the election."
At one point during the hearing, Sen. Paul asserted that "fraud happened," and that "the election in many ways was stolen, and the only way it'll be fixed is by in the future reinforcing the laws."
Republican electors in Pennsylvania, Georgia, Michigan, Wisconsin, Arizona, Nevada, and New Mexico cast alternative slates of votes for President Donald Trump on Dec. 14, as the certified Democrat electors in the same states cast votes for former Vice President Joe Biden.
Since Election Day, Trump and third-party groups have pursued legal challenges to the outcome of the election in six states. None of the efforts have so far succeeded in court, including an interstate Supreme Court challenge brought by Texas and backed by 19 Republican attorneys general.
Jack Phillips contributed to this report.