Multiple U.S. Automakers including Ford and Toyota have halted some production at their Canada plants due to the ongoing protests over the country's COVID-19 vaccine mandates.
Toyota, Chrysler Pacifica, Ford, and General Motors all stated they have had to pause production on some of their sites due to the demonstrations, which have caused blockages at the Ambassador Bridge between Detroit and Windsor, Ontario, creating supply chain issues.
Ford, in a statement obtained by The Associated Press, said that it has suspended engine output in Windsor, while its Oakville factory near Toronto is operating with a reduced schedule.
"We hope this situation is resolved quickly because it could have a widespread impact on all automakers in the U.S. and Canada," the company stated.
Chrysler-maker Stellantis has also faced a shortage of parts at its assembly plant in Windsor, Ontario, where it had to cut shifts short on Feb. 8 but was able to resume production on Feb. 9.
General Motors, Detroit's largest automaker, was also forced to cancel the second shift of the day on Feb. 9 at a plant in Lansing, Michigan, which makes SUVS for the Buick, Chevrolet, and GMC brands, due to shortages owing to the blockade.
Spokesman Dan Flores told AP that the company expected to restart Feb. 10 and that there would be no additional impact for now.
Top U.S. vehicle-seller Toyota, which operates three manufacturing facilities in Ontario, expects to have its Canadian plants offline for the remainder of the week, the company told Newsweek in an email.
"Due to a number of supply chain, severe weather, and COVID-related challenges, Toyota continues to face shortages affecting production at our North American plants, including Toyota Motor Manufacturing Canada," the company stated. "Our teams are working diligently to minimize the impact on production. While the situation is fluid and changes frequently, we do not anticipate any impact to employment at this time."
The temporary halt on automakers' production comes as the protests in Ottawa have forced the shutdown of the Ambassador Bridge, one of the busiest crossings between Canada and the United States, which counts for an estimated 20 percent of all trade between the two countries.
Canada's Border Services Agency has listed the bridge, which connects Detroit with Windsor, Ontario, as "temporarily closed" as of Feb. 10.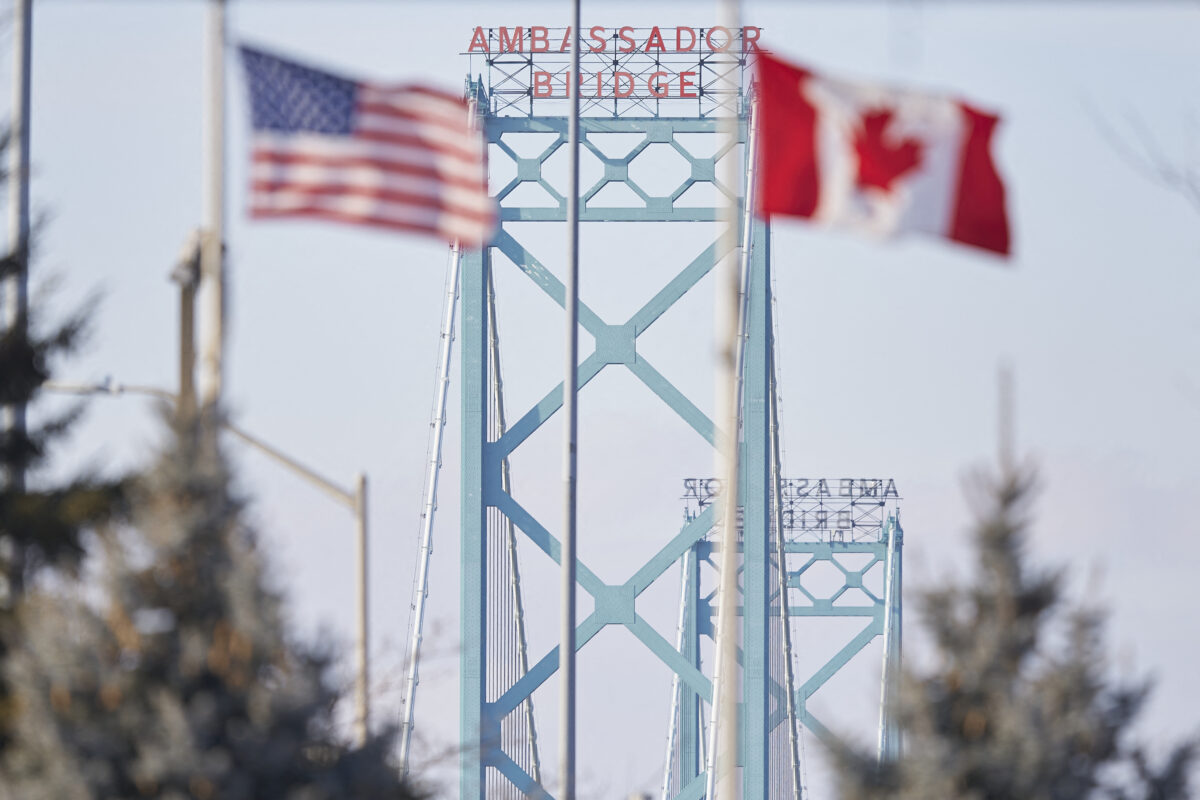 The protests in Canada began as a demonstration by truckers in response to a federal vaccine mandate that went into effect on Jan. 15 for truck drivers, despite staunch opposition.
Under the mandate, Canadian drivers returning to Canada are required to be vaccinated against COVID-19 in order to avoid entering quarantine.
Organizers of the"Freedom Convoy" protest have said their demonstration is peaceful. The movement has since gained traction and has been joined by people from across Canada who oppose various COVID-19 mandates and restrictions.
Ontario Premier Doug Ford wrote on Twitter that he has spoken with Canadian Prime Minister Justin Trudeau about the ongoing occupations in Ottawa and Windsor.
"We will continue working together to support our police forces as they manage these situations. We both agreed this must come to an end."
Canadian police on Feb. 9 also warned that north and southbound lanes to another border crossing, Coutts, are now closed due to the protesters' blockade.
White House spokesperson Jen Psaki also urged protesters to "understand what the impact of this blockage is" and the potential impact it could have on the supply chain.
"We're also tracking potential disruptions to U.S. agricultural exports from Michigan into Canada," Psaki said in a Feb. 9 press briefing.
Meanwhile, Trudeau decried the demonstrations, insisting that while "Canadians have the right to protest, to disagree with their government, and to make their voices heard," they don't have the right "to blockade our economy, or our democracy, or our fellow citizens' daily lives."
"It has to stop," Trudeau wrote on Twitter.
The Organizers of the Freedom Convoy 2022 maintain that Canada's COVID-19 mandates and restrictions, which have been far stricter than those in the United States, are "destroying the foundation of our businesses, industries, and livelihoods."
The vaccine mandate could see 10 to 15 percent, or about 12,000 to 16,000 truck drivers, off the road, estimated the Canadian Trucking Alliance (CTA), which stated that it doesn't support and strongly disapproves of the demonstration.
"Small businesses are being destroyed, homes are being destroyed, and people are being mistreated and denied fundamental necessities to survive. It's our duty as Canadians to put an end to this mandate," organizers say.
A recent survey by the Angus Reid Institute found that a majority of Canadians, 54 percent, are in favor of lifting restrictions in the country.