Mulcair's French Adventure
NDP leader can score points in Quebec and gain edge on Trudeau, say experts
July 10, 2013 11:18 pm Last Updated: July 11, 2013 10:56 am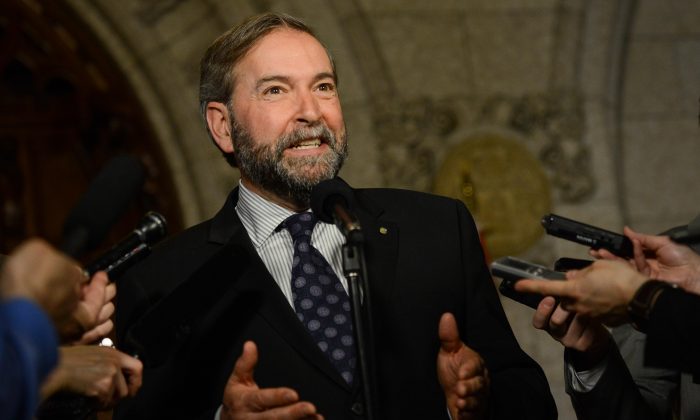 OTTAWA—NDP leader Thomas Mulcair is in France this week meeting with the French prime minister and other officials in an effort to bolster his efforts to one day lead Canada.
But depending on who you ask, that effort is either aimed at Quebec specifically, or more likely to help him in the rest of Canada.
The trip has added meaning because of the NDP's breakthrough in Quebec in the last election and the complicated relationship between Canada, France, and Quebec sovereigntists.
Quebec has maintained strong ties with France since the 1960s, ties that have been strengthened by both federal and separatist provincial parties, noted Francois Rocher, a political science professor and former chair of the School of Political Studies at the University of Ottawa.
In the early years of the Quebec sovereignty movement, French President Charles de Gaulle shouted "Vive le Québec libre" ("Long live free Quebec") in Montreal in 1967, a move that sparked outrage among English Canadians, especially since they had been more supportive of Canada's involvement in the two world wars, generally speaking, than Quebecers were.
Since then France has adopted a policy of "non-interference, non-indifference," meaning it will accept any result of Quebec separation but not push it along. 
That policy was recently re-affirmed by French President Francois Hollande who is more welcoming of Quebec sovereignty than was his predecessor Nicolas Sarkozy, who rejected the policy and angered sovereigntists.
And while Mulcair was received by the French PM, he did not meet with Hollande, as Quebec's sovereigntist Premier Pauline Marois did in 2012.
But Rocher doesn't think Mulcair's trip to France has the same significance as when a Quebec premier visits the country, and won't be as significant to Quebec voters given Mulcair's federalist credentials.
"He wants to demonstrate that he has some international stature outside of Canada," said Rocher, noting that France was a natural destination with its current socialist government.
"There is a natural tie in the sense that they are both in favour of more social democracy policies."
Mulcair also has French citizenship.
For sovereigntist premiers who travel to France, the goal is partly to bolster relations in hopes of recognition should Quebec ever secede from Canada.
Despite the Conservative Party's efforts to cast doubt on the NDP's federalism, Rocher said the party is a federalist option for Quebec voters and Mulcair has strong federalist credentials, including fighting against sovereignty during the 1995 referendum. 
"There is nothing in his career that shows he has developed sympathy towards the sovereignty movement," he said.
Mulcair inherited previous leader Jack Layton's policy of the Sherbrooke declaration, affirming the NDP thought fifty percent plus one votes in a referendum was enough to start sovereignty negotiations.
While that policy was the rule of the game in the 1980 and 1995 referendums, it is viewed with skepticism by the Conservatives, who have noted even the NDP require a stronger majority to change their own constitution.
All About Québec
For Bruce Hicks, a political science professor at Carleton University, Mulcair's trip is all about Quebec. While a foreign trip by the prime minister can spur bureaucrats into action—like those lagging negotiating in the Canada-EU free trade agreement—a similar trip by Mulcair cannot.
"It is largely symbolic; you might make some friends," he said.
But even that is rare, said Hicks, noting the friendship between previous PM Jean Chretien and U.S. President Bill Clinton was the rare exception.
"The only thing that gets accomplished is the visuals that get displayed back home," he said.
Of course, France's unique relationship with Quebec is a factor, he said. 
While other French colonies resent the country, Quebecers do not, and like English Canadians do with England, Quebecers appreciate acknowledgement from their parent country.
More importantly, France is seen as important to an independent Quebec achieving international recognition, he said. The line goes: first France recognizes Quebec, then other countries follow suit.
He disagrees with Rocher though that the trip will have much impact on anglophone Canadians, noting it hasn't had much coverage in the English press compared to the French press.
"It is going to carry much more play in Quebec than in English Canada," he said.
That's partly due to the language barrier and the ease of French radio and television using clips from the trip.
More importantly for Mulcair is likely the fact that it distinguishes his party from the Liberals, said Hicks. While Mulcair is afforded diplomatic niceties as the Leader of the Official Opposition, Liberal leader Justin Trudeau would not get similar treatment.
Socialist Factor
If there is a drawback for Mulcair, it could be his touting of the NDP's socialist intentions. Mulcair noted in reports that he wanted to form Canada's first socialist government. 
To that end, he has said he is making his meetings with officials in France's socialist government a chance to learn from their own policies. 
But that narrative runs contrary to recent efforts the NDP has made to move towards the centre of the political spectrum, which included dropping the word "socialism" from the party's constitution during the party convention in Montreal in April.
Hicks said Mulcair risks priming the suspicions of voters wary of socialist policies.