OTTAWA—A group of MPs from three parties along with a former justice minister is calling for the release of a Canadian citizen who was arrested on Feb. 19 during a visit to China and has since been held without charge.
As vice-president of Beijing Leadman Biochemistry Co., Ltd., Qian Sun often travelled between Vancouver and Beijing. But in February, about 20 police officers arrested her at her residence in Beijing and confiscated her Falun Gong books and other personal belongings.
In 2014 Sun had started practising Falun Gong, a traditional Chinese spiritual discipline also known as Falun Dafa that has been subjected to a wide-ranging campaign of persecution since 1999. 
"We call on the Chinese authorities to adhere to the rule of law, which they proclaim they are doing but violating consistently in the matters of Falun Gong practitioners," said former Liberal MP Irwin Cotler at a May 9 press conference on Parliament Hill.
Other speakers were Conservative MP Peter Kent, Green Party leader Elizabeth May, NDP MP Cheryl Hardcastle, and Conservative MP Michael Cooper.
We urge the Chinese authorities and the People's Republic of China to restore a Canadian citizen her Canadian passport and let her return home.
"Qian Sun is only the most recent Canadian citizen, along with many millions of Chinese citizens, to be persecuted for their belief in Falun Gong, a philosophical regime which espouses belief in peace and truthfulness and tolerance," said Kent.
"I think everyone who has spoken here today sees a necessity for a strong message to the government of China to release Qian Sun, but at the same time we expect, and will call on the government, to speak up more forcefully in public."
However, Kent said he was concerned because when he raised the issue of Sun's detention at a foreign affairs committee hearing on May 2, the answer he got from Canada's ambassador to China, John McCallum, told him that "perhaps there is an agreement to remain silent."
McCallum has declined to comment publicly on Sun's case, saying only that she has access to "regular consular visits," as in all such cases.
"That doesn't always help, for the person in detention, if we broadcast their situation in public, so I think for those cases, almost all the time, it is better to proceed in a low-profile way," he said on May 2.
"That's simply unacceptable," Kent said at the press conference, adding that Sun's case "is something that the Canadian government must speak publicly about."
"It can speak respectfully, but it should no longer continue to mute its expression of concern about human rights abuse in China, or anywhere in the world, simply in the interest of trade agreements or an eventual chance at a seat on the Security Council."
I think everyone who has spoken here today sees a necessity for a strong message to the government of China to release Qian Sun.
Cotler compared Sun's case to that of professor Kunlun Zhang, a former colleague of his at McGill University who was detained during a visit to China because he practised Falun Gong.
Zhang was arrested in 2000 and sent to a forced labour camp for three years. His case was widely publicized in Canada, and due to a strong voice from elected officials and steady media coverage, he was released in January 2001, shortly before a trade mission to China by then-prime minister Jean Chrétien.
Cotler spearheaded the effort to have Zhang released and acted as his pro-bono legal counsel.
"It ended successfully. But it ended up successfully because of a sustained public advocacy campaign. I would say that it was the combination of both effective public advocacy and effective diplomacy," Cotler said.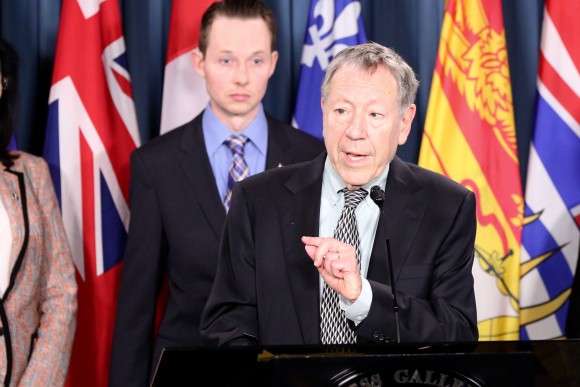 "So it takes parliamentarians, it takes civil society leaders, to engage in that public advocacy and have that merge, with the hopeful effectiveness of that private diplomacy to bring about the release."
May, Cooper, and Hardcastle also called on the Chinese regime to immediately release Sun, with Hardcastle urging Beijing to "reconsider its stance on Falun Dafa."
May noted that the only offence Sun could be charged with—practising Falun Gong—"is an offence that shouldn't exist."
"The notion that practising Falun Dafa, which is a non-violent spiritual practice, should put someone in the crosshairs of the authorities in the People's Republic of China remains a deep concern to every Canadian concerned about human rights," she said.
"We urge the Chinese authorities and the People's Republic of China to restore a Canadian citizen her Canadian passport and let her return home. And on the other hand, we underscore once again that the larger issue of persecution of Falun Dafa practitioners must stop."