OTTAWA—More than a dozen parliamentarians from all parties joined over 600 Falun Gong practitioners on Parliament Hill on May 9 to celebrate the 25th anniversary of the spiritual discipline also known as Falun Dafa.
The days' festivities included a parade, dance and song, and performances by Falun Gong's Tianguo Marching Band, along with large-scale demonstrations of the practice's sitting meditation and slow-moving exercises.
Falun Gong's recognition in Canada was clear from the speeches by 13 members of Parliament and 2 former MPs, who applauded the practitioners for their principles and peaceful resistance to the Chinese communist regime's 18-year violent campaign of persecution.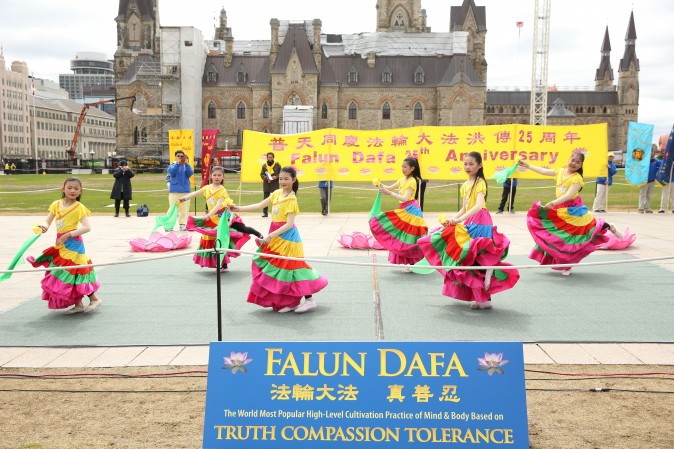 Mental, Physical, Moral Benefits
It was 25 years ago on May 13, 1992, that the first series of public lectures on Falun Gong was taught by founder Li Hongzhi in his hometown of Changchun. It had previously been passed down privately from one generation to the next, as is common among spiritual practices in the ancient Chinese tradition.
By 1999, Falun Gong had grown to some 70 million practitioners in China, as estimated by the country's State Sports Administration, and today it is practised in over 100 countries. It is spread mainly through word of mouth due to its benefits to physical and mental health and its teachings that uplift morality in society.
Liberal MP Judy Sgro, co-chair of Parliamentary Friends of Falun Gong (PFOFG), an all-party group of senators and MPs lending focused support to Falun Gong, referred to these benefits in her speech.
"You have been teaching Canadians how to be healthy … how we can go to doctors much less and how, through Falun Dafa, we'll be much healthier Canadians, which helps, of course, to build a great Canada," Sgro said.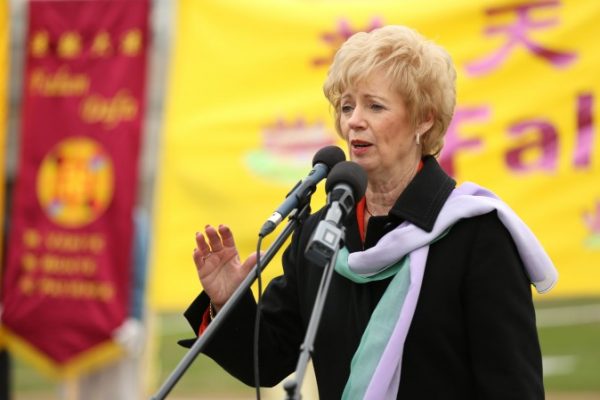 "It's an honour to be with people who understand the importance of truth and compassion and tolerance in our world today," said NDP MP Cheryl Hardcastle, referring to the practice's three core principles, expressed in Chinese as "Zhen, Shan, Ren."
"You are real champions of a better world," added Hardcastle, who is vice-chair of the Subcommittee for International Human Rights. "We need to make sure that people in all countries have the courage to speak up for the same kind of beliefs, and your speaking up at this event is very important to advance that cause."
"I want to congratulate you on this important anniversary, the recognition of the spiritual dimension, which is present in many faiths," said Conservative MP Garnett Genuis. "That spiritual dimension is so important to every aspect of life and informs so much of the human experience."
Despite being a non-political practice devoted to personal improvement, Falun Gong's popularity was not tolerated by the officially atheist Chinese Communist Party (CCP). Several top officials saw it as out of line with Marxist ideology and the CCP's own rule and authority, as discussed in a 2017 Freedom House report.
In June and July 1999, then-CCP leader Jiang Zemin made an "arbitrary and arguably illegal decision to ban Falun Gong and asserted his will over other members of the Politburo Standing Committee," according to the report.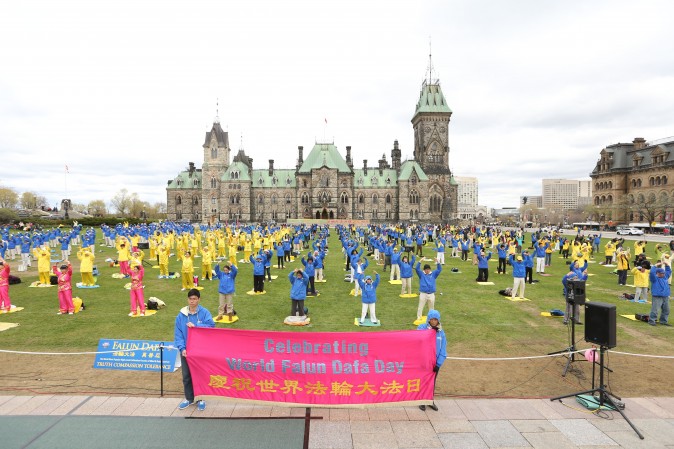 'Criminalization of innocence'
The persecution since then has seen the widespread arrest, detention, and torture of Falun Gong adherents throughout China reminiscent of the Cultural Revolution.
The recent arrest and detention of Canadian citizen and Falun Gong practitioner Qian Sun made headlines across Canada, and several of the speakers at the rally were also at a Parliament Hill press conference in the morning to lend their support to efforts seeking her release.
Among them was former Liberal MP and justice minister Irwin Cotler. Cotler recalled that one of his first acts after being elected in 1999 was to take up the case of Kunlun Zhang, a former visiting arts professor at Montreal's McGill University.
"He had gone on a visit to China where he was arrested, imprisoned, and tortured for being nothing other than a Falun Gong practitioner, for being nothing other than a person who is espousing the fundamental principles of Truth and Compassion and Tolerance," Cotler said.
Through sustained public advocacy and the efforts of Canadian parliamentarians like Cotler, Zhang was released in January 2001. On Sun's case, Cotler said it was "a case study yet again of what I call the criminalization of innocence, where people are imprisoned not for what they do but for who they are."
Thank you for shining a light on this and making sure that we as politicians do not forget that in all those discussions around trade that we must always raise the issue of human rights.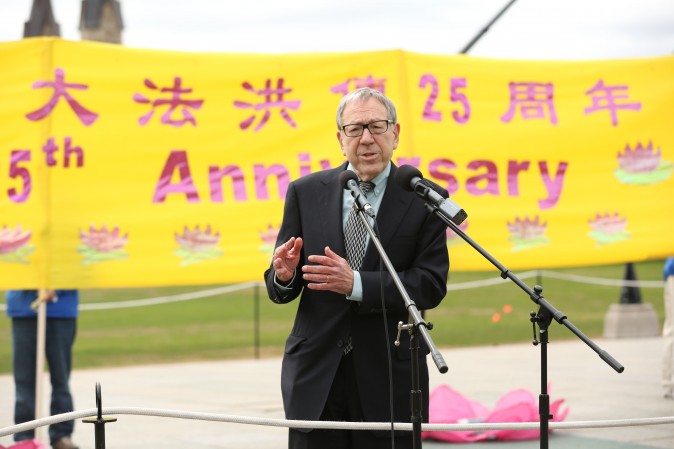 Prisoners Killed for their Organs
Conservative MP Ted Falk noted that "since 2006 we've been hearing of something so evil it is difficult to imagine: the systematic execution and harvesting of organs from Chinese Falun Gong prisoners."
Independent investigations, most notably reports by Canadians David Matas and David Kilgour and American investigative journalist Ethan Gutmann, have concluded that for over the last 15 years, the Chinese regime has been killing Falun Gong prisoners of conscience on a large scale for their organs to supply a lucrative organ transplant industry.
Kilgour, a former secretary of state (Asia-Pacific), was on hand to address the rally. Speaking on behalf of the International Coalition to End Organ Pillaging in China, a group he founded along with Matas and Gutmann, Kilgour described a stark conclusion from their research.
I admire your courage, your bravery, and the peace that you have brought to this world.
"We conclude cautiously that 60,000–100,000 transplants per year are being done across China, not the approximately 10,000 its government claims," he said. "Even the lower figure means that on average 250 persons a day are being killed for their organs."
Kilgour encouraged Canadians to urge their MPs to support Genuis's private member's bill C-561, which aims to combat this forced organ harvesting.
The bill was first introduced in 2013 by Cotler and recently reintroduced by Genuis. By making it a criminal offence to obtain an organ abroad for which no consent had been given, it would "at least ensure that Canadians, that Canada, is not complicit in this vile practice," Genuis said.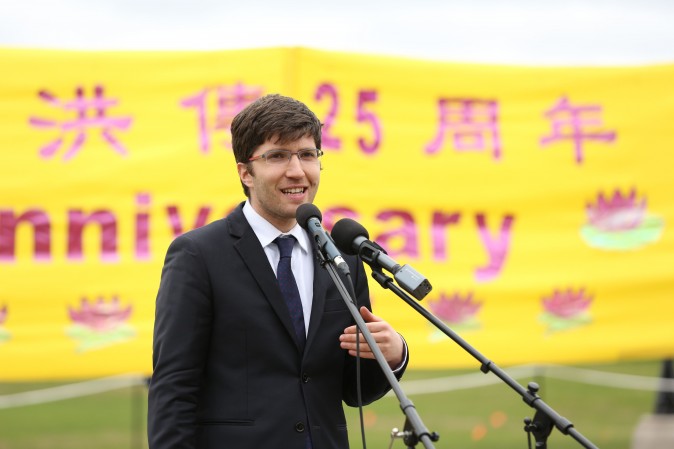 Education and Awareness
Conservative MP Michael Cooper commended the practitioners for their peaceful means of sharing information with government officials and the public about their practice and the rights violations against adherents in China.
"You have responded to that brutal campaign not through violence but through education, through awareness, by shining a light on these egregious human rights abuses and by promoting the principles of tolerance, compassion, and benevolence," he said.
"For 25 years, the Falun Gong has grown every single day. Millions upon millions of people have joined and it continues to grow notwithstanding a brutal 18-yearlong campaign of extermination perpetrated by the communist regime," Cooper added.
"We recognize the practice of Falun Dafa, committed as it is to truth, compassion, and tolerance, is a spiritual non-violent practice and it is absolutely mind-boggling that this practice has been outlawed within the People's Republic of China," said MP Elizabeth May, leader of the Green Party of Canada.
It is absolutely mind-boggling that this practice has been outlawed within the People's Republic of China.
"Congratulations on all the work that you've done, and the awareness that you have brought to Canadians," said Liberal MP Ruby Sahota. "I admire your courage, your bravery, and the peace that you have brought to this world."
"I want to commend Falun Dafa for practising peace and compassion," said NDP MP Daniel Blaikie, while fellow NDP MP Pierre-Luc Dusseault noted the many petitions he has received from constituents calling on Canada to urge the Chinese regime to end the persecution.
"You can count on my support to table those petitions and make sure it is heard by the government," Dusseault said.
"No one, regardless of faith and philosophy, should be persecuted for their faith and philosophy," said Liberal MP Nathaniel Erskine-Smith.
"Hopefully one day human rights will reign," Liberal MP Robert Falcon-Ouellette said. "I'm here to support you all and you're in my thoughts and you're important and you matter."
"We must continue to work for the day … when the tenets of Falun Dafa, of Falun Gong, can be spoken out loud in Tiananmen Square: Zhen Shan Ren, Truthfulness, Compassion, Tolerance," said Conservative MP Peter Kent, referring to the large public square in the centre of Beijing where many Falun Gong practitioners have been violently arrested for efforts to appeal for their right to practise their faith.
Kent is co-chair of PFOFG along with Liberal MP Judy Sgro.
"You are doing something that's of such critical importance," Liberal MP Borys Wrzesnewskyj told the crowd. "Thank you for shining a light on this and making sure that we as politicians do not forget that in all those discussions around trade that we must always raise the issue of human rights."
"When we gather together to speak out for those with no voice, we help shine a light into the dark places. … And we do it by upholding, cherishing, and defending the truly Canadian values of religious freedom, freedom of speech, and freedom of conscience," said Falk.