Remember that scene in 1993's "In the Line of Fire" when the CIA assassin (John Malkovich) snaps at the Secret Service agent (Clint Eastwood)? "The same government that trained me to kill, trained you to protect. Yet now you want to kill me—while up on that roof, I protected you."
"The Hitman's Bodyguard" is a grindhouse/action/comedy version of the same setup. While not an exact role reversal, there's delicious irony in Samuel L. Jackson playing a hitman and Ryan Reynolds playing a triple-A status executive protection professional tasked with guarding the hitman—who happens to be his longstanding, diametrically opposed archenemy. After all, said hitman has come close to exterminating said classy bodyguard with high-powered rifles 28 times.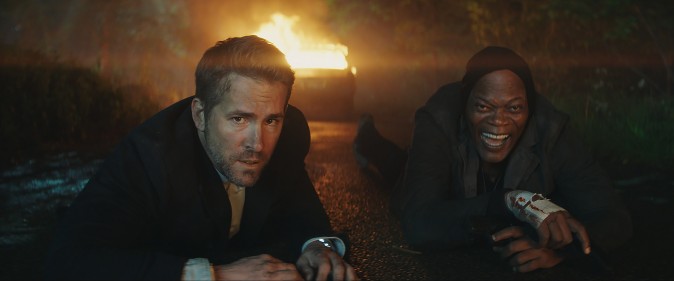 Michael Bryce's (Reynolds) career, up to now, has been about keeping highly corrupt clients safe, while Darius Kincaid's (Jackson) career was more or less about whacking Bryce's clients—leading to the very excellent squabbling-debate question: Whose path is more righteous, "he who kills evil (expletive omitted), or he who protects them?"
These are two of the funniest men in showbiz—it was a good gamble to predict they'd carry 'The Hitman's Bodyguard' all the way to bank.
It's summer of 2017's second R-rated, "Odd Couple"-type buddy flick. The first was "CHIPs." Both movies are a little bit stupid. Both movies are also extremely funny.
Plot(s)
There are four plots. Bryce needs to escort Kincaid from London to the Hague, while avoiding getting deep-sixed by Belarusian soldiers of fortune who are trying to prevent Kincaid from testifying against megalomaniacal, evil-communist military commander Vladislav Dukhovich (Gary Oldman) at a tribunal. That's plot No. 1.
Plots No. 2 and No. 3 are romantic: Will Bryce get back together with Interpol agent Amelia (newcomer French-Cambodian actress Elodie Yung)? Will Kincaid be reunited with his mucho-mucho-mucho hot-blooded, spicy-pepper of a wife, Sonia (Salma Hayek)?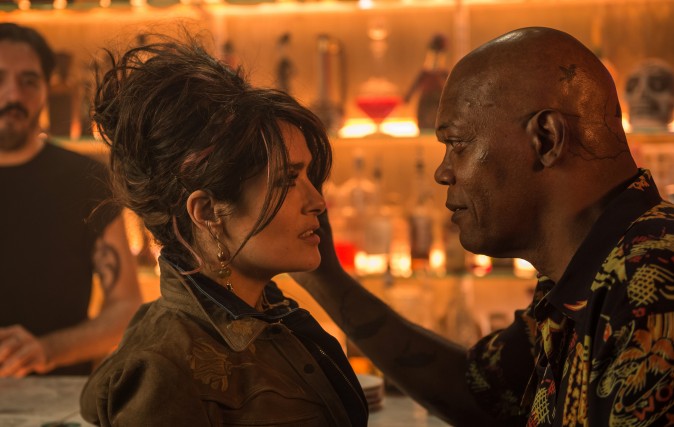 There's a fourth plot. No, actually it's the only plot: Will these two men quit their nonstop bickering and learn to get along?
Bryce was once highly successful, but now he's a bottom feeder, due to having failed to protect a top client. But his former girlfriend Amelia calls in a favor, requesting he help transport Kincaid, since her attempt got hijacked by the Belarusians.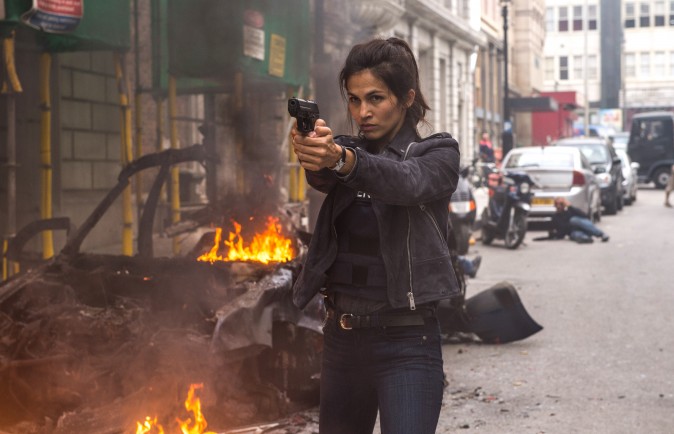 Kincaid's career, on the other hand, is stellar, but he gets caught visiting Sonia, who's in jail. They don't say why she's there, but she's comic book violent (and funny) enough for us not to need an explanation—cursing out the prison staff vociferously (and often) and making her obese, terrified-unto-flatulence cellmate stand in the corner.
One-Two Comedy Punch
The story's obviously threadbare and rudimentary, so the whole thing rides on the shoulders of the two male stars—and because these are two of the funniest men in showbiz, it was a good gamble to predict they'd carry it all the way to bank.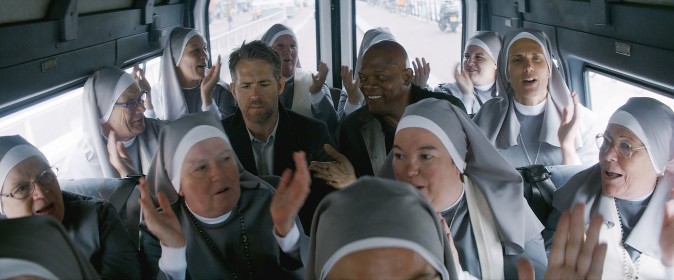 It's got all the cliché's: the middle-distance, walking-single-file-through-fields-while-arguing shot; the unconcerned-while-bullets-whistle, complaining-to-the-terrified-bartender shot; the Darius/Sonia meet-cute-in-the-midst-of-mayhem shot; and many more. These tropes never get old when you've got actors as talented as Reynolds and Jackson filling them with funny.
What's slightly surprising is to see Reynolds, whose high-energy comedic intensity is renowned thanks to films such as "Deadpool" and "National Lampoon's Van Wilder," playing the straight man to Jackson's clowning. It's tempting to say he's upstaged by Jackson, but the straight man role is always equally important. Watch for the late-scene bickerfest concerning mixing metaphors.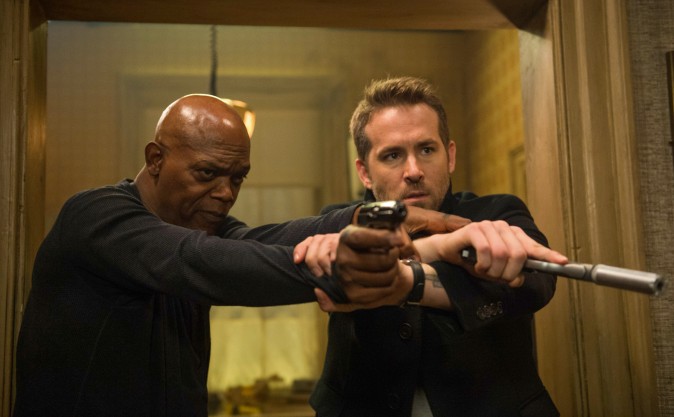 Shades of Tarantino
This is basically a Quentin Tarantino movie. It's got two of Tarantino's cast members, Jackson and Hayek, after all; it's comic-book hyper-violent/funny; and, as mentioned, the debate about whose job is more morally upright could have come straight from Jackson's character in "Pulp Fiction."
While this is grindhouse and B-movie territory, it definitely belongs in the movie theater, as opposed to the made-for-DVD/Red Box, completely cheesy action flick.
And it really remains a pithy, mind-expanding philosophical question: Who, in fact, is more righteous, "he who kills evil (expletive omitted), or he who protects them?" I found it puzzling me days later.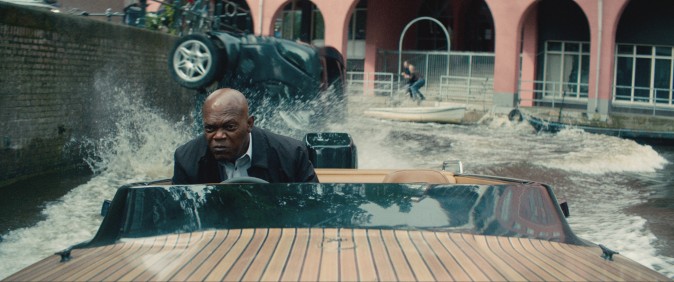 'The Hitman's Bodyguard'
Director: Patrick Hughes
Cast: Samuel L. Jackson, Ryan Reynolds, Salma Hayek, Gary Oldman, Elodie Yung, Joaquim de Almeida
Running Time: 1 hour, 58 minutes
Rating: R (for violence and language throughout)
Release Date: Aug. 18
Rated 3 stars out of 5