The mother of four children killed in a fire at a Pennsylvania daycare has spoken out for the first time as officials revealed a volunteer firefighter was the father of three of the kids.
Shevona Overton, the mother of the four kids, told Erie News Now: "I'm just so hurt my babies are gone. I love them dearly. I just hurt inside knowing that my kids were fighting and hurting in that fire. Every minute, I feel the same pain."
She said the children were: La'Myhia Jones, 8; Luther Jones Jr., 6; Ava Jones, 4; and Jaydan Augustyniak, 9 months.
"I'm never going to be the same," said Overton. "I lost a piece of me that can never be replaced. It's just something I have to live with, and it's going to be hard to do."
Valerie Lockett-Slupski, the grandmother of the children, previously said they were staying at a daycare at the residence.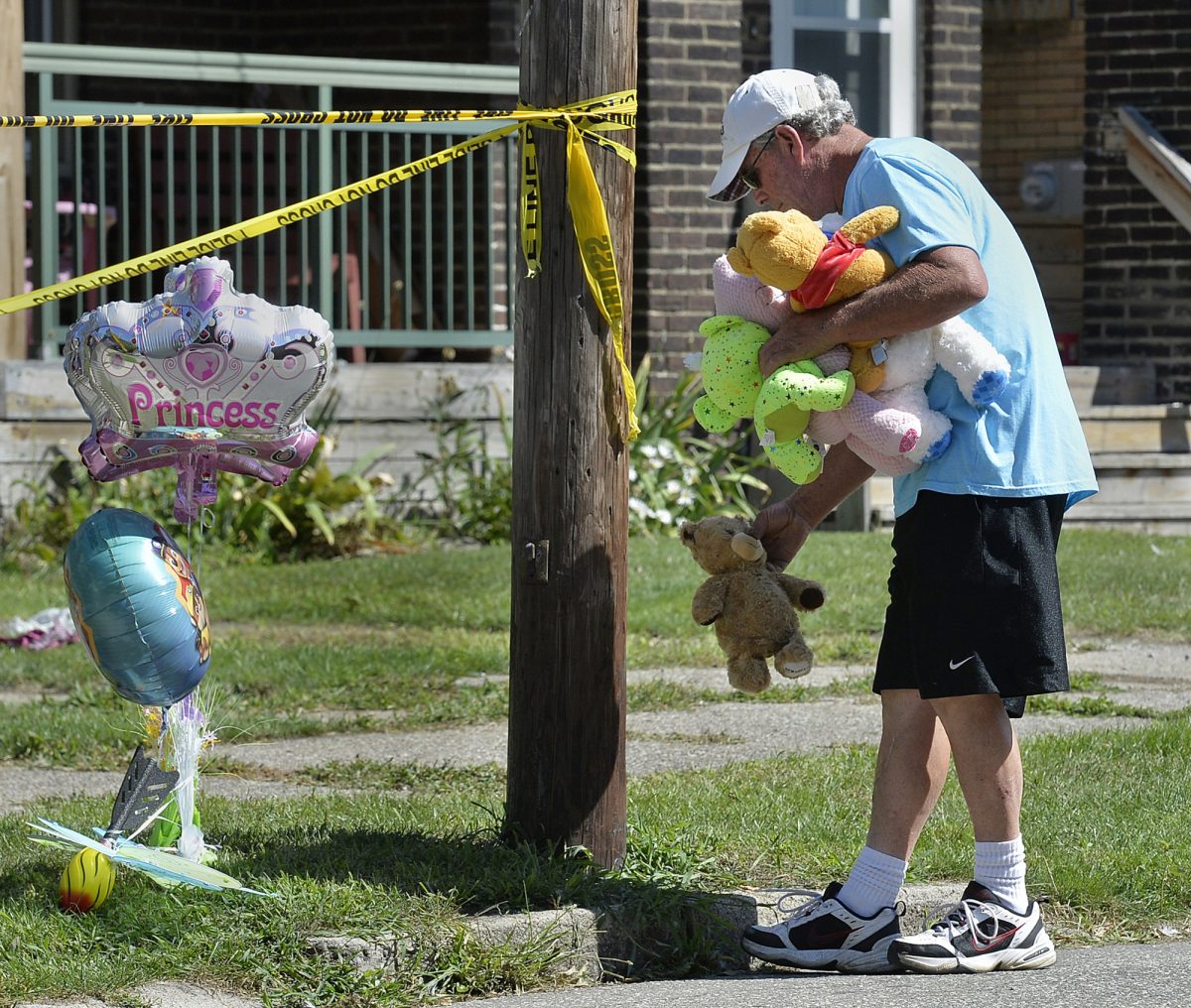 Lockett-Slupski said her grandchildren were staying at the Harris Family Daycare as their parents worked overnight shifts.
"We are all at a loss, trying to figure out how this happened," she told Go Erie.
Lawrence Park Township Volunteer Fire Chief Joe Crotty said that three of the children who died were the progeny of Luther Jones, a volunteer firefighter, reported The Associated Press.
At the time of the fire, Jones was at the site of another call, which turned out to be triggered by a malfunctioning fire alarm.
The owner of the house, Elaine Harris, who operated the daycare, was injured in the fire and rushed to a hospital. She was in stable condition on Sunday, reported Go Erie.
Erie Chief Fire Inspector John Widomski said that the structure, located in Erie, had only one smoke detector.
The fire was believed to have started in the living room on the first floor, Widomski said.
The fire was called in at 1:12 a.m. on Sunday morning and firefighters arrived to find the fire blazing. Investigators believe an electrical overload may have started the fire but haven't made a final determination as of yet.
The city of Erie said in a statement that firefighters "acted with bravery and courage, rescuing seven people, five being young children."
"Unfortunately, four of the children have passed and one remains in critical condition. Our prayers go out to the families involved in this tragic fire, to the neighbors, and to our firefighters," the statement read.
The Erie Firefighters Union said in a statement: "We offer our deepest sympathies to all affected by this horrible tragedy and we keep the survivors in our thoughts and prayers."
Erie County Executive Kathy Dahlkemper said in a statement: "Our hearts go out to the loved ones who lost someone in this terrible fire. Our thoughts are also with the first responders—the 911 call-takers, the EMTs, the firefighters, and the police officers. Erie is a tightknit community in so many ways, and I know we will rally to support the families of all those involved. I ask my fellow citizens to join me in praying for those dealing with this horrible tragedy."
Erie Public Schools added in a statement: "We are all profoundly saddened to learn of the deaths of five children, including some who attend Erie's Public Schools, in a tragic fire early Sunday morning. The entire EPS family sends our deepest condolences to their families and friends, and stands ready to support all those affected. Counselors and other professionals who are trained to help meet the emotional needs of our students, staff and parents will be available to anyone who may want or need assistance in the days ahead. Those who need support should call the district administration building or their school. We also want to thank the first responders who worked tirelessly that day, embodying true selflessness."